As news broke Tuesday that Senate Majority Leader /www.huffingtonpost.com/topic/mitch-mcconnell"}}" data-beacon-parsed="true">Mitch McConnell (R-Ky.) would delay a vote on the Senate GOP health care bill, Fox News touted a report on former President Barack Obama's "lavish" family vacations.
"Lap of Luxury," read the lead headline on Fox News' online site. "Obamas' Lavish Globetrotting Vacations Raise Democrats' Eyebrows."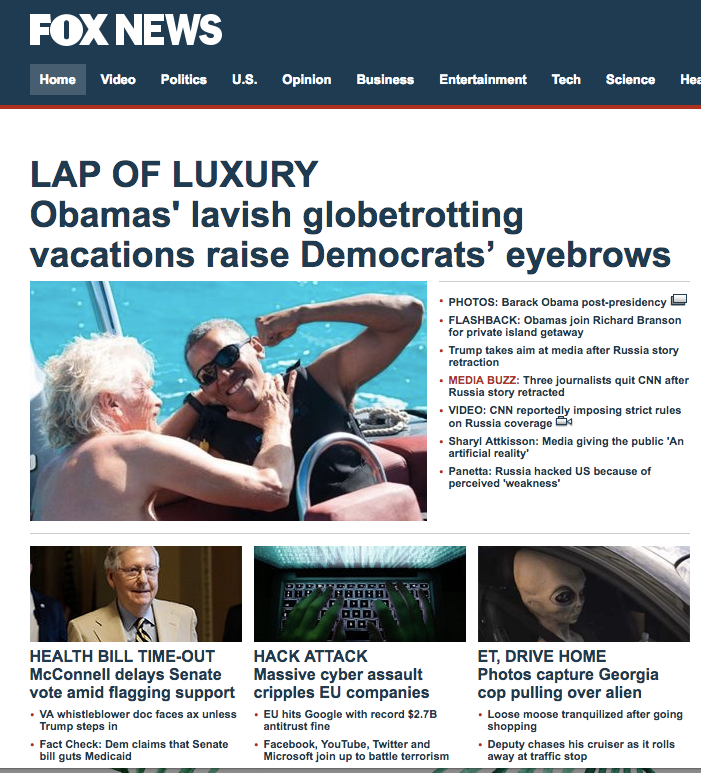 Fox News' loosely sourced story cites two "left-wing activists" who say they're troubled by Obama's vacations in the months since he left office. The two sources ― one-time Democratic strategist and Fox News contributor Patrick Caddell, who most recently has had ties to the Trump campaign, and David Michael Smith of the Houston Socialist Movement ― criticized Obama for leading "the lifestyle of the rich and famous."
The story claims that the "left-wing media" and comedian John Oliver ― whose sarcastic sense of humor Fox News appears to be unfamiliar with ― are "worried about Obama's luxury vacations." The report cites a February interview Oliver did with "Late Night" host Seth Meyers in which Oliver jokingly begged Obama to "tone it down with the kite-surfing pictures" while the U.S. grappled with the new Trump administration. 
Trump, if you're curious, has taken costly trips to his Mar-a-Lago or Bedminster resorts for eight of the 23 weekends he's been in office. 
Obama spoke out Thursday against the Senate's health care bill.
"Simply put, if there's a chance you might get sick, get old, or start a family ― this bill will do you harm," he said in a statement. "And small tweaks over the course of the next couple weeks, under the guise of making these bills easier to stomach, cannot change the fundamental meanness at the core of this legislation."
This story has been updated to clarify that while Fox News identified Caddell as a Democratic strategist, he is largely not involved in the party anymore. 
Calling all HuffPost superfans!
Sign up for membership to become a founding member and help shape HuffPost's next chapter
BEFORE YOU GO
PHOTO GALLERY
19 Of Fox News' Most Unforgettable Moments