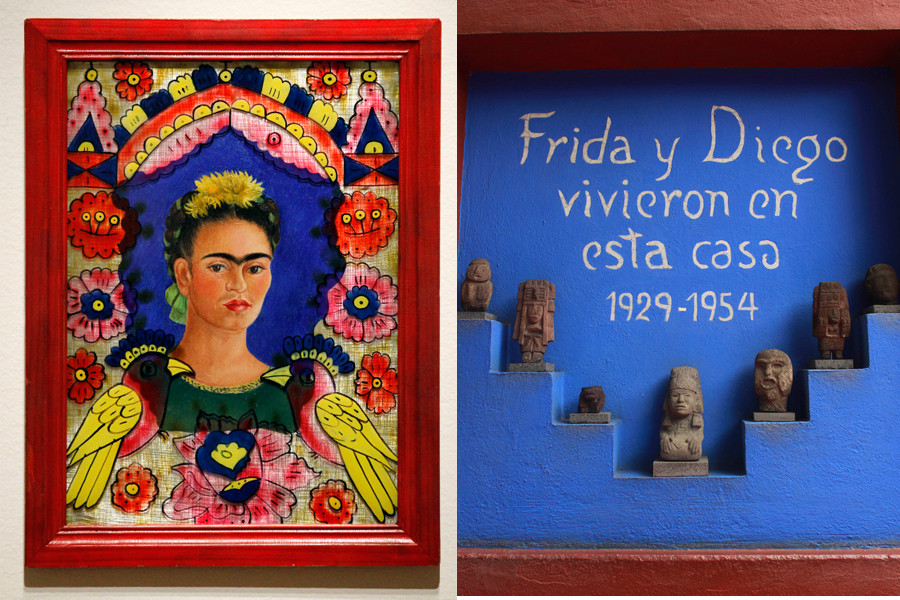 Left: Frida Kahlo's "The Frame," 1938. (AP Photo/Elaine Thompson) Right: A wall is decorated with pre-Colombian sculptures and words that read in Spanish, "Frida Kahlo and Diego Rivera lived in this house 1929-1954" at the Frida Kahlo museum in Mexico City. (AP Photo/Dario Lopez-Mills)
Frida Kahlo's cherished Blue House sits on a modest lot in Mexico City's Colonia del Carmen neighborhood in Coyoacán. Originally the Mexican artist's home, the present-day museum still contains many of Kahlo and husband Diego Rivera's personal belongings and artworks, eerily preserved 50 years after their deaths.
Visitors flock to the space to pore over these artifacts, left largely untouched by time, in an attempt to channel the spirit of a national treasure. It's true -- if ever the ghost of Frida were to return, she'd find an impressive refuge behind the museum's cobalt walls; her studio intact, her clothing maintained, her garden lying in wait.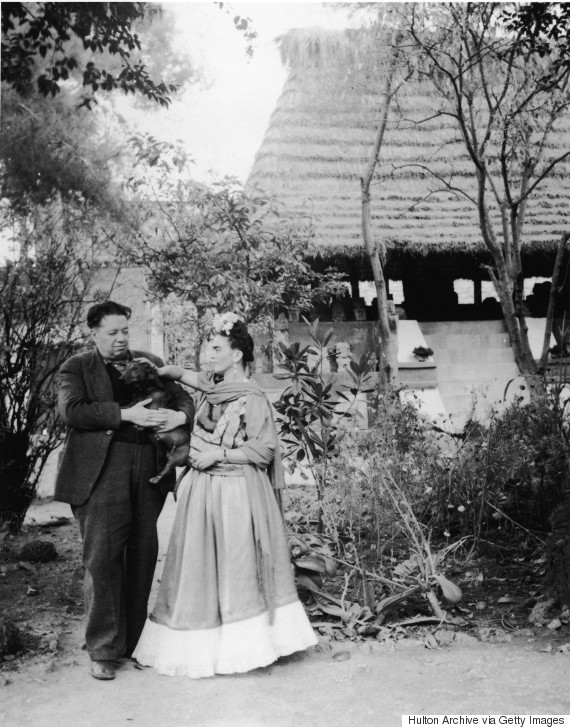 Married Mexican painters Frida Kahlo (1907-1954) and Diego Rivera (1886-1957). (Photo by Hulton Archive/Getty Images)
And perhaps this is why thousands of fans fill la Casa Azul's rooms each year, eyeing the objects she left behind. The possibility of communing with a cultural giant, the kind of icon you emphatically add to a "dead or alive" dinner party for three list, is just too tempting to dismiss.
This summer, the New York Botanical Garden (NYBG) is attempting to conjure this specific kind of mystery. Except up in the Bronx, without access to her actual estate, the garden will be summoning Kahlo's spirit by growing and maintaining the plants that filled her Mexico City garden -- cacti and succulents, roses and dahlias, prickly pears and orange trees, sunflowers and ivy. Until November 1, the NYBG's Enid A. Haupt Conservatory takes the form of a light-filled mausoleum, evoking not only Frida's green thumb, but her broader devotion to the natural world, a theme left not-so-secret in her artwork.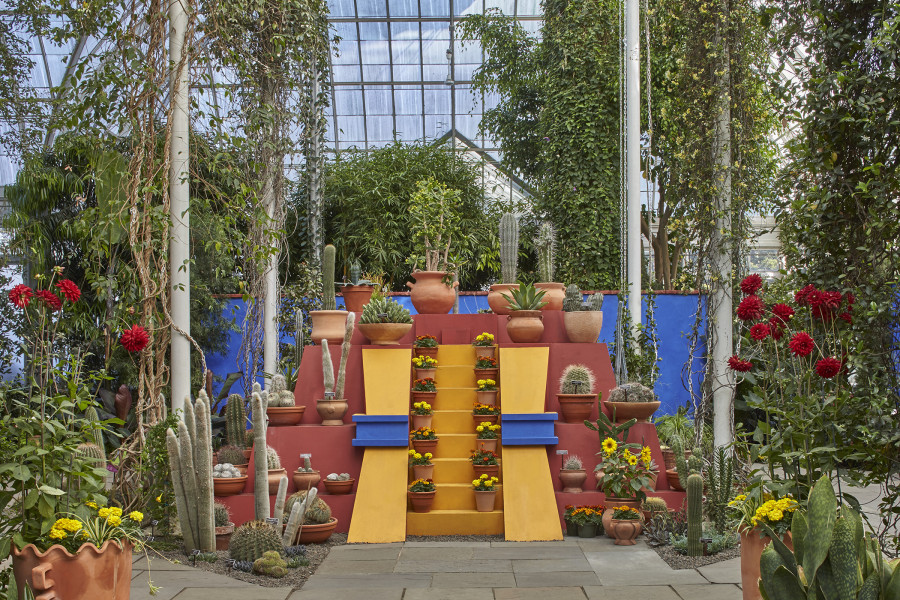 The dessert oasis -- packed with petals and prickles -- will flourish amidst a reimagining of the Blue House's recognizable tiered pyramid, stocked with pre-Hispanic specimens, as well as Kahlo's wooden studio desk, fitted with paint and brushes. An appropriately blue wall in the conservatory reads "Frida y Diego vivieron en etsa casa, 1929-1954," the first of many totems meant to woo enthusiastic Frida followers into fits of far-flung nostalgia.
Dubbed "Frida Kahlo: Art, Garden, Life," the exhibition continues into the property's art gallery, where a selection of 14 paintings and works on paper hang, including a handful of the artist's memorable self-portraits, drawn together by guest curator Adriana Zavala. The works mirror the conservatory space, overflowing with decadent plant imagery and Kahlo's mystical flair for merging the human form with wildlife. Yes, her effacacious unibrow is present.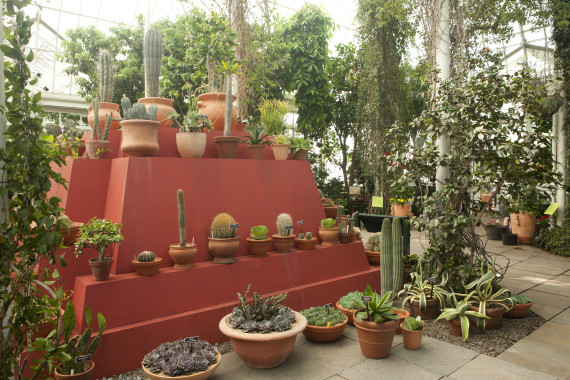 Beyond these temporary installations, which could occupy a dedicated Frida worshipper for the better part of an afternoon, the NYBG has filled both its property and calendar with events aimed at bringing the community together for a months-long séance of sorts. From musical performances by the Villalobos Brothers and Calpulli Danza Mexicana to the ¡Camara Acción! film series, textile demonstrations by women artisans from Chiapas and Oaxaca to the Octavio Paz poetry walk, the homage to Kahlo -- and her Mexican heritage -- moves far beyond terra cotta pots and framed studies.
Notable is the bilingual nature of the exhibition. According to a 2013 census study, around 54 percent of Bronx residents identify as Hispanic or Latino, a fact not lost on the NYBG. Signs throughout the show read in English and Spanish, as does the accompanying Frida mobile app. When Jenny Holzer, poet and conceptual artist, visited the garden on behalf of the Poetry Society of America to host a four-night projection work, the English words illuminated on the side of the conservatory were those of Mexican women writers handpicked by the artist.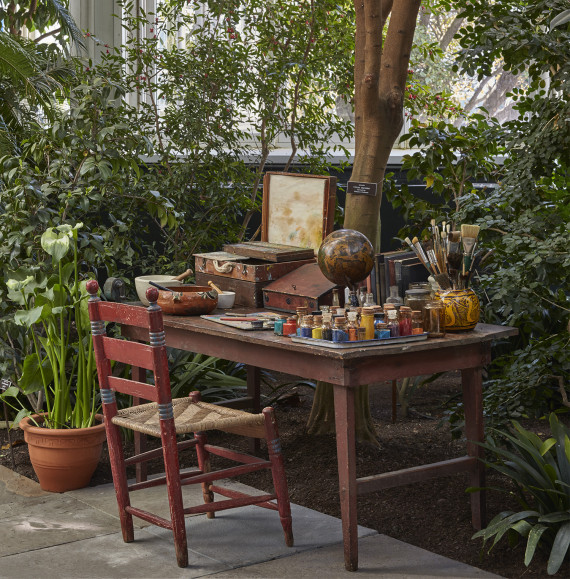 For those itching for a history lesson, though, you're more likely to find the details in Frida Kahlo's Garden, a book co-published by the NYBG and Prestel, which traces the evolution of the Blue House, and the relationship Kahlo and Rivera formed inside of it. Or you could frequent the various other Frida-themed exhibitions popping up in time for the artist's birthday this July -- "Mirror Mirror ... Frida Kahlo Photographs" at Throckmorton Fine Art in New York, "Frida" at Michael Hoppen Gallery in London or even "Diego Rivera and Frida Kahlo in Detroit" at the Detroit Institute of Arts.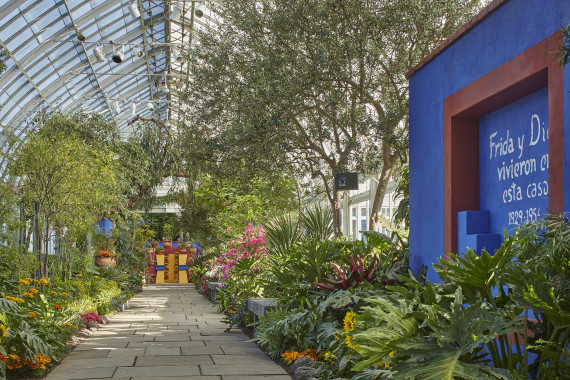 But if you're curious about what grew in Frida's garden -- fuchsia, oleander, jacaranda, palms, philodendron -- then the NYBG is the place to be. "I paint flowers so they will not die," she famously quipped. In the Bronx, Frida's not dead either.
"Frida Kahlo: Art, Garden, Life" will run at the New York Botanical Garden from May 16 until November 1, 2015. For more on the exhibition's programming, see a full calendar. All photos, unless otherwise indicated, provided by the New York Botanical Garden and photographer Robert Benson.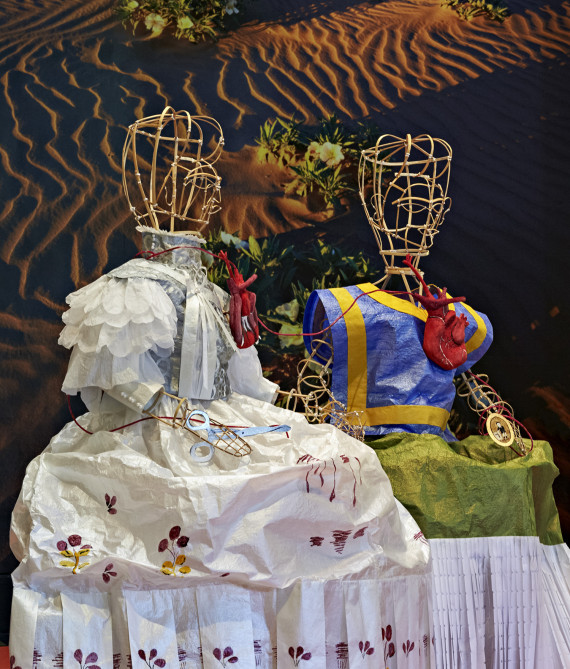 Calling all HuffPost superfans!
Sign up for membership to become a founding member and help shape HuffPost's next chapter
BEFORE YOU GO
PHOTO GALLERY
Frida Kahlo: Her Photos