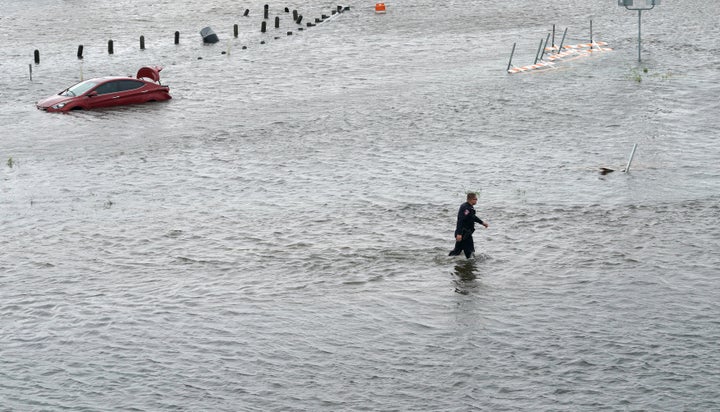 TOP STORIES
(And want to get The Morning Email each weekday? Sign up here.)
The Morning Email will return Tuesday after the Labor Day holiday ― enjoy the long weekend!
11 STAGGERING NUMBERS THAT PUT HARVEY INTO PERSPECTIVE As the death toll rises to 35, a look at the storm that dumped 27 trillion gallons of rain water over Texas and Louisiana. [HuffPost] [Tweet | Share on Facebook]
WHAT HAPPENS WHEN YOUR HOUSE FLOODS "Maybe you're sitting in your living room looking out your window when it starts. Maybe you're asleep. But you're definitely surprised. You never thought the storm would get this bad." [HuffPost]
NEARLY 800,000 DREAMERS ARE WAITING ON DONALD TRUMP'S DACA VERDICT While the president reportedly wants to end the program, he hasn't announced it ― yet. [HuffPost]
WHY TRUMP'S CUTS TO ENROLLMENT PROGRAMS WILL DEVASTATE OBAMACARE "Advertising and promotional budget for HealthCare.gov has been slashed by 90 percent and programs to help people sign up also face a nearly 40 percent cut." And here are the fixes a bipartisan group of governors is begging Congress take a look at. [HuffPost]
TRUMP ADMINISTRATION ORDERS CLOSURE OF SEVERAL RUSSIAN DIPLOMATIC FACILITIES IN THE U.S. In retaliation for Russian President Vladimir Putin's order that the U.S. cut its diplomatic presence in Russia to 455 people. [HuffPost]
HURRICANE IRMA 'RAPIDLY INTENSIFYING' IN THE ATLANTIC Initial forecasts predict the storm will be heading toward Puerto Rico, the Dominican Republic and Haiti. [HuffPost]
CHINA'S INFLUENCE ON AFRICA'S FUTURE "Despite the many misgivings Africans feel about China, they are also making a hard-nosed calculation that the continent can profit from a close relationship with China in a way it can't with the West." [HuffPost]
KENYA'S SUPREME COURT RULES PRESIDENTIAL ELECTION INVALID Forcing a new election within 60 days. [HuffPost]
WHAT'S BREWING
IN REMEMBRANCE OF PRINCESS DIANA Take a look at the round-up of HuffPost's coverage of the 20-year anniversary of Princess Diana's death. A doctor on the scene of the crash talks treating the princess without knowing who she was. These are seven times Prince William and Prince Harry reminded us they were Princess Diana's sons. And here's ultimately what we still haven't learned from her death. [HuffPost]
A WASHINGTON POST STAFF WRITER ON JEFF BEZOS' IDEOLOGY WHEN IT COMES TO PAYING WORKERS "Instead, Bezos has shown that he views his employees as parts in a high-tech machine, that income inequality is someone else's problem, and that modern corporations owe little more to their employees than a paycheck." [HuffPost]
HOW FAR YOUR RENT DOLLAR GETS YOU From Tucson to Memphis. [HuffPost]
USE OF THE PULL-OUT METHOD HAS DOUBLED SINCE 2002 Its efficacy has stayed the same. [HuffPost]
THIS KICKSTARTER WANTS TO MAKE A CARTOON OUT OF BARACK OBAMA AND JOE BIDEN'S BROMANCE It also involves time travel. [HuffPost]
A MARVEL ACTRESS CHANGED HER CHINESE SURNAME Because in her words, "Hollywood is racist." [HuffPost]
BEFORE YOU GO
REAL LIFE. REAL NEWS. REAL VOICES.
Help us tell more of the stories that matter from voices that too often remain unheard.