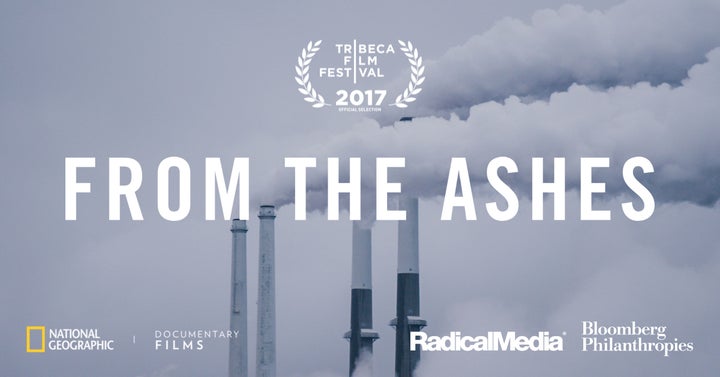 Recently, I've found myself in places I never imaged, from sharing the stage with actor Edward Norton at the Tribeca Film Festival, to walking the red carpet in Paris with the city's dazzling mayor Anne Hidalgo, to addressing the Aspen Ideas Festival, where I am this week. I've been speaking at advance screenings of a new film by Radical Media, "From the Ashes," that tells the story of the true cost of coal, and introduces viewers to people across America working to shift our nation to clean energy and provide an economic transition for coal communities.
Now, I'm excited to share the film with you. Through July 3, you can watch it anywhere with access to TV or the internet. Following the premiere last Sunday on the National Geographic Channel, the film is streaming for free on a wide range of platforms – YouTube, Netflix, Facebook, Hulu, you name it. Read more here about where you can watch.
I'm included in the film, along with community leaders and advocates from across the nation, and I can't wait for you to see it. If you're one of the people out there working to tackle coal pollution and make a just transition to clean energy in this country, then this is your story, too.
The filmmakers traveled to states including West Virginia, Montana, North Carolina, Wyoming, Texas, and Washington to capture the stories of people hit hard by coal pollution, community leaders fighting for clean air and water, and the innovators working to build a new economy in coal country. For every person featured in the film, there are thousands more effective leaders doing inspiring work in their communities, and I hope this film will help lift up all that incredible work.
In the final weeks of filming, Donald Trump was elected President. The filmmakers were able to capture this political upheaval, including Trump's many promises to revive the coal industry and his exit from the Paris Agreement. It's a striking, timely portrait of this charged and volatile moment in history for our politics and our planet. One important message we're delivering around the world as the film debuts is that Trump can't stop us from meeting our Paris climate target, and the Beyond Coal Campaign will be a major driver in getting us to that goal, something all our kids are counting on.
Having our story told by director Michael Bonfiglio and the masters at Radical Media was an honor. I'm also grateful to Bloomberg Philanthropies, which also supports the Beyond Coal Campaign, for helping to produce the film, and to National Geographic for sharing it with the world.
Most important of all, I hope the film inspires you to get involved in shifting your community to clean energy – or to stick with it and double down, if you're already part of this movement. Decisions about how we make electricity in America are still made in states and cities, not by politicians in Washington, DC. As I noted in this call to action video shared by National Geographic after the premiere, we need you to help keep moving this progress forward. Join us.
Calling all HuffPost superfans!
Sign up for membership to become a founding member and help shape HuffPost's next chapter