My story is not different from thousands of yours. Srul Avram Yisroel Kvar (or was it Kwar? or Kfare?) lived in a town called L'Viv (spelled ten ways come Sunday) somewhere in the Ukraine. He married Chaya Sara and while they never saw the United States, their children, at least most of them, took that wild ride through Ellis Island. Ironically, after the long voyage, most of them never escaped the Bronx.
Every few years I get the urge to dabble in genealogy. And every few years it gets a little easier. In the early 90's it was Family Tree Maker, replete with multiple floppy disks. Ship manifests and census were just becoming available digitally. Not for the faint of heart.
Then, I moved to Ancestry.com, which is a fabulous program that ultimately bought Family Tree Maker. Using Ancestry on the web for just ten minutes, I can generate a nice three- generation family tree with access to a treasure trove of documents from census, news obits and other sources. Ancestry is an easy program with quick results.

In my most recent foray I used MyHeritage (pictured below), a relatively new product that has a few unique features including something they call SmartMatch. Basically Smartmatch is like crowd-sourcing your genealogical tree. If one of your entries appears in some other user's tree, you get an alert and can contact them. This feature makes genealogy about as addictive as The Match Game. Each time I'd score a new record or relative, it was an adrenaline surge.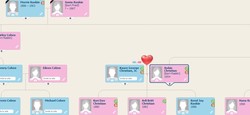 But honestly, if you're going to be serious about tracing your roots, it's still a slog through an often convoluted history of changed names, remarriages and unrecorded moments. At the end of a bunch of hours entering what you do know about your family, it's pretty typical that you find you know what you know and know what you don't know. In desperation to get past the same family roadblocks I called Schelly Talalay Dardashti, the genealogist who consults for MyHeritage. Dardashti also runs a Facebook genealogical group called Tracing the Tribe and she gave me a few important pointers. Since MyHeritage lets me search many of the things she mentioned without leaving the program, I made quick progress.
Here is a quick list of some helpful hints from Schelly:
• Start with yourself and work backwards. Many people make the mistake of starting their family trees with the oldest known relatives and working down.
• Use the 1940 US Census. It became publically available just last year and lists full household names, occupations and family members. A new treasure trove that's available through all the genealogy programs.
• Use the Social Security Death Index. I worked backwards through a full generation on my mother's side simply by finding my grandfather's death certificate. Just adding an exact date and place of death opens up quite a bit of family mystery.
• Use EllisIsland.org but remember, not every ancestor from a foreign country came in through Ellis Island. Boston, Chicago, Philadelphia also processed many immigrants.
• Use the ships manifests, which are all handwritten. They may contain spelling/human errors so take some liberty and search slight variations in spellings.
• Use military records. Draft registration cards include physical descriptions like hair color, height - fascinating sources of information.
• Visit Stevemorse.org- a clearinghouse for helping you find genealogical information.
And here are some of my own tips from my experiences:
• Don't go it alone -- corner that cousin or aunt. Sit them down and let them add some different perspective from their family's point of view. You'll flesh things out much more quickly.
• Visit the cemetery. Just by entering in the date of the death of relatives buried in our cemetery plot, I could access the Death Certificates which held a lot of family information including age, place of death, spouses, children and more.
• To get any real work done you'll need to pay. Most of the genealogy programs let you do a certain amount of record keeping for free, but to access their records you'll want a yearly subscription. You can save money by researching on public sources but it's significantly more time consuming. Average fees are about $70 a year.
• After two pretty intensive months, my tree has grown wider with more information. It actually goes back five generations now, which is a big improvement over the three I started with. Still, I was unable to go back further than the Shetl in the Ukraine, but at least my own kids will be spared some of the agony when they get around to caring.
My tree is public -- if you know something I don't, send an email.
REAL LIFE. REAL NEWS. REAL VOICES.
Help us tell more of the stories that matter from voices that too often remain unheard.