A gunman killed at least three people and injured at least 12 others at the Gilroy Garlic Festival in California on Sunday, law enforcement officials said.
The suspected shooter was shot and killed by police officers within minutes of the first report of gunfire, Gilroy Police Chief Scot Smithee said at a news conference Monday. The gunman was identified as 19-year-old Santino William Legan.
Police are investigating reports that a second individual may have been involved in some way.
The three deceased are a 6-year-old boy, a 13-year-old girl and a man in his 20s, said Smithee, who declined to release the victims' names. Local news outlets, as well as CNN and CBS, reported the name of the 6-year-old as Stephen Romero.
The older male victim was later identified as Trevor Irby, a recent graduate of Keuka College in New York. The school's president, Amy Storey, said in a statement Monday that Irby graduated from Keuka in 2017 with a degree in biology.
The Santa Clara County coroner's office identified the 13-year-old victim as Keyla Salazar of San Jose, according to local news outlets.
Police initially stated that at least 15 people had been injured but lowered the count to 12 on Monday morning.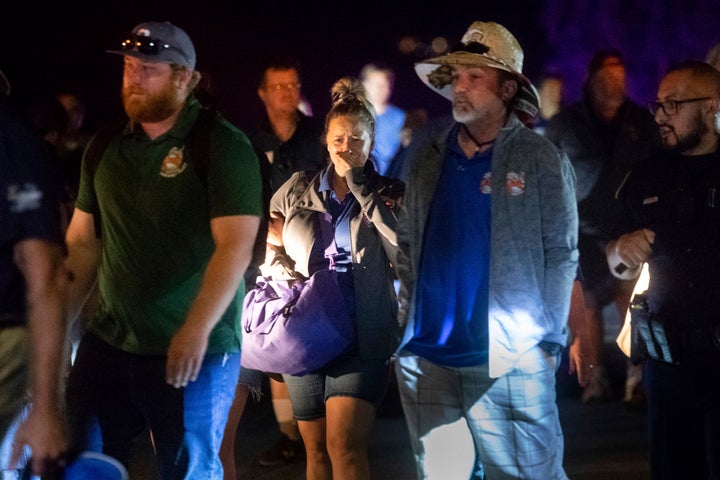 The shooter appeared to cut through a fence to gain entry to the festival before opening fire, officials said. Three police officers engaged with the gunman after he began firing on festivalgoers using an assault-type rifle, Smithee said Monday.
"I can't tell you how proud I am of the officers," Smithee said. "It could have gone so much worse so fast."
Legan legally purchased the rifle on July 9 in Nevada, where he is believed to have been living with family members, officials said. He is originally from Gilroy.
The suspected gunman posted two photos to Instagram on Sunday, including one just minutes before shots rang out at the festival, according to The Associated Press. One photo showed Smokey Bear in front of a sign that read "fire danger." Legan's caption included a reference to "Might is Right," a 19th-century book that present-day neo-Nazis and white supremacists use to promote misogynistic and anti-Semitic ideas.
In another post, just minutes before the shooting, Legan shared a photo of the festival with a caption that said "Ayyy garlic festival time" and "come get wasted on overpriced (stuff)," the AP reported.
Authorities served two search warrants on Monday ― one for the suspect's vehicle, found slightly northeast of the festival grounds, and another for a home in Gilroy associated with the suspect, Smithee said.
Smithee said investigators were still working to determine a motive.
"Mass gun violence is an epidemic in the United States and yet one never imagines such a thing can happen here in our beautiful community," Gilroy Mayor Roland Velasco said Monday during the news conference. "We are resilient and we will get through this."
The FBI is seeking assistance from the public as it conducts its investigation into the shooting, said Craig Fair, deputy special agent for the FBI's San Francisco office, during a news conference Monday afternoon. The agency set up a website where people can send information, including photos and videos taken during the shooting.
The shooting began about 5:40 p.m. local time Sunday, toward the end of the final day of the festival, officials said.
A band called TinMan had just begun its encore performance when the gunman opened fire, according to The Associated Press. Members of the band told the news outlet that they heard several gunshots and dove under the stage for protection.
The band's singer, Jack van Breen, said he heard someone shout, "Why are you doing this?"
"Because I'm really angry," came the reply.
Videos posted on social media showed festivalgoers running en masse toward the exits as loud pops rang out in the background.
One eyewitness told NBC Bay Area that he had been leaving the event when he felt a bullet whiz past his head.
Miquita Price told the station she was with three family members at the festival when she heard shots.
"We hid under a utility truck," she said. "We used that for shelter."
She described running away from the scene with a handful of people, including one woman Price said had been "shot in the neck."
The injured were taken to multiple hospitals. A spokeswoman for Santa Clara Valley Medical Center, which received several victims, said their conditions ranged from fair to critical.
At least five of the wounded were treated and released, the AP reported.
Gilroy, about 80 miles southeast of San Francisco, has a population of about 60,000. The garlic festival began in 1979 and draws nearly 100,000 people annually.
The three-day festival is hosted by community volunteers and raises money for local schools, charities and nonprofit organizations, according to the event's website.
Brian Bowe, executive director of the festival, described the event as a "family reunion" for the community and said he was heartbroken by the violence.
"Gilroy is an amazing community, a tight community; we are family," Bowe said during the news conference Sunday night. "We have the wonderful opportunity in this community to celebrate our family through our garlic festival. It is such a sad, horribly upsetting circumstance that this happened on the third and final day of this year's festival."
During a news conference outside the White House on Monday, President Donald Trump expressed his condolences to the families of those killed in the shooting and praised law enforcement officials for their speedy response.
"While families were spending time together at a local festival, a wicked murderer opened fire and killed three innocent citizens, including a young child," he said. "We will continue to work together as communities and as citizens to stop evil, prevent violence and protect the safety of all Americans."
This article has been updated with information from the FBI.
Sanjana Karanth, Saba Hamedy and Antonia Blumberg contributed reporting.
Popular in the Community