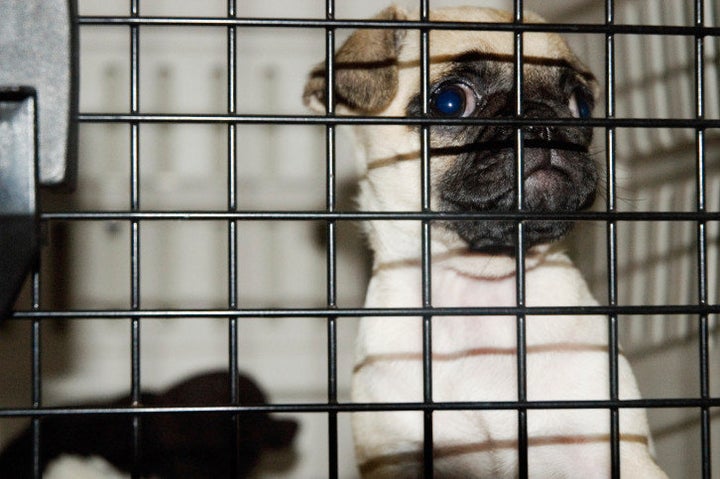 We all need to move our bodies every day. Period. Running, walking, spinning, biking ... whatever your choice is, you've got to do it. You'll keep your weight down and maintain your health-check numbers where they need to be -- plus it just feels good. But sometimes we need that little extra reason to get us out there.
While writing "The Best of Everything After 50: The Experts' Guide to Style, Sex, Health, Money and More," I was insisting that my readers had to, at the very least, walk 10,000 steps every day, and yet, I was barely making it to 3,000. Why? The same excuses most people have -- too busy, too tired, will do it later, have a headache, writing a book. There I was, telling people what to do, and barely doing it myself.
My daughters have been asking for a dog since they could speak. Every year, their birthday and holiday wish lists had "dog" at the top. My husband and I put them off for years (full disclosure: especially my husband). But, one day two years ago, hubby woke up and said, "I think we should have a dog." Huh? Was I not smack in the middle of writing a book? Could I possibly devote any time to training a puppy (which is what I had assumed he meant)? And we all know it's mom who takes charge of the new dog, no matter what the other family members may say. But, it was too late. His words hung in the air, the girls too stunned to talk, mouths open, eyes wide, disbelief written across their faces.
I agreed, of course, with one caveat: our dog would be adopted, not bought from a breeder or pet store.
According to The Humane Society, there are six to eigh million dogs and cats living in animal shelters in any given year, and that number continues to grow. Low adoption rates are one factor driving the high number of animals in shelters, but every year millions of dogs and cats are relinquished by their owners -- or rescued from the streets by animal control officers and private citizens -- and brought to animal shelters. These circumstances leave shelters and rescue groups with a large number of animals in need of homes. Many of them are not easy to adopt, causing about three to four million of them to be euthanized each year. Of course, many of these animals that are abandoned are not yet neutered or spayed, allowing yet more animals to be born.
It took a few months, but finally, Gunther, a beautiful dog we adopted through the National Brittany Rescue Network, arrived in New York City from Michigan. Gunther is a Brittany, and this breed really needs to move. Living in an apartment building in Manhattan, I'm not about to let him "out the back door" to run around a few times a day (it's a pretty big drop from the 18th floor), so I am forced to get out and take him on long, intentional walks and runs. Gunther has been the number one biggest contributor to moving my body every day -- rain, shine, sleet or snow.
Three times a week Gunther and I run (with walk breaks) for five or more miles through Central Park, and the other days I take him on long, fast walks ... all of which have allowed me to surpass my goal of 10,000 steps every day (and lose and keep off those lingering post-menopausal 15 lbs. ).
Gunther and I have been doing so well with our running/walking program, in fact, that I registered for the 2011 NYC Marathon, to celebrate my 55th birthday. This will be my second time, and once again, I'll follow the program created by Jeff Galloway, one of the key experts I interviewed for my chapter on fitness. Jeff's program actually allows you to have a life and train for a marathon. (See my marathon update, below).
Gunther's vet, Dr. Jennifer Chaitman, suggested these tips if you are going to run with your dog, especially in the warmer months:
get the green light from your dog's vet
always keep your dog on a leash
get a special belt that holds small bottles of water and reserve half of them for your dog
pay special attention to possible heat exhaustion: panting, slowing down, foaming at the mouth
if your dog is over seven years old consider taking it on long walks instead of runs
Need some other reasons to rescue a dog? Consider these:
Owning a dog can control your blood pressure better than drugs
People who own dogs spend more time walking and exercising than those who do not
Dogs give you unconditional love and can help you from feeling lonely
Dogs help to increase our network of friends and associates
If you don't yet have a dog, but are thinking about it, please consider adopting one. President Obama, Orlando Bloom, Drew Barrymore, Jennifer Aniston, Sandra Bullock and JK Rowling are just a few of the many celebrities who have chosen to adopt -- rather than buy -- a dog. I came across a few perfect sentiments from some well-known and not-so-well-known people who have allowed their hearts to be captured by a dog. Enjoy ...
"Hi," I said. She came over, licked my hand discreetly, allowed herself to be scratched for a time, chased her tail in a dignified circle, lay down again. I remember thinking: "There are times God puts a choice in front of you." I often had such thoughts back then. We took the dog.
I very much believe in rescuing animals, not buying them.
She had no particular breed in mind, no unusual requirements. Except the special sense of mutual recognition that tells dog and human they have both come to the right place.
'Tis sweet to hear the watch dog's honest bark
Bay deep-mouthed welcome as we draw near home;
'tis sweet to know there is an eye will mark
Our coming and look brighter when we come.

My sunshine doesn't come from the skies,
It comes from the love in my dog's eyes.
Staying connected is a powerful tool. "Friend" me on Facebook and "tweet" me on Twitter (@BGrufferman). For more information about living your best life after 50 with health, vitality and style, please visit my website: www.bestofeverythingafter50.com. Be well, and be in touch.
* * *
2011 New York City Marathon Weekly Training Countdown (19 weeks to go)
I'm running in the NYC Marathon in November to celebrate my 55th birthday and raise money for the Pancreatic Cancer Action Network, in memory of a friend who succumbed to the disease last year. Here's an update on my training schedule for this week:
Saturday: 5 miles using a run/walk ratio of 3 minutes/30 seconds
Monday: 5 miles using a run/walk ratio of 3 minutes/30 seconds
Thursday: 14 miles with using a run/walk ratio of 30 seconds/30 seconds
Every other week, I'll be adding another mile or so to the long run (keeping the two short runs the same distance), and I will be adding "speed work" to my training. Stay tuned!
For more information on the Jeff Galloway Run/Walk/Run Method, check out his website, www.jeffgalloway.com.
Popular in the Community