In a tweet that has since been deleted, @MarlaReynoldsC3 praised her top-performing son for being a standup gentleman.
"This is MY son. He graduated #1 in boot camp," the #HimToo tweet began.
"He is a gentleman who respects women. He won't go on solo dates due to the current climate of false sexual accusations by radical feminists with an axe to grind."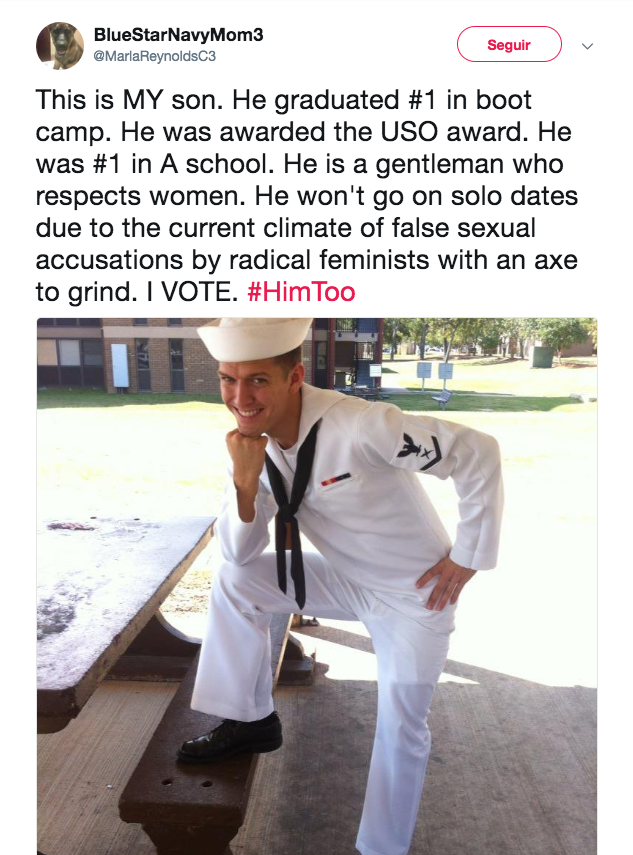 The #HimToo tweet includes a photo of Reynolds' son Pieter Hanson in a Navy uniform, posing with his elbow on his knee and his chin on his fist.
A man who said he is the sailor's brother told HuffPost late Monday that his mother can be, well, a mom with maybe some boundary issues.
"My mom has good intentions. But she wasn't trying to be a proxy. She's posted on Facebook about her single eligible sons and tried to get them dates many times over the years . But she never spoke to my brother nor did he make any of those statements regarding sexual allegations. He's actually a big supporter of women's rights among other things. An upstanding guy in the community, and everyone that knows him loves him.

Part of the reason mom can't understand why he's single. But the real reason is he's busy going to school full time, works 3 jobs (one as a volunteer) and is close to opening a new brewery business. He's a vet with an honorable discharge that received recognition by president Obama.

My brother is one of the finest human beings I know ... . He at first was very upset but is now taking it in stride and laughing about how mom went viral.

He is single. He does go on solo dates. And he's not afraid of the current climate or sexual allegations. As his brother though I'm sure he wouldn't mind a date out of this deep down haha. He really is a wonderful person.
But despite mom's good intentions, that didn't stop Twitter from piling on and taking up the cause. By Monday evening, #HimToo started trending on Twitter.
As the internet goes, the tweet that started the meme became a bigger viral sensation. Twitter users were enamored with mama Hanson's antics and accidental fame. By Monday evening, Pieter Hanson started his own account:
CORRECTION: A previous version of this story mistakenly indicated Kavanaugh was confirmed on a party-line vote.
Popular in the Community