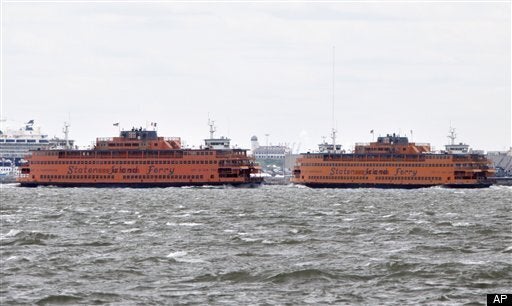 Anger and budget issues were hot topics when the two candidates vying for New York's 13th Congressional seat squared off Tuesday for a 90-minute debate.
Rep. Michael McMahon, the incumbent Democrat, and his Republican challenger, Michael Grimm, clashed on stage at Staten Island's Wagner College in front 350 plus supporters.
McMahon kicked off the debate talking about the anger that's been prevalent in this race and others throughout the country. It's not the way to solve problems, he said, and called for more bi-partisanship.
"I will not ever try to campaign on the anger, concerns or fears of the people in my district," he said. "It's easy to pander and easy to politic. It's easy to throw out rhetoric and call names and mislead people about someone's record."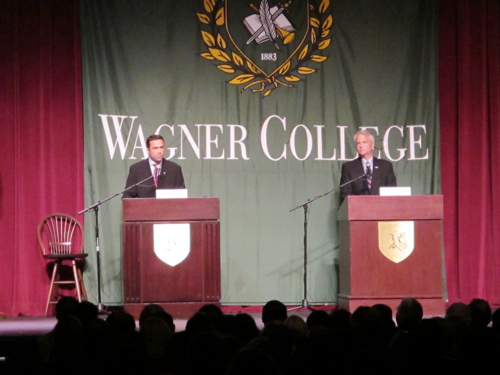 But Grimm said anger is a legitimate emotion at this time, as the country heads down what he sees as the wrong path.
"I have to be honest with you, I am angry. I'm angry and I'm frustrated and I'm disappointed," he said. "There's no question we're facing difficult challenges, but this current administration has looked at all these challenges and answered with the same answer: an expansion of government."
While McMahon brought home millions from the $787 billion stimulus package to help with transportation repairs in Staten Island, Grimm said the way he did it was damaging to future generations.
"That money was borrowed. We borrowed that money. It didn't come from a budget," Grimm said. "It's easy to bring home millions and millions of dollars when you're not the one paying for it."
Grimm said to pay for infrastructure needs he would slash budgets from and cut "inefficient, ineffective" programs in Washington and re-evaluate funds for The Department of Energy, which he said has "failed since its inception."
But McMahon said desperate times called for desperate measures and that he voted for the stimulus aid because the economy was "close to a free fall." He said he would not vote for another one, but instead called for the re-authorization of the $286.4 billion SAFETEA-LU bill, which focuses on rebuilding and repairing transportation needs. It expired in 2009.
The two candidates also went back and forth on McMahon's vote as a New York City Council Member to increase property taxes in 2002. McMahon said the boost was necessary in the post-Sept. 11 economy to spare jobs losses for firemen, policemen and schoolteachers.
"Leadership is making decisions that are not always pleasant but are necessary and morally right for the people you want to represent," he said, suggesting that Grimm had been scaring voters about his record. "The anger that I feel is when people mislead the people in this country by saying things that are not true to try to gin them up for political gain."
Also on the economy, Grimm said he would vote for tax breaks for small business owners and would propose a capital gains suspension for two years on new investments.
"I believe that those sitting on the sides, if they get that tax break, they'll jump into the market place," he said.
The candidates battled more on illegal immigration, foreign policy and entitlement programs. The only issue they seemed to agree on was their shared opposition to the Islamic Center near Ground zero.
"So many loved ones that we know from that tragedy just felt they shouldn't be put through the memories and the history again," said McMahon. "I don't think that's the right place to have it."
Grimm agreed: "It's not about the First Amendment at all. It's simply wrong to make those that have suffered so much to suffer more."
The night ended with closing statements by each candidate. Grimm said the nation was now at a "tipping point," headed either down a path of more government spending or in a direction back to the Constitution and the framers.
"We're going to limit our government. We're going to be fiscally responsible. We're going to stop that spending," Grimm said. "We're going to give the power back to the people."
McMahon closed with a plea to end to anger and fear. "It's not the American way," he said. "Anger has never solved problems. Bemoaning the fact of whatever it is that makes you unhappy doesn't do it. It's leadership."
After watching the debate, Kevin Collins, 64, a retired police officer from Staten Island, said he thought Grimm was strong on his message about reducing spending and borrowing.
"On balance, I give it to Grimm by about 55-45," Collins said. "I give it clearly to Grimm."
Lucille Becorella, 77, a retired bank teller and Grimm supporter, said she agreed with McMahon's closing argument that yelling and screaming aren't going to solve problems.
"But sometimes you have to get your voice and your opinion across," she said. "They don't listen. Democrats just don't listen. So you have to yell and scream at them."
McMahon supporters, however, firmly believed their guy was the man of the hour.
"McMahon won hands down," said Laura Swore, 41, a small business owner from Staten Island. "I think there was a lot of substance to what he had to say, and I think Michael Grimm's answers tended to be what he was against and I didn't hear anything about what he was for."
Others commented on what seemed to be a central theme in the race: anger. Tom McGinley, who helps lead Young Republicans of Richmond County, said he didn't vote for McMahon in 2008, but he will this time.
"From what I saw tonight on stage, one person was stating facts, another person was stating rhetoric," McGinley said. "McMahon reacted in a way that shows independence and leadership and that's what we need. We need sensibility, we don't need anger and fear."

Related
Popular in the Community