 WASHINGTON -- House Republicans plan to demand major perks for coal companies and Wall Street banks, alongside healthcare and social service cuts and a one-year delay in the implementation of Obamacare, in exchange for raising the debt ceiling until the end of 2014, according to a source close to the House GOP leadership.
President Barack Obama and congressional Democrats have repeatedly stated that they will not negotiate over raising the debt limit, saying they will not make a political football of the U.S. government's creditworthiness.
The Republican plan, which would also constitute a significant overhaul of the environmental and financial regulatory system, would cut pensions for Federal employees and raise taxes on immigrant families with parents who do not have a Social Security number. The document claims $7 billion in savings from restricting the child tax credit to immigrants who do have a number, and up to $84 billion from "reform" to the Federal Employee Retirement System.
The plan would increase Medicare means testing, and would eliminate social service block grants and a fund for preventative healthcare in the Affordable Care Act that conservatives have characterized as a "slush fund." Block grants are a capped entitlement program given to states to help fund services like daycare, transportation and home-delivered meals. The Prevention and Public Health Fund has included funds for training primary care doctors and supporting healthy corner stores.
Coal and oil companies would benefit from provisions to expand offshore drilling and drilling on federal lands. The proposal blocks the federal government from regulating greenhouse gas emissions and coal ash, and would give Congress the power to veto any "major" regulation issued by a federal agency (because an affirmative vote would be required, Congress could void new rules simply through inaction).
In addition, the document claims $23 billion in budget savings from a provision to "Eliminate Dodd-Frank Bailout Fund." The money, however, is not legally permitted to support collapsing banks. Dodd-Frank established the fund to allow regulators to pay some creditors of large banks when they fail, in order to prevent a domino of failures akin to what occurred in 2008 when Lehman Brothers filed for bankruptcy. Absent the fund, the government would have no effective way of limiting the economic damage from a bank's failure, increasing the likelihood that a bailout would be necessary.
A total of 91 Republicans, including House Speaker John Boehner (R-Ohio) and current Majority Leader Eric Cantor (R-Va.), voted for the 2008 bank bailout.
Wall Street banks would benefit from an item that gives Congress the authority to slash funding for the Consumer Financial Protection Bureau -- a signature achievement of the 2010 Dodd-Frank financial reform law. The CFPB is funded through the Federal Reserve, which currently prevents Congress from weighing in on its budget requests. The document claims $5 billion in "budget savings" from a CFPB overhaul; and because the CFPB's annual budget is currently about $450 million, to achieve that figure, the agency would have to be entirely defunded.
Despite the Wall Street-friendly provisions, markets are likely to react negatively if the debt ceiling is not raised, or negotiations are protracted. Stocks have have already fallen in recent days despite a favorable Federal Reserve announcement on monetary policy made in part to allay worries over the debt ceiling.
Former Office of Management and Budget Director Jim Nussle, a Republican, said on CNBC Tuesday, "There'll be repercussions that our economy right now doesn't need, doesn't deserve at a time when it's just trying to get back on its feet."
Treasury Secretary Jack Lew wrote in a letter to Boehner that the debt ceiling would be reached on Oct. 17, and that the Treasury Department would have less cash on hand than expected to meet existing obligations.
The planned legislation will raise the debt ceiling through Dec. 31, 2014. The legislation is also expected to include language backing the Keystone XL pipeline, principles for tax reform and a one-year delay to the individual mandate of the Affordable Care Act.
A Boehner spokesman declined to comment on the proposal.
Before You Go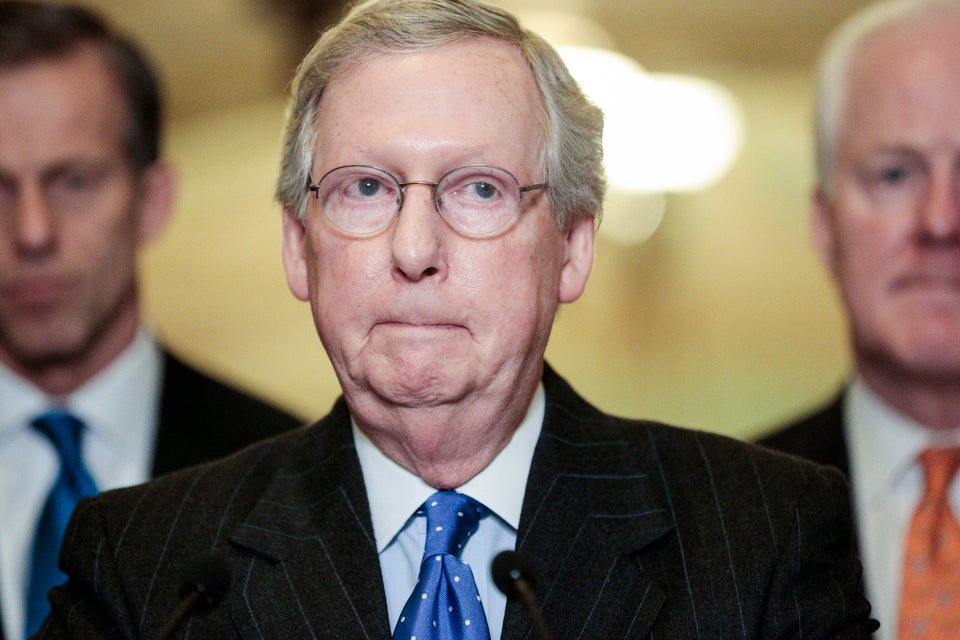 Say Cheese! Mitch McConnell Smiles
Popular in the Community