Secretary of Education Betsy DeVos hosted a meeting to discuss sexual violence on college campuses on Thursday. One of the sessions included men accused of sexual assault ― and many sexual assault survivors are not happy.
DeVos met with three groups of stakeholders in separate 90-minute roundtable discussions, according to the Education Department. One of the meetings included representatives of educational institutions and legal representatives. Another featured survivors of sexual violence and advocacy groups, including End Rape on Campus, the National Women's Law Center, the Rape Abuse & Incest National Network, and the National Center for Transgender Equality.
The third session, and arguably the most controversial, included "students who have been falsely accused and disciplined under Title IX," according to an Education Department memo. Organizations represented included the National Coalition for Men Carolinas, Families Advocating for Campus Equality, and Stop Abusive and Violent Environments.
"The conclusion that I came to, personally, was that this is going to be a process," Fabiana Diaz, a 23-year-old sexual assault survivor who attended the session with survivors, told HuffPost. "There was no decision made ― it felt as though it was going to be a continuation."
Diaz and Jess Davidson, managing director of End Rape on Campus, said the meeting was intimate. About 20 people were in the room, about half of them advocates and survivors, and the rest DeVos and other department officials.
"I'm exhausted from the emotional labor that I have put into this. I'm sure everyone who was at that table is as well. But the difference is I'm not getting paid for it."
Diaz said she felt heard, but sharing her story wasn't easy.
"Students and survivors have held their schools accountable rather than the Department of Education holding these schools accountable, and that has to change," Diaz said she told those in the meeting. "Personally, I'm exhausted from the emotional labor that I have put into this. I'm sure everyone who was at that table is as well. But the difference is I'm not getting paid for it. And I think that really resonated with DeVos."
Though Davidson said she wasn't sure DeVos is truly committed to enforcing Title IX, she said the meeting was a step in the right direction.
"DeVos did say in the meeting that this would be the first conversation of many and that it does not stop here and that she's not just checking off a box," Davidson told HuffPost. "That, to me, is one of the most important things that came out of today's meeting, because it means that this will be a conversation and that the department does not ― at this time ― plan to use meeting with survivors once to say that they are making decisions informed by survivors. Because if you only meet with survivors once, that's not actually a decision that's informed by survivors."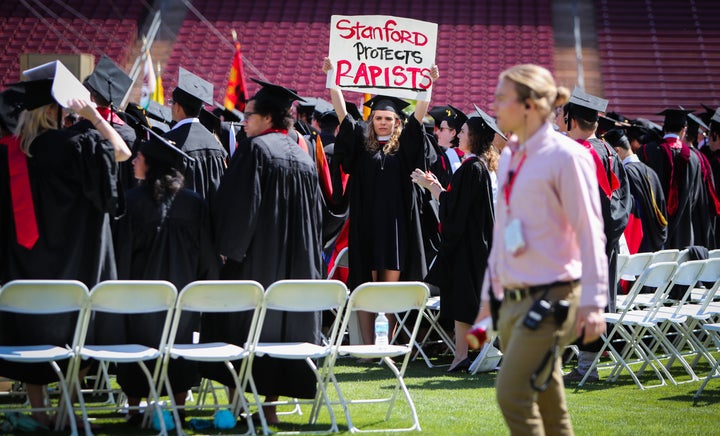 Candice Jackson, deputy assistant secretary for the department's Office of Civil Rights, acknowledged her recent comments in the New York Times that "90 percent" of sexual assault claims are really regretted sex, not rape, according to meeting participants. Jackson didn't apologize for the remarks, said Alexandra Brodsky, a National Women's Law Center fellow and co-founder of Know Your IX.
On Wednesday morning, the day before the meetings, 118 student sexual assault survivors published an open letter to DeVos urging the Trump administration to enforce Title IX. The letter also expressed outrage that DeVos allotted the same amount of time for the wrongly accused as she did for survivors.
Many members of the National Coalition for Men are men's rights activists who have "viciously and very intentionally harassed rape survivors," Davidson told HuffPost earlier this week, describing the organization as a "hate group."
The group's Carolina chapter, which participated in DeVos's meeting, didn't immediately respond to HuffPost's request for comment.
"It's not equitable for the department to meet with the 'wrongly accused' for 90 minutes because these men's rights activists are speaking on behalf of the statistic that 2 to 8 percent are wrongfully accused," Diaz said. "It's simply not equitable." Survivors, she said, should have been allowed a greater percentage of time, since their numbers are so much larger than the wrongly accused.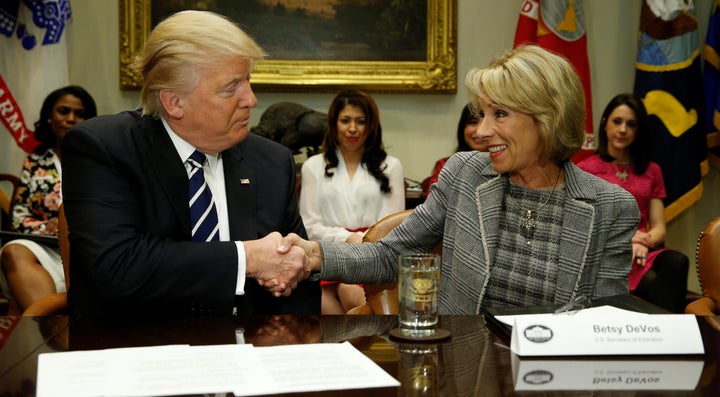 Nita Chaudhary, co-founder of women's advocacy group UltraViolet, said it's dangerous that DeVos allotted equal time to the "wrongly accused."
"Rape and sexual assault are crimes ― and the perpetrators of those crimes should be held accountable," Chaudhary said in a statement. "The fact that Betsy DeVos is meeting with accused rapists as part of her review of Title IX protections should terrify all women, especially women attending or planning to attend college. There are no two sides when it comes to rape. Period."
The National Women's Law Center, along with Know Your IX and other advocacy groups, staged a "speak out" rally outside of the Department of Education building to amplify the voices of survivors.
Advocates and lawmakers read dozens of student survivor stories as a way to honor those who could not attend. Lawmakers included Sen. Kirsten Gillibrand (D-N.Y.) and Rep. Jackie Speier (D-Calif.).
Below is a video from a National Women's Law Center livestream of the protest.
Brodsky said she hopes DeVos continues to listen to survivors.
"My big hope is that DeVos realizes ― counter to the narrative painted by the ideologues that are advising her ― is that gender violence in schools is a complex and very real problem that requires deeper research and many more conversations to fully understand," Brodsky said.
Brodksy noted that even though DeVos listened during Thursday's meeting, she has yet to act on anything.
"It's hard to reconcile the sympathy that DeVos and Jackson expressed in the meeting today with their unwillingness to commit to enforcing civil rights laws," Brodsky said. "The real test is what they do next."
Popular in the Community