On Thursday, The Hollywood Reporter released its Actor Roundtable interview, featuring Jeff Bridges, Casey Affleck, Mahershala Ali, Andrew Garfield, Joseph Gordon-Levitt and Dev Patel.
As an industry publication, The Hollywood Reporter publishes several different moderated roundtable discussions showcasing top talent in the lead-up to awards season: a producer roundtable, a director roundtable, a documentary roundtable, a composer roundtable, a songwriter roundtable, and, yes, an actress roundtable. Like it or not, award show categories in acting are still split by gender ― Best Actor in a Drama, Best Actress in a Comedy, and so on ― so we can presume the magazine is just following suit.
Which would be fine, if it didn't also make so apparent the difference between being a male actor in press interviews and being a female one.
While the selected men were able to discuss at length how they each prepared for roles and why certain roles changed their views on life, as well as share tips for juggling multiple roles at once and debate whether acting should be "fun" ― you know, those tidbits of actorly knowledge that might inspire a good eye-roll but also curiosity given their unusual window to humanity ― the selected women had a different conversation that took a sharp left turn into social issues surrounding Hollywood today. 
Gender and race in particular have become more prevalent in entertainment news recently than in decades past. There aren't enough fleshy acting parts for women, especially older women and people of color, and they get fewer lines. Too often, the only people asked about those problems are ― correspondingly ― women, and older women, and people of color. 
Case in point: The Hollywood Reporter checked the "social issues" box in its Actor Roundtable issue, asking that group whether roles are "more limited to non-white actors." (Patel's motto is to embrace the mold in order to break it, and Ali suggested Hollywood change "from the inside out.") And that was the end of it. The chat between Emma Stone, Taraji P. Henson, Natalie Portman, Amy Adams, Annette Bening, Naomie Harris and Isabelle Huppert covered preparing for roles based on living and non-living persons. But it lingered on racism, sexism, agism and gendered questions. ("Would you want your kids to follow you into acting?")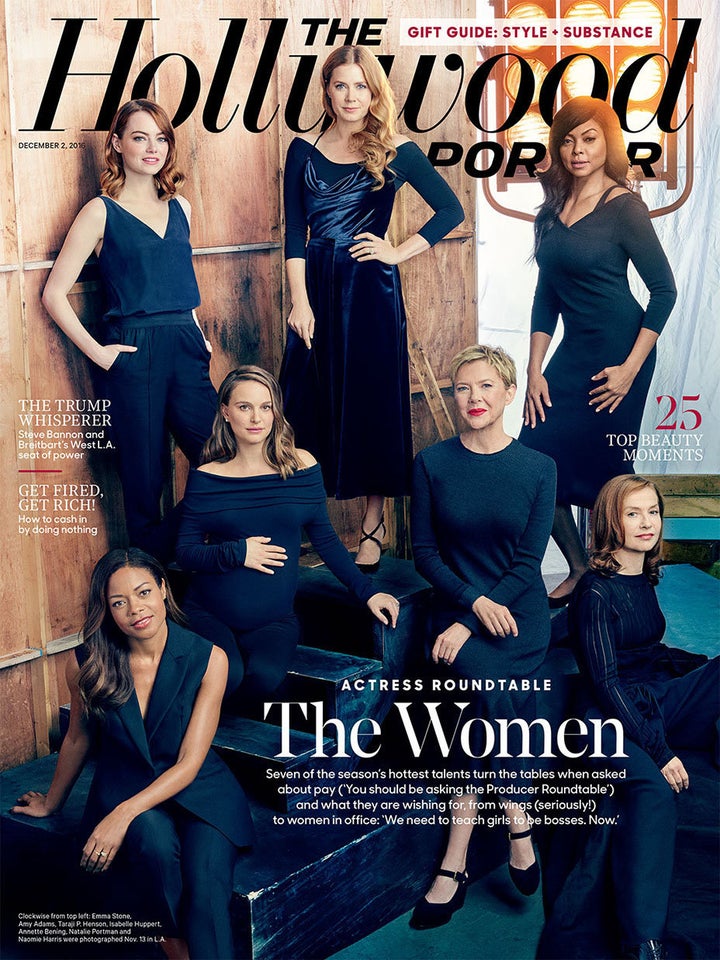 The actresses were asked whether Hollywood is doing enough for black actors (it's complicated and not generally in their power to make changes), whether roles for women over 40 are more plentiful abroad ("hmm"), about details on playing a victim of gender-based violence (it was probably easier to act out than to watch), and whether they'd like to "have it all," phrased as whether there are other accomplishments they'd like to pursue in addition to acting (going on vacation, empowering other women and girls, experiencing motherhood, getting a degree). The actors were asked which words annoy them ("like"), which famous person they'd take to a desert island (Emma Stone), and what their favorite or least favorite parts of their jobs are (learning new things is good, fame is bad). 
Hollywood has well-documented issues depicting race, sex, age and gender on screen. And, as Adams pointed out, there's not much actors can do to create more representative entertainment beyond raising awareness of the problems. That onus rests on the creators, producers, directors and moneylenders. Nothing productive, however, comes out of forcing one group, the underrepresented group, to answer for ― and shoulder the burden of ― those issues. 
Especially when they can't do much to fix things. But if you're going to ask A-list celebrities about controversial subjects ― because asking A-list celebrities about controversial subjects makes for a good headline ― do it regardless of gender. 
In its Producer Roundtable discussion, published in November, The Hollywood Reporter failed to ask one question about social issues in Hollywood. Their recent Director Roundtable has yet to come out, and it's not clear whether the publication will repeat its 2015 Writers Roundtable, but perhaps they could strike a few questions about favorite movies and annoying words for some deeper ones.
Calling all HuffPost superfans!
Sign up for membership to become a founding member and help shape HuffPost's next chapter
BEFORE YOU GO
PHOTO GALLERY
Essence Women In Hollywood Luncheon 2016