WASHINGTON -- A bipartisan group of four Democratic senators and four Republican senators will announce the framework for a comprehensive immigration reform plan on Monday, seeking to jump out in front of President Obama's planned Tuesday speech on immigration.
Senate Majority Whip Dick Durbin (D-Ill.), Sen. Chuck Schumer (D-N.Y.), Sen. Bob Menendez (D-N.J.) and Sen. Michael Bennet (D-Colo.) will join with Sen. Marco Rubio (R-Fla.), Sen. John McCain (R-Ariz.), Sen. Lindsey Graham (R-S.C.) and Sen. Jeff Flake (R-Ariz.) to promote the plan. Senators will unveil their plan (read the full five-page memo below) at a Monday afternoon press conference in Washington.
The senators were expected to make an announcement this week, but after news broke last Thursday that Obama would speak Tuesday in Las Vegas about what he wants in immigration legislation, the lawmakers agreed quickly last Friday to hold the event at the beginning of this week. Both Democratic and Republican senators were eager to go before Obama to try to wrest control of the process from the White House, according to Senate aides.
The group is notable in that it includes leading Senate Democrats like Durbin and Schumer, veteran Republican senators like McCain and Graham, and then Rubio, who was reported to have first joined the bipartisan working group last week, but according to a Rubio aide, was first approached by the others in December and has worked with them since.
"He's met with them several times since then. Our staffs have shared a lot of paper," the aide said, describing the principles as "consistent with everything that Senator Rubio's been talking about."
Durbin and Menendez have been insistent that a path to citizenship for the estimated 11 million undocumented immigrants in the U.S. is a core part of their approach.
"Very clearly, having a pathway to earned legalization is an essential element. And I think that we are largely moving in that direction as an agreement," Menendez said on ABC News' "This Week."
But the bipartisan group has also agreed that before a pathway to citizenship is made available, thresholds must be met on border security and workplace enforcement.
The draft agreement reads: "Once the enforcement measures have been completed, individuals with probationary legal status will be required to go to the back of the line of prospective immigrants, pass an additional background check, pay taxes, learn English and civics, demonstrate a history of work in the United States, and current employment, among other requirements, in order to earn the opportunity to apply for lawful permanent residency. Those individuals who successfully complete these requirements can eventually earn a green card."
The border component will include a commission to verify that the border is secure, made up of governors and attorneys general from border states.
In response to a report in The Hill last week that undocumented immigrants might become eligible for taxpayer-subsidized health care under immigration reform, the Rubio aide also said that the bipartisan group is agreed that undocumented immigrants who might be given a temporary work visa under a new legal framework will not be eligible to receive federal aid.
The draft language backs this up. "Current restrictions preventing non-immigrants from accessing federal public benefits will also apply to lawful probationary immigrants," it says.
McCain, also appearing on "This Week," said that the group's proposal is "not that much different from what we tried to do in 2007," when then-President George W. Bush tried to push a set of reforms through Congress.
Bush's initiative was met with hostility by the conservative wing of the Republican party, who howled about amnesty and brought the initiative down to defeat.
McCain said that Republican Mitt Romney's loss in the 2012 presidential election, and the fact that McCain in 2008 and Romney in 2012 lost increasingly large numbers of Latino voters, has altered the politics of the immigration debate.
"What's changed is -- honestly, is that there is a new, I think, appreciation on both sides of the aisle -- including maybe more importantly on the Republican side of the aisle -- that we have to enact a comprehensive immigration reform bill," McCain said.
"Look at the last election. Look at the last election," McCain said. "We are losing dramatically the Hispanic vote, which we think should be ours, for a variety of reasons, and we've got to understand that."
In the past, figures like McCain -- who is viewed suspiciously by many conservatives –- have been unable to convince the GOP base or the media influencers like conservative talk radio that their approach to immigration is not "amnesty."
But Rubio –- who is the son of Cuban immigrants –- has had success in ways that other Republicans never have. Just last week he got high praise for his ideas on immigration from talk radio host Mark Levin and Fox News' Lou Dobbs, who both in the past have been outspoken opponents of legalizing undocumented immigrants.
"He's talking intelligently about a rational, effective, humane response to the issue, and the idea's going to be whether the Republican party has the ability, the capacity and the will to put him in a position so that he can represent the party on the issue," Dobbs said.
Support HuffPost
The Stakes Have Never Been Higher
Before You Go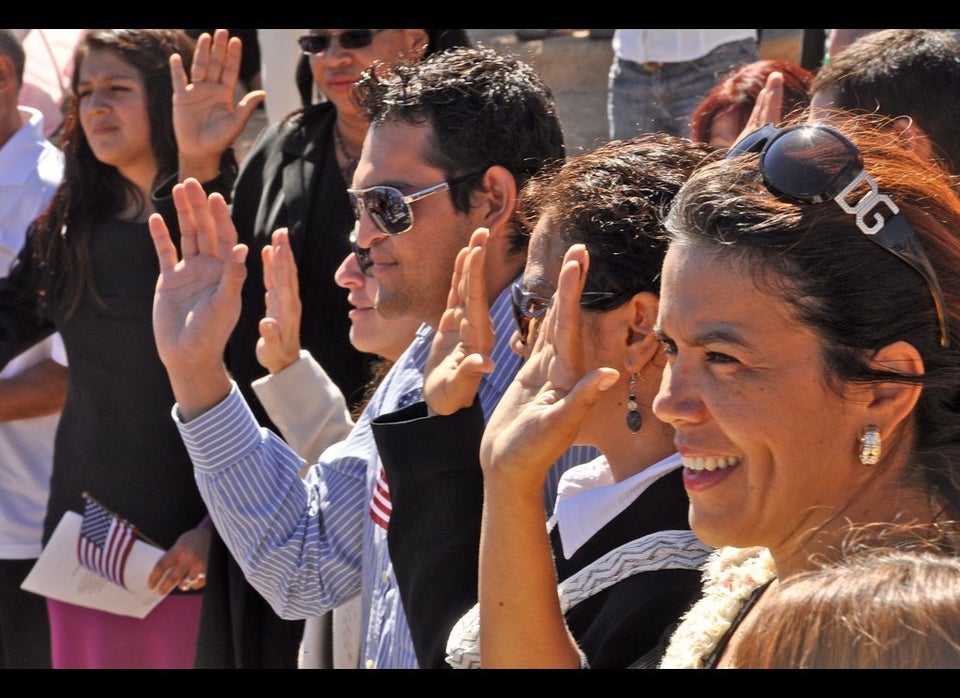 10 Major U.S. Federal Immigration Laws
Popular in the Community