Americans are wary of getting involved with the growing violence in Iraq, a new HuffPost/YouGov poll shows. But the survey also finds that many are willing to support airstrikes if necessary to quell the violence there.
Generally speaking, only 22 percent of Americans think the U.S. should get involved in the current situation in Iraq, the new poll shows, while 51 percent think the U.S. should stay out of it. Majorities of Democrats (59 percent to 16 percent) and independents (51 percent to 20 percent) said that the U.S. should not get involved, and even Republicans were more likely to oppose intervention than to support it, by 41 percent to 35 percent.
But if that intervention came in the form of airstrikes, more Americans could be in favor. By a 48 percent to 30 percent margin, a plurality of respondents said they would support an airstrike campaign, which President Barack Obama is reportedly considering. A 52 percent to 29 percent majority also said they would support drone strikes.
On the other hand, any option that put U.S. troops on the ground in Iraq, even in a supporting role, was opposed by Americans in the new poll. By a 55 percent to 24 percent margin, most said they opposed sending U.S. troops to assist Iraqi army units, while by a 67 percent to 12 percent margin most objected to sending any troops to fight.
Democrats, Republicans and independents were all more likely to oppose sending troops in either capacity, but all three groups were also more likely to support airstrikes if necessary.
The survey was conducted before Obama announced Monday night that 275 U.S. troops were being sent to Iraq to protect the U.S. embassy and other interests. The Associated Press has also reported that Obama is considering sending a small number of special forces troops who would play a supporting role in "advising and training" Iraqi forces, and who would not be involved in direct combat.
Amid the sectarian violence that has threatened to throw Iraq's government into turmoil, some critics have charged that withdrawing American soldiers from the country in 2011 squandered gains made by U.S. troops during the Iraq War. But few Americans appear to buy that argument. In a separate HuffPost/YouGov poll, Americans said by a 61 percent to 22 percent margin that withdrawing U.S. troops in 2011 was not a mistake.
And indeed, many Americans think the U.S. never should have gone to Iraq in the first place, the survey shows. By a 51 percent to 30 percent margin, most said that sending troops there was a mistake.
Majorities of Democrats and independents in the poll said both that sending troops in the first place was a mistake and that withdrawing them in 2011 was not. But Republicans tended to feel differently. By a 56 percent to 22 percent margin, most Republicans said that sending troops was not a mistake. And Republicans were slightly more likely than not to say that withdrawing troops was a mistake, 43 percent to 37 percent.
Among all Americans, 44 percent said that the Iraqi people are definitely or probably worse off today than when the U.S. first sent troops, while just 31 percent said the Iraqi people are definitely or probably better off.
The new HuffPost/YouGov polls aren't the only ones to find Americans balking at the idea of further U.S. involvement in Iraq. A survey conducted by the Democratic-leaning Public Policy Polling for Americans United for Change also found that a majority of Americans are opposed to sending troops there.
The HuffPost/YouGov polls were conducted June 11-13 and June 13-16 among 1,000 U.S. adults using a sample selected from YouGov's opt-in online panel to match the demographics and other characteristics of the adult U.S. population. Factors considered include age, race, gender, education, employment, income, marital status, number of children, voter registration, time and location of Internet access, interest in politics, religion and church attendance.
The Huffington Post has teamed up with YouGov to conduct daily opinion polls. You can learn more about this project and take part in YouGov's nationally representative opinion polling. Data from all HuffPost/YouGov polls can be found here.

Before You Go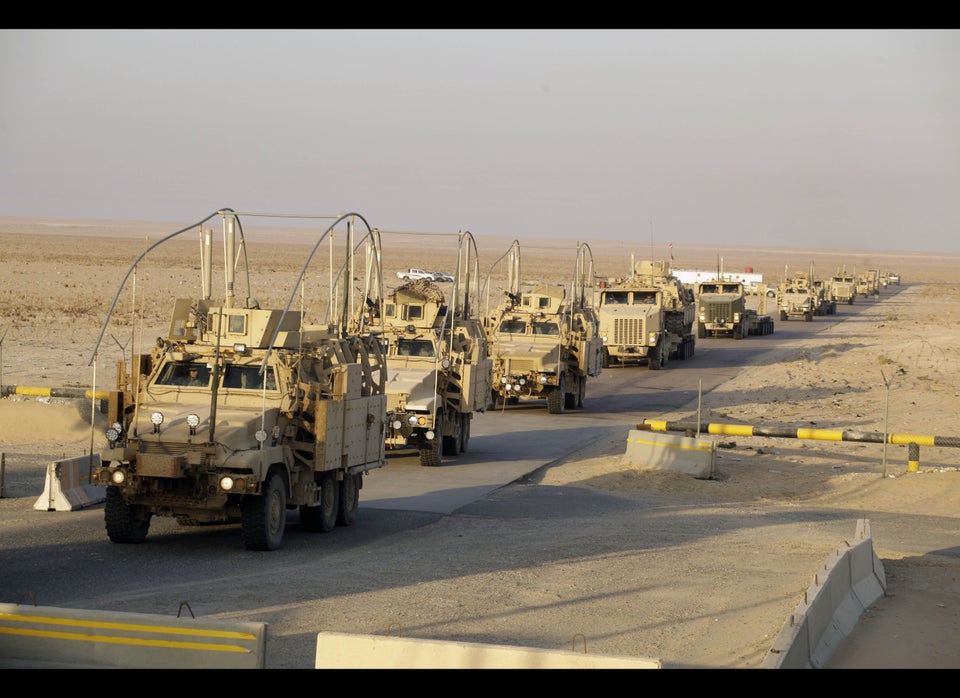 Troops Leave Iraq, 2011
Popular in the Community