WASHINGTON — Sen. Jeff Sessions (R-Ala.), Donald Trump's nominee for attorney general, would in many ways represent a clean break from the policies of the Obama era. But at Sessions' Senate confirmation hearing Tuesday, Democrats were so subdued in their attacks on Sessions that Sen. Ted Cruz (R-Texas) praised them for showing "admirable restraint."
Dems asked a few tough questions on Tuesday. They just didn't land many blows. There's another hearing Wednesday. But unless something incredibly dramatic happens, there's no reason to believe Sessions won't cruise through the confirmation process.
Sessions has been in the Senate for two decades, and previously served as ranking member of the Senate Judiciary Committee. As Republican senators routinely reminded the committee, they know Sessions. ("I'm pretty sure you're not a closet bigot," Sen. Lindsey Graham (R-S.C.) told Sessions, recalling their service together.)
During a hearing that stretched on for more than 10 hours, Sessions defended himself from charges of racism. He clarified his view of Trump's comments on sexual assault. He acknowledged that waterboarding is torture. He defended voter ID laws. He said he would not support a Muslim ban or registry. He said he'd recuse himself from decisions involving a theoretical prosecution of Hillary Clinton.
In the 1980s, Sessions indicated that he believed the main barriers to equality had already been knocked down, and that civil rights groups and the American Civil Liberties Union did "more harm than good" when they asked "for things beyond what they are justified in asking." Sessions' views on race don't appear to have shifted greatly, and he referred to racism as a relic of the past.
"As a Southerner who actually saw discrimination and have no doubt it existed in a systematic and powerful and negative way to great millions of people in the South particularly of our county, I know that was wrong. I know we need to do better. We can never go back," Sessions said. "I am totally committed to maintaining the freedom and equality that this country has to provide to every citizen."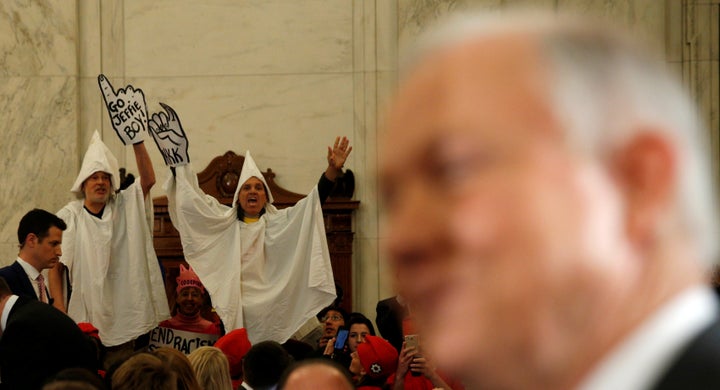 Sen. Richard Blumenthal (D-Conn.) asked Sessions a number of questions about his record and groups he's been associated with. At one point, he even implied it was possible Sessions had received a secret award from the Ku Klux Klan. (Sessions said at another point that it was "disappointing and painful" to have it suggested he thinks the Ku Klux Klan is OK, and said it "does not feel good" to be labeled as a racist.)
Sen. Dick Durbin (D-Ill.) attacked Sessions' record on immigration, saying there's no evidence he could be fair and humane on the issue.
Responding to Sen. Al Franken (D-Minn.), who posed some of the toughest questions at the hearing, Sessions said he didn't know what Trump meant exactly said when the president-elect tweeted ― without any hint of evidence ― that "millions" of people "voted illegally" for Hillary Clinton.
"I have not talked to him about that in any depth," Sessions said. But without specifying the scale of the problem, Sessions did indicate his belief that voter fraud is a significant issue, an idea not supported by facts or evidence.
Sessions hinted at the possibility of significant departures with the current practices of the Justice Department's Civil Rights Division. Although Sessions said police "must be held accountable" when they fail in their duties, his testimony suggested a departure from the Obama administration's more aggressive approach to combating patterns of law enforcement misconduct. Sessions said that it was important not to malign entire police departments, which he said are mostly filled with "wonderful" public servants "trying to do the right thing."
The large scale "pattern-or-practice" investigations of police departments that have received attention in the Obama administration are meant to address widespread conduct deeply ingrained in the culture of police departments ― not simply to target the conduct of outliers. But Sessions said there was a "concern" that the Justice Department could sue "good departments" just because there were "individuals within the department" who had done wrong.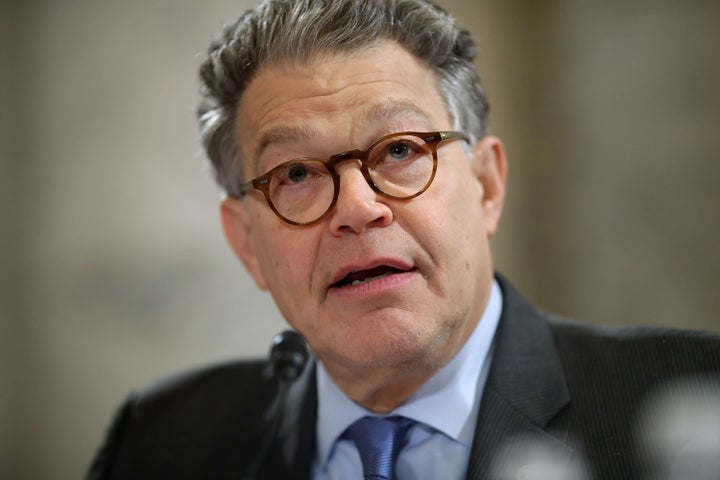 "It's a difficult thing for a city to be sued by the Department of Justice and to be told that your police department is systematically failing," Sessions said, adding that he was concerned the investigations are bad for the morale of departments DOJ has said are engaged in widespread constitutional abuses.
Sen. Mazie Hirono (D-Hawaii) questioned Sessions on a 1944 Supreme Court decision supporting the incarceration of Japanese-Americans, and Trump's prior comments on Muslims came up several times.
"I have no belief and do not support the idea that Muslims as a religious group should be denied admission to the United States," Sessions said at one point, adding that there are a lot of great Muslims in the country. "I would not favor a registry of Muslims in the United States," he said. "I don't believe they should be treated differently, fundamentally."
By the time the first day of Sessions' confirmation hearing wrapped up, 10 and a half hours after it began, some of those arrested protesters were still being held by the Capitol police.
Popular in the Community