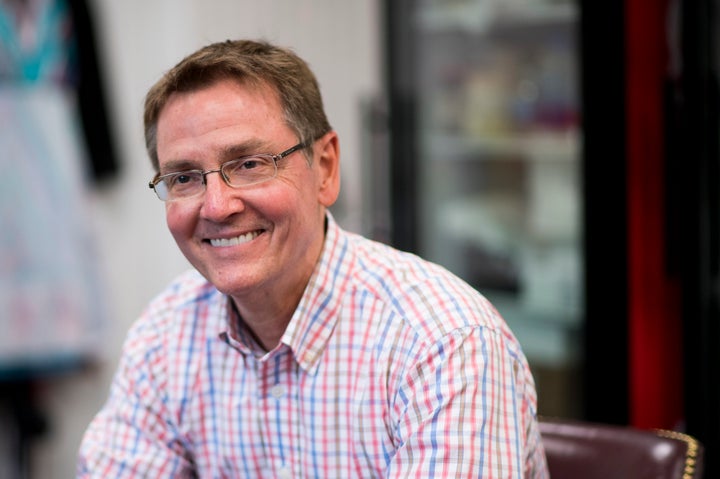 Jim Gray, the Democratic mayor of Lexington, Kentucky, announced Tuesday that he plans to run for Congress in the state's 6th Congressional District ― a move that could further boost Democratic hopes of retaking the seat from Rep. Andy Barr (R) while setting up a potentially historic choice for the district's voters.
Now, he's entering a crowded Democratic primary field that includes Amy McGrath, a former Marine fighter pilot whose viral campaign ad earned her national attention this fall, and Reggie Thomas, a state senator who represents the Lexington area.
That means the Democratic primary will feature an openly gay man, a woman and a black man competing to represent a district that has never elected a gay, female or black representative.
Should he defeat Barr next November, Gray would be Kentucky's first openly gay member of Congress. Were Thomas to win, he would be the state's first black representative in Congress. A McGrath victory, meanwhile, would make her the first Kentucky woman elected to Congress as a Democrat.
Gray won a majority of the 6th District's votes despite losing to Paul last year, according to the Lexington Herald-Leader, which first reported his candidacy. That, and his ability to self-finance his campaign, will likely make him the favorite in the Democratic primary.
Thomas' campaign manager, Leo Haggerty, welcomed Gray to the race, saying his decision was "unsurprising" and that the diverse slate of candidates will help Democrats field the strongest possible choice in their efforts to unseat Barr, who first won the seat in 2012.
"We've said from the get-go that we think a Democratic primary is a good thing," Haggerty told HuffPost. "As a Democratic Party faithful, I think it's one of the most exciting things that's happened in Kentucky politics in a long time."
"We've always more closely resembled the electorate than the Republicans have," he said. "Women, minorities and other folks are part of the Democratic Party. They're just emerging as strong candidates."
Still, the primary promises to be contentious.
McGrath, who has raised over $800,000 so far and has the backing of Rep. Seth Moulton (D-Mass.) and his Democratic recruiting efforts, is already attempting to cast herself as an alternative to Gray's "establishment" candidacy.
"Too many Kentuckians are feeling left behind and the establishment politics of yesterday isn't working," McGrath said in an email statement. "We need to rebuild the Democratic Party and make sure it stands for people from every walk of life, no matter where you live in Kentucky. I may not be a big city mayor, but I know we need someone who will fight for people in every city, town and county in this district. That's the kind of campaign I'm running and that's the kind of representative I'll be."
Barr cruised to re-election in both 2014 and 2016, and The Cook Political Report rates the district as "likely Republican" heading into 2018.
But Democrats held the seat for nearly a decade before Barr's election, and Lexington, the district's largest city, is friendly Democratic territory. Democrats in the state can point, too, to President Donald Trump's plummeting popularity across Kentucky since he won the district by 15 points last year, and to national polls that suggest they have a strong chance of gaining the 24 seats they need to wrestle House control from the GOP. The entry of another formidable candidate into this primary will only bolster that belief.
"I've talked to many people in this district. Many of them are mad as hell, many of them are scared as hell," Gray said Tuesday, according to the Herald-Leader. "That's why I'm making this race."
The diverse slate of candidates in the district is part of a national trend for Democrats, who have recruited record numbers of female candidates and candidates of color in House races and beyond since Trump took office. Early results have proven that strategy successful: November elections in Virginia and across the country included a number of historic victories for women, people of color and LGBTQ candidates.
Barr's campaign did not immediately respond to a request for comment.