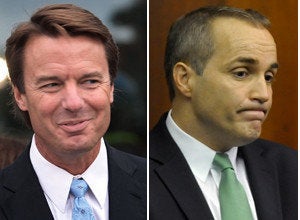 John Edwards and Rielle Hunter's torrid romance may be over, but their breakup was a happy one compared to what happened between Edwards and Andrew Young, the former aide who was once so devoted to Edwards that he claimed paternity of the former senator's love child.
As Edwards' criminal trial reaches the end of its first week, Young has been cast as a spurned lover who was used and discarded once his lie was laid bare. Defense attorney Abbe Lowell asked Young outright if he fell in love with Edwards:
"A lot of people in the country did," Young replied.

"Did you fall out of love with him?" Lowell asked.

"I did, yes sir," Young replied.

"You really hate him, don't you?" asked the lawyer.

"I have mixed feelings," the former aide said flatly, looking straight ahead.
Editor's Note: The timeline below contains explicit language that may be offensive to some readers.
Here is a brief history of the bromance and its dramatic collapse:
1998: Young first meets Edwards at a trial lawyers convention in South Carolina. Edwards puts a hand on Young's shoulder before he gives a speech, and by the time he is done speaking Young tells his wife that Edwards will one day be president.
Young begins working for Edwards' U.S. Senate campaign. Soon after Edwards is elected, "staffers began describing Young as intensely 'jealous' of others who were close to the senator," according to Politico's Ben Smith.
2003-04: Young serves as director of operations for Edwards' 2004 White House bid.
February 2006: Edwards first meets Hunter at a New York City hotel bar.
December 2006: Edwards announces his second presidential run and once again brings Young on as a key aide.
June 2007: Young learns that Hunter is pregnant, according to Young's testimony this week. Young has testified that Edwards asked him to approach elderly heiress and campaign donor Rachel "Bunny" Mellon for money to keep Hunter in hiding. Young told the court that he complied and used an intricate system of cashing checks to cover the money trail.
October 2007: Hunter moves in with Young and his wife, Cheri. Edwards' every wish is Young's command, as Politico's Ben Smith reported:
When John Edwards returned to North Carolina in the course of his long quest for the presidency, Andrew Young always met him at the airport in Edwards' big black Chevy Tahoe. Young drove, and Edwards rode shotgun, silently raising his left hand whenever he wanted a Diet Coke, which Young would wordlessly supply.
December 2007: The National Enquirer publishes a photo of a pregnant Hunter and reports that she has relocated from New York to Chapel Hill to live with Young. Edwards issues a statement to the press, claiming Hunter's unborn child was fathered by Young. Hunter also issues her own statement saying that Young is the father. Young stands by the claim and Edwards promises to come forward as the father after the child's birth, according to Young's testimony.
January 2008: Edwards stops returning Young's calls.
February 27, 2008: Hunter gives birth to a baby girl, Frances Quinn.
June 18, 2008: Edwards and Young meet in a hotel room and get into a screaming match over Edwards' request that they keep the paternity lie going longer than promised. Young reluctantly agrees.
"He said he loved me and that he knew that I knew he would never abandon me," Young testified.
July 2008: Edwards is greeted by The National Enquirer on a visit to see Hunter and their daughter in a Beverly Hills hotel. He runs from the reporters and ends up shutting himself in the men's room, hiding until hotel security escorts him out.
August 8, 2008: Edwards admits to ABC News that he had an affair with Hunter but says it ended in 2006. He continues to deny being the father of her child and offers to take a paternity test. After the interview he leaves Young this voicemail (emphasis added):
"Andrew, hey, it's John. It's 7:27 east coast time. I had a wonderful conversation with Bunny. She will be there no matter what. She's offered me to come up there and stay if I need to, and I may end up doing that some. Anyway, she's a terrific person, God, what a sweetie. Anyway, she's totally there and I think we can completely count on her and I just wanted you to hear that and to once again to tell you I love you ... uhh, I really love you, Andrew."
August 2008: Young gets Edwards to agree to a secret meeting with him. They talk inside a car on a rural road near Chapel Hill, where Edwards tells Young that his life is "hell" and his wife has started waking him up to scream at him about the affair. Young threatens to reveal that Edwards is the child's father if Edwards does not come forward.
"He looked at me and said, 'You can't hurt me, Andrew, you can't hurt me,'" Young testified.
February 2009: Young writes in an email to a friend about Edwards, "I want to personally shit on his head."
January 21, 2010: Edwards admits he is the father of Hunter's child in a statement to the "Today" show.
"When I knew where the senator was staying, I made reservations in my own name, faxed copies of my credit card and state identification card, and told the hotel staff that my 'wife' would be checking in on my account," Young writes, in reference to arrangements he made for Hunter to meet with Edwards. He quotes Edwards as saying, "I'll take care of you, Andrew. You know I'm good for it."
April 2010: Andrew and Cheri Young appear on "Oprah" and talk about the Edwards-Hunter sex tape. Cheri says the tape, which shows Edwards performing oral sex on Hunter, is her security so she "had something to prove what had happened."
Young says, "He was the man who promised me a bright future and then abandoned me to national disgrace."
Dec. 7, 2010: Elizabeth Edwards dies of cancer.
Jun. 3, 2011: After a two-year federal investigation into his campaign contributions, Edwards is indicted on six felony counts, four relating to illegal use of campaign funds to hide Hunter and their child.
April 23, 2012: The trial begins with Young as the star witness whose vivid but inconsistent testimony aims to take Edwards down. On Wednesday he spoke about why he wrote a tell-all book about the man he once adored.
"It had been almost three years since Mr. Edwards promised me he would tell the truth (and) we also very much needed the money," he said.
Popular in the Community