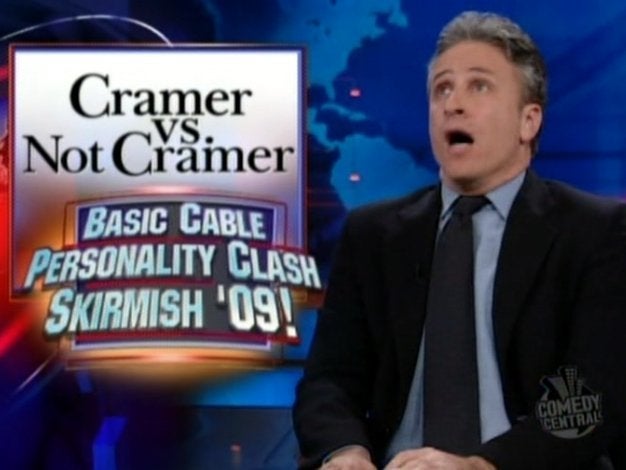 After Tuesday night's "Daily Show," Jim Cramer just may be regretting his sarcastic response - "A comedian's attacking me! Wow! He runs a variety show!" - to Jon Stewart's criticism.
Almost as biting as his original video montage critique of CNBC, Stewart unleashed an epic attack on Cramer and the whole NBC family for using their various networks as a platform for Cramer's rebuttal.
Stewart repeatedly showed Cramer making absurd and ridiculous noises while hosting his show, "Mad Money," highlighting the remarkable similarities between the program and a wacky variety show.
Noting the awkwardness of Cramer's appearance on "The Today Show," where he watched Stewart's attack on his credibility, Stewart deadpanned that "it put a human face on my mocking, and gave me a sense of the damage I had done to a real person... It'd be like him having to watch me as his Bear Stearns advice wiped out my parents' 401(k)."
To reiterate his point, Stewart pretended to vomit as a TV clip showing plummeting Bear Stearns stock played in the split screen.
Stewart then turned to MSNBC, where he introduced Cramer's appearance on "Morning Joe" by saying "I like my news like I like my coffee, white and bitter." Stewart defended himself against Scarborough's accusation that Stewart's act consists of "he's just going to sit there and cherry-pick over the past eight years every mistake people make." Nodding his head, Stewart said, "Yes, because that is what we do."
However, what really seemed to get Stewart is what he claimed to be the shock of realizing that "if I picked on CNBC, Cramer would take it personally and get the whole NBC family involved. Don't mess with the Peacocks!"
Stewart turned to his own, rather messy, parent company by featuring characters such as Nickolodeon's "Dora the Explorer" uttering the Spanish curse word, "pendejo," and by turning to Lauren and Heidi from MTV's "The Hills" for comfort in a sketch that really just needs to be seen.
Stay tuned for Thursday night, when Cramer is set to appear on "The Daily Show."
For more on Cramer, and a video of him saying hedge funds should manipulate markets and behave illegally, click here.
Watch the whole epic smackdown below.
Send us TV tips! Email us at tv@huffingtonpost.com if you see anything newsworthy or notable, or read more about our media monitoring program here.
Related
Popular in the Community