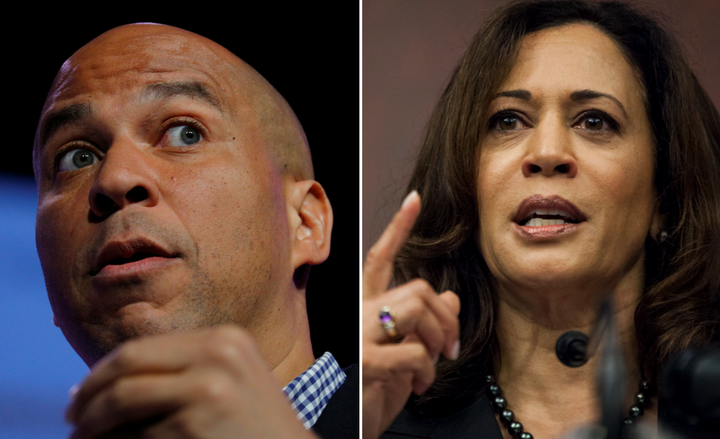 For the first time in its 200-year history, the Senate Judiciary Committee has two black committee members after Democrats appointed Sen. Kamala Harris (D-Calif.) and Sen. Cory Booker (D-N.J.) to the influential panel.
The Congressional Black Caucus had been pushing Senate Minority Leader Chuck Schumer (D-N.Y.) to appoint one of its members, and Harris, former attorney general of California, had been expected to take one of the seats, according to The Associated Press. In the end, however, Schumer chose both African-American Democratic senators for the panel.
"The Congressional Black Caucus could not be more proud of both of our Senate members and know the experience and expertise they bring to the Committee will be beneficial for all Americans, specially those disproportionately targeted by the criminal justice system," Rep. Cedric Richmond (D-La.), the caucus chairman, said in a Tuesday statement.
Only one other African-American lawmaker has served on Judiciary Committee since its founding in 1816. Then-Sen. Carol Moseley Braun (D-Ill.) was a member of the committee in the 1990s.
Booker, the first black man to serve on the Judiciary Committee, vowed in a tweet to use his new role to "check awful actions" by President Donald Trump and Attorney General Jeff Sessions, and to "keep working to advance the cause of reforming our broken justice system. "
Harris said in a tweet that she was "thrilled" about the committee appointment.
"I will fight for justice on behalf of Californians and all Americans," she wrote.
With the new appointments, the Republican advantage on the committee narrows to one seat. There are 11 majority members on the committee, and 10 minority members.
Popular in the Community