Nine months into the administration of President Donald Trump, fans of the eccentric Detroit rap duo Insane Clown Posse assembled a larger rally on the national mall this Saturday than the president's diehard supporters stationed a few hundred yards away.
The dueling rallies reflected the difficulty that any sitting president has in mobilizing his base, and the particular challenge that Trump has as he struggles to pass major legislation and honor his campaign promises.
Unlike the pro-Trump rally, Juggalos, as clown-makeup-wearing Insane Clown Posse fans call themselves, protested on the National Mall on Saturday for an actual specific purpose. That could explain why the gathering that surrounded the base of the reflection pool at the Lincoln Memorial this afternoon was significantly larger than the pro-Trump rally.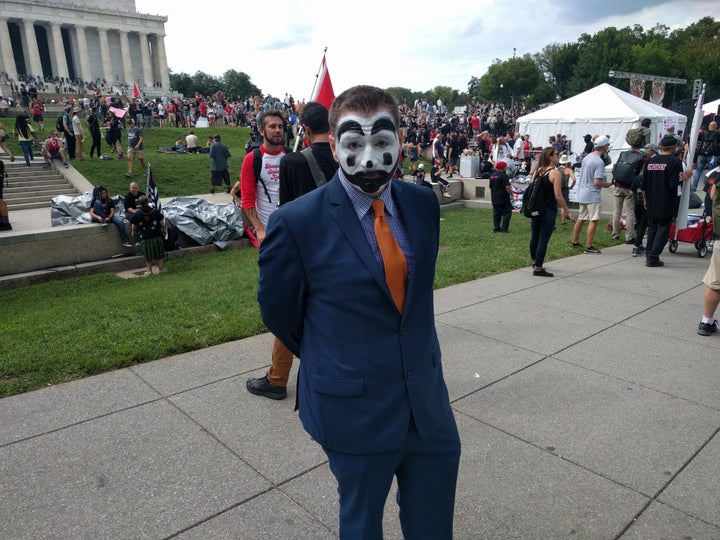 In 2011, the FBI's National Gang Intelligence Center designated Juggalos, who say they are simply fans of a band, as a "loosely organized hybrid gang," saying a subset of the group is involved in criminal activity. The agency sent out briefing materials to all law enforcement offices around the country listing Juggalos as a gang alongside Crips, Bloods and MS-13. They pointed out particular signs to look for to see if a person was a Juggalo, like the "hatchet man" symbol of the Insane Clown Posse.
The result was that people who counted themselves fans of Insane Clown Posse have been fired from their jobs, lost children in custody battles and were targeted and harassed by police.
Kevin Gill, an employee for the band and host of a Juggalo podcast, gave the opening remarks, calling the rally, "The most important day in Juggalo history." This protest was "some monumental shit," he added, before ripping into a denunciation of the FBI for categorizing Juggalos as a gang. In response, the crowd broke into a raucous chant about the much-hated FBI, "They fucked up! They fucked up!"
"Give us back our fucking civil rights," Gill shouted.
Gill and every other speaker at the Juggalo rally preached inclusivity with a passion that speakers at the pro-Trump rally reserved for subjects liker border security.
"We don't care if you're black, white, Hispanic, straight, gay, trans, fat as fuck or skinny as a broom stick," Gill said, adding everyone is welcome to be or support Juggalos.
This was largely the message from the Juggalos in attendance.
"At the core of it, it's just a battle cry against discrimination," Christian Ike, a Juggalo who traveled from Los Angeles for the protest, told HuffPost. "Obviously there's worse discrimination in this country than what the Juggalos are facing. But we're here to say that we're also with those people."
Jessica, a Juggalo from Arlington, Virginia, who declined to give her last name, told HuffPost, "We're not a gang. We don't do that. We're about love and family."
"I'm tired of the FBI going around harassing people, pulling them over, people getting fired," Kev aka "Juggs" from the Red Hook neighborhood of Brooklyn, New York, said.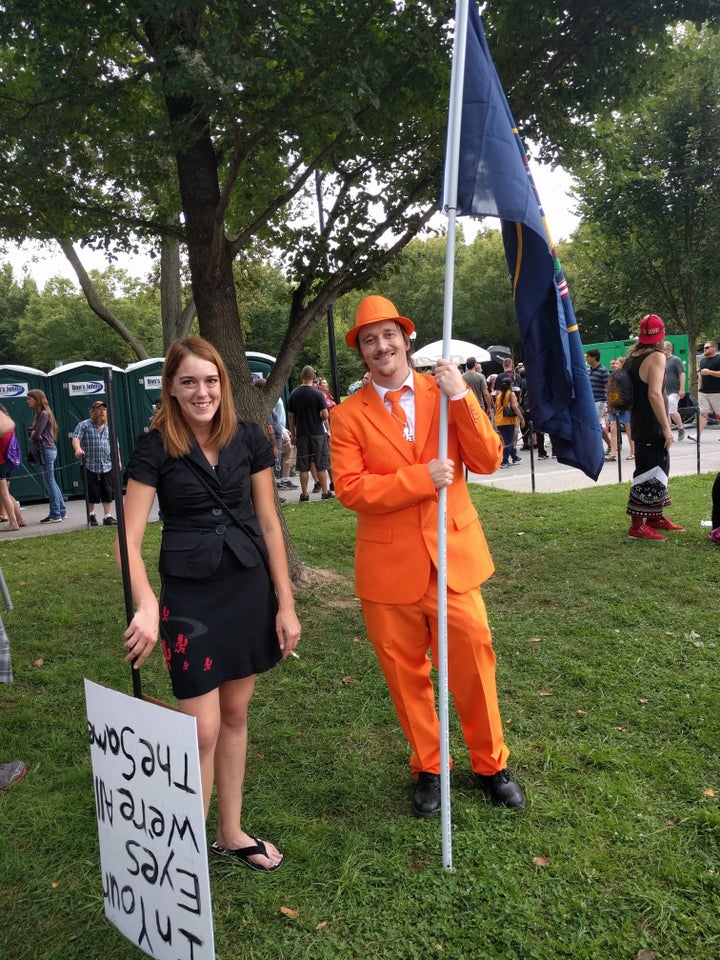 Four speakers recounted the ways that their lives have been negatively impacted by the FBI's designation of Juggalos as a gang.
New Mexico resident Crystal Guerrero said that she lost custody of two children because she went to one Insane Clown Posse show. Laura King of Fredericksburg, Virginia, recounted how she was permanently placed on a gang registry while she was on probation for a DUI offense because she had a tattoo of the hatchet man symbol. Jessica Bonometti was fired from her job as a probation officer in Woodbridge, Virginia, because she liked some Insane Clown Posse-related photographs on Facebook.
Zac, a Juggalo from Utah County, Utah, wearing a bright orange suit while holding the Utah state flag, told HuffPost that he had been harassed numerous times by police and private security just for wearing Insane Clown Posse T-shirts and having bumper stickers on his car. He said that he doesn't wear the clothes or decorate his car the way he'd like to because it makes him a target.
"I do not support Insane Clown Posse the way I normally would and I feel that it's in violation of my rights as an American to support a band and that's why I'm here," he said.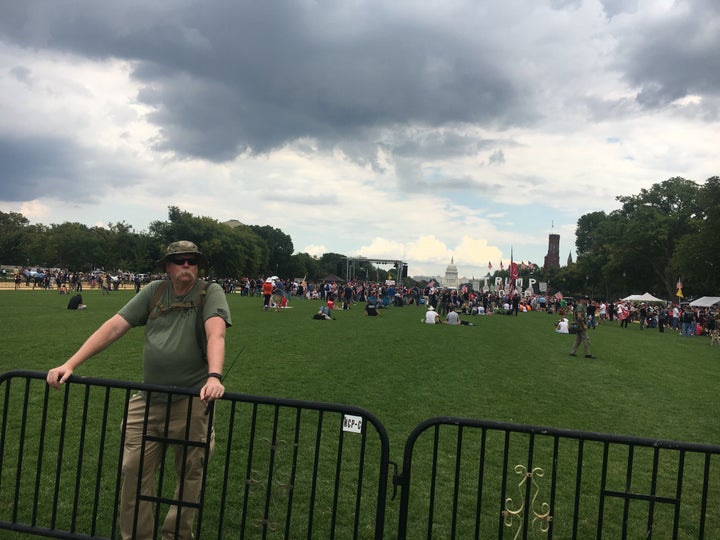 Further east on the mall, closer to the U.S. Capitol building, pro-Trump activists had convened the "Mother of All Rallies," to "help send a message to Congress, the media and the world: we stand united to defend American culture and values."
As it turned out, the self-described "Woodstock of American rallies," drew just a few hundred people, leaving much of the enclosed grass area allotted to the group empty for the duration of the afternoon. The lineup of speakers consisted mainly of D-list conservative leaders like Marco Gutierrez, the founder of Latinos for Trump, who famously warned that if the country did not curb immigration there would be "taco trucks on every corner." No Republican members of Congress or elected officials of any major office were there.
The rally organizers made a point of condemning racism on their website, advising attendees, in all caps, "NO CONFEDERATE FLAGS, NO COMMUNIST FLAGS, NO FOREIGN FLAGS ALLOWED."
It was not clear if the members of the Oathkeepers and other right-wing militiamen in khaki tactical vests at the perimeter of the rally strictly enforced this dictum.
But for the most part, the gathering appeared to be free of Confederate flags or overtly white supremacist paraphernalia of the kind on display at the clashes in Charlottesville, Virginia, in August.
Jacob Boslet, a 19-year-old from Altoona, Pennsylvania, was waving a "Kekistan" flag popular on the alt-right that resembles a particular version of the Nazi flag.
Boslet, whose brother was attending the Juggalo rally, claimed that he was waving the flag to make a statement in support of "free speech," not white nationalism, which he condemns.
"This is to promote the idea that you can create your own entity regardless if it offends someone or not, or someone has already taken it. Look at it ― it looks stupid and is a joke," Boslet said.
There were flashes of the tensions that have flared up between either white supremacists or Trump supporters and left-leaning counterprotesters. Outside the rally perimeter, a group of self-described "antifascists" or Antifa members, some of whom concealed their faces with black bandanas, got into heated political arguments with rally attendees. As the friction increased, U.S. Park Police officers got between the two groups, in an attempt to prevent violence.
In short, it was a classic "Make America Great Again" rally reminiscent of those that buoyed Trump's campaign ― save for the fact that it lacked both Trump and the throngs of supporters that flocked to him on the campaign trail. At one point, a speaker even got the crowd into a chant of "Lock her up," the campaign-trail mantra about then-Democratic nominee Hillary Clinton.
Asked about Trump's stumbles, including the failure to repeal the Affordable Care Act, rally-goers universally blamed congressional Democrats and Trump's Republican critics like Sens. Lindsey Graham (S.C.) and John McCain (Ariz.). For the most part, they were not even especially perturbed by Trump's apparent willingness to help undocumented immigrants who arrived as children stay in the country.
"I don't really think that people want everyone who came here illegally deported because some of them are trying to build a future for themselves and a future for their country," Boslet said.
In many ways, the ralliers reflected the more independent nature of Trump's fan base. Few if any attendees who spoke to Huffpost identified as Republicans.
Jennifer McGarrity, a 43-year-old sales manager, who drove down from Philadelphia, Pennsylvania, to show support for the president, identified as a "pro-choice" independent. She was unfazed by Trump's increased willingness to forge agreements with congressional Democrats.
"He knows how to get the deal done when he wants his agenda to pass through so he'll talk to who he has to," she said.
More than one rally attendee said that their only disappointment in Trump was his willingness to intervene militarily in foreign countries.
"I'm disappointed that he wants to be a war president. Instead of going toward a route of peace, he wants to wage war whether it be in Syria or North Korea," said Manny Vega, a 32-year-old truck driver from Richmond, Virginia, who served four tours in Iraq with the Marines.
Vega is especially concerned about the length of the war in Afghanistan, which has lasted nearly 16 years. He noted that the young children of veterans who fought at the beginning of the Afghanistan War are now eligible to serve in it.
"It's a real sad situation where father and son are fighting the same war," he said.
Before You Go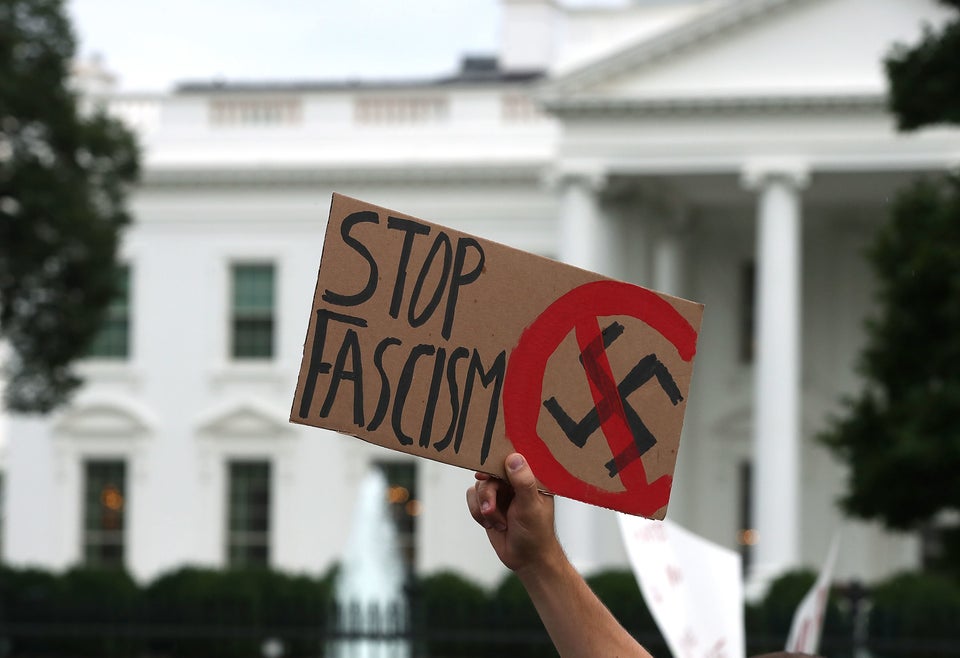 Anti-Hate Protests Against Trump
Popular in the Community