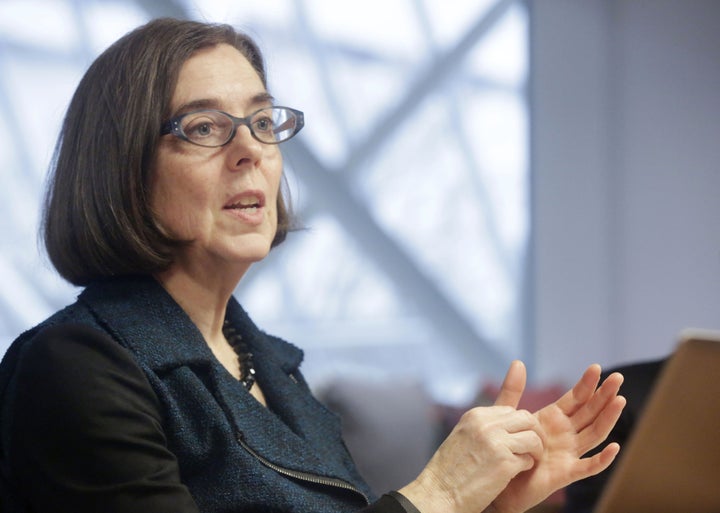 Many of the progressive wish list issues Democratic presidential candidates Hillary Clinton and Sen. Bernie Sanders (I-Vt.) advocate for as they campaign were achieved in Oregon in the last year. 
Oregon's new governor, Kate Brown (D), was in Washington, D.C., last February for a conference of secretaries of state when then-Gov. John Kitzhaber (D) summoned her home. She met him in his office, expecting the governor to tell her he was resigning because of a growing controversy over his fiancee's role in his administration.
Kitzhaber had yet another change of heart, succumbing to calls for his resignation the day after Brown issued her statement. She had just five days to prepare before being sworn in as his replacement on Feb. 18, 2015.
Since taking office, Democratic majorities in both chambers of the legislature have sent Brown bills addressing such progressive measures as expanding voting rights, access to birth control and background checks for gun purchases, as well as enacting paid sick leave and making community college nearly free for thousands of students. 
Brown has tried to balance "fighting for working families and making sure we open the doors of opportunity to every single Oregonian" and treading cautiously because she is acutely aware that voters did not actually elect her into office. 
On Friday, Brown celebrated her "whirlwind" year by attending another conference in Washington, this time with the National Governor's Association. In an interview with The Huffington Post this week, Brown acknowledged that she has had political advantages her fellow Democratic governors could only dream of, as Republicans control most state governments. (Oregon was the only state where Democrats increased their majorities in both chambers of the legislature in the 2014 midterms.)
"I had the wonderful blessing of having strong progressive majorities in both houses, and that makes a huge difference," she said.
Immediately after being sworn in, Brown drew national attention to her state with groundbreaking pieces of legislation. She signed the first-in-the-nation automatic registration bill in March, meaning state agencies now register eligible voters automatically when they obtain or renew a driver's license or state identification card, unless they opt out. More than 4,300 Oregonians have been registered to vote since the system took effect on Jan. 1.
Brown had championed the proposal as secretary of state, arguing that shifting the burden of registration from individuals to the state would make the system more cost-effective, secure and accessible. Republicans, in contrast, argue that the system makes voting too easy and may violate voters' privacy.
"How many people introduce a bill as secretary of state and sign it as governor?" she asked. "Why wouldn't we want to make it easier for people to register?"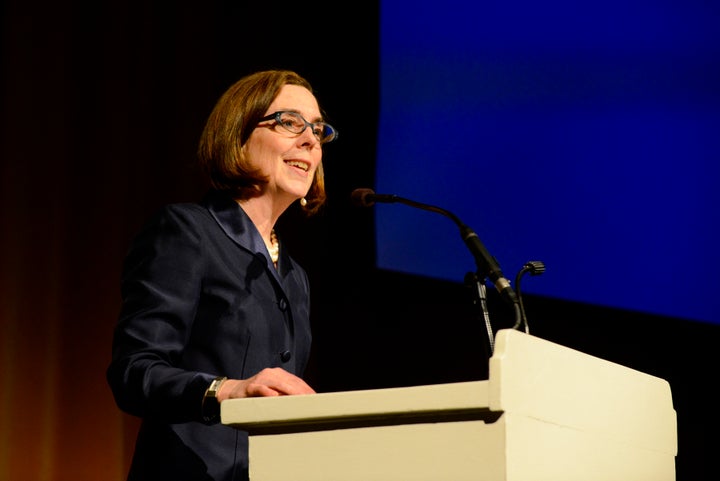 Many non-Oregonians grew jealous of the state's residents when Brown signed two bills addressing access to birth control pills into law over the summer. The first requires health insurers to cover and supply a year's worth of birth control. The second allows women to get birth control prescriptions from a pharmacist, rather than from a doctor.  
"By making it affordable for women to take home enough birth control to last up to a year, policies like these eliminate the need for routine trips to a pharmacy and can help prevent gaps in birth control use," therefore reducing the prevalence of unintended pregnancy, the Center for Reproductive Rights noted in a report published this month about expanding contraceptive access.  
Brown called birth control access "a fundamental right for women."
"For women who are traveling, for students, it just makes so much sense," Brown said. "It's so straightforward for me, it's not even an issue."
The progressive successes didn't stop there. The legislature sent Brown bills mandating that businesses provide  employees with paid sick leave and establishing a unique state-run program for private-sector employees to save for retirement. She also signed so-called "Ban the Box" legislation making it illegal for businesses to inquire about or consider an applicant's conviction history on job applications, and legislation limiting community college tuition to $50 per term for students starting classes within six months of high school.
Oregon Democrats have plenty to celebrate already, but Brown is pushing ahead with more legislation addressing progressive causes.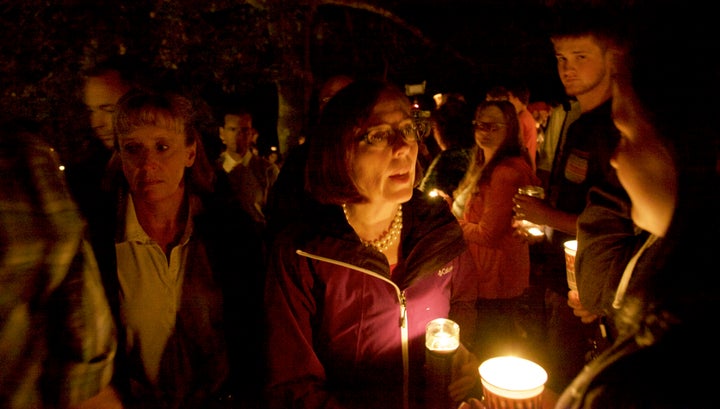 Brown's ongoing fight to raise Oregon's minimum wage -- which currently stands at $9.25 -- could really lead her to make her mark on the state. Since January, she has been pushing legislation that would address the desires of progressives who support a $15 minimum and businesses that fear such a bump would force them to cut jobs. 
Brown is set to sign a bill that would divide the state into three regions, with Portland getting a minimum wage of $14.75, midsize counties getting a wage of $13.25 and so-called "frontier" areas requiring a wage of $12.50, all by 2022. The latest bill "fits the needs of all of Oregon" and is "better than a one-size-fits-all," policy, she said, echoing Clinton, who has argued that a $15 minimum wage floor may not be feasible or appropriate outside of urban areas.
Polling indicates that Brown is popular among voters, but still faces hurdles to winning the gubernatorial race in November and earning another two years in office. Two Democrats -- albeit relatively unknown members of the party -- and two Republicans also have entered the race. 
PHOTO GALLERY
United States Governors
Calling all HuffPost superfans!
Sign up for membership to become a founding member and help shape HuffPost's next chapter