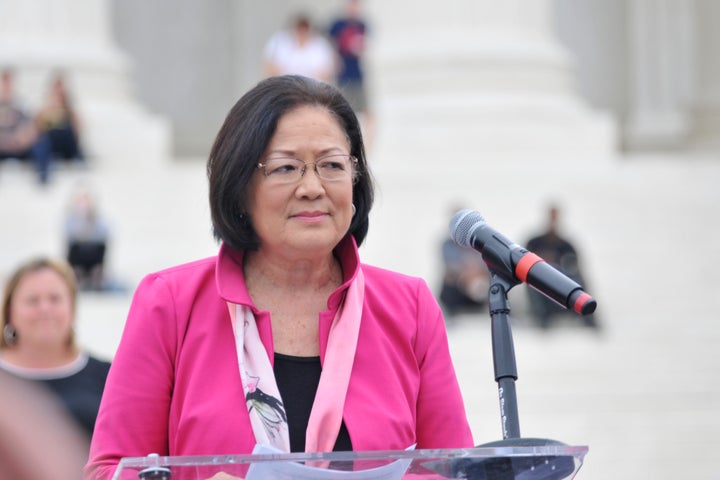 Sen. Mazie Hirono (D-Hawaii) said Sen. Susan Collins (R-Maine) insulted Christine Blasey Ford by suggesting the psychology professor is confused about her assault.
"She says that Dr. Ford thinks that she was assaulted, which is even more insulting than saying that she gave a very credible account," Hirono told CNN on Sunday of her GOP colleague, who helped pave the way for Kavanaugh's confirmation by a 50-48 Senate vote on Saturday.
"To say that she thinks that Dr. Ford thinks that she was assaulted, what is that? Is she mistaken?" Hirono said, adding that "anybody watching" Ford's testimony would conclude she was being truthful about her story.
When asked about Ford's testimony in a Sunday interview on CBS' "Face the Nation," Collins said she is "convinced that Dr. Ford believes what she told us and that she was the victim, a survivor of sexual assault." However, Collins maintained that "we have a presumption of innocence in this country" and given the lack of evidence she saw that could corroborate the allegation she "could not conclude that Brett Kavanaugh" was Ford's assailant.
Ford rejected the mistaken-identity theory floated by Republicans and Kavanaugh advocates when she testified under oath last month that she was "100 percent" certain it was Kavanaugh who she said pinned her on a bed at a high school house party, tried to remove her clothing and placed a hand over her mouth when she attempted to yell for help.
"The details about that night that bring me here today are ones I will never forget. They have been seared into my memory and have haunted me episodically as an adult," Ford said at a Senate Judiciary Committee hearing in September.
Still, Republicans and even some Democrats have continued to doubt her memory of the alleged incident, citing the lack of "corroborating" witnesses from the party.
"Something happened to Dr. Ford. I don't believe that the facts show it was Brett Kavanaugh," Sen. Joe Manchin (D-W.Va.), the lone Democrat who voted for Kavanaugh's nomination, said Saturday before the Senate vote.
Clarification: A previous version of this story and an alert incorrectly framed Hirono's criticism of Collins. Hirono was referring to Collins' comment that Ford "believes" she was assaulted, not to Collins' statements about the identity of the assailant.
Popular in the Community