Former CNN commentator Kayleigh McEnany, who announced her resignation from the network on Saturday, is joining the Republican National Committee as its national spokeswoman.
"Kayleigh will be an integral part of our Party's ongoing commitment to promoting the Republican message to Americans across the country," RNC Chairwoman Ronna McDaniel said in a statement. "Her wealth of experience will be invaluable to the RNC as we continue to support President Trump and build on our majorities in Congress as we head into 2018."
The announcement comes one day after McEnany anchored a pro-Donald Trump "real news" video on Sunday.
The video, which mimics the style of broadcast media and was promoted on Trump's social media channels, follows a similar video anchored by Trump's daughter-in-law Lara Trump last week. Both videos are part of a re-election campaign effort to spread positive news about the presidency.
"President Trump has clearly steered the economy back in the right direction," McEnany said from Trump Tower in New York, crediting Trump with creating more than 1 million jobs and getting the unemployment rate to a 16-year low.
"Americans deserve a raise, and President Trump is finally putting the American worker first," she continued, favorably describing Trump's hardline immigration policies and blaming immigrants for wage depression.
Past political campaigns have produced direct-to-camera videos to tout a candidate's accomplishments and rebut critics. And the Obama White House produced postive videos of the president in support of his agenda.
But the Trump TV videos, which have drawn comparisons to propaganda and state-run media, more closely follow the conventions of a TV news broadcast and come as the president has demonized the press and urged supporters to dismiss unflattering news coverage.
McEnany even signed off with the catchphrase "And that is the real news" ― a jab at the traditional news media, which Trump has decried as "fake."
Last week, Lara Trump ― who the Daily Beast reported Monday is "running the show" at Trump TV ― also argued that these campaign-style videos are a better alternative to traditional news.
"I bet you haven't heard about all the accomplishments the president had this week because there's so much fake news out there," she said.
The RNC was not involved with the McEnany video, which she appears to have shot in between leaving the CNN job and beginning the national spokesperson role on Monday.
RNC spokesman Michael Ahrens told HuffPost the organization thinks "it's a great idea for the campaign to be putting out videos that talk about the president's accomplishments."
McEnany, who had worked as a producer on Fox News' "Mike Huckabee Show" and made appearances as a conservative TV pundit, became a CNN contributor during the campaign and served as one of the network's most outspoken Trump supporters.
In a statement Monday, McEnany said she was "excited to be joining the RNC at such an important and historic time in our country."
"I'm eager to talk about Republican ideas and values and have important discussions about issues affecting Americans across this country," she said.
The RNC didn't rule out McEnany appearing in the "real news" videos while in her new role.
"Nothing's planned at the moment but we're always looking for ways we can be helpful to the campaign," Ahrens said.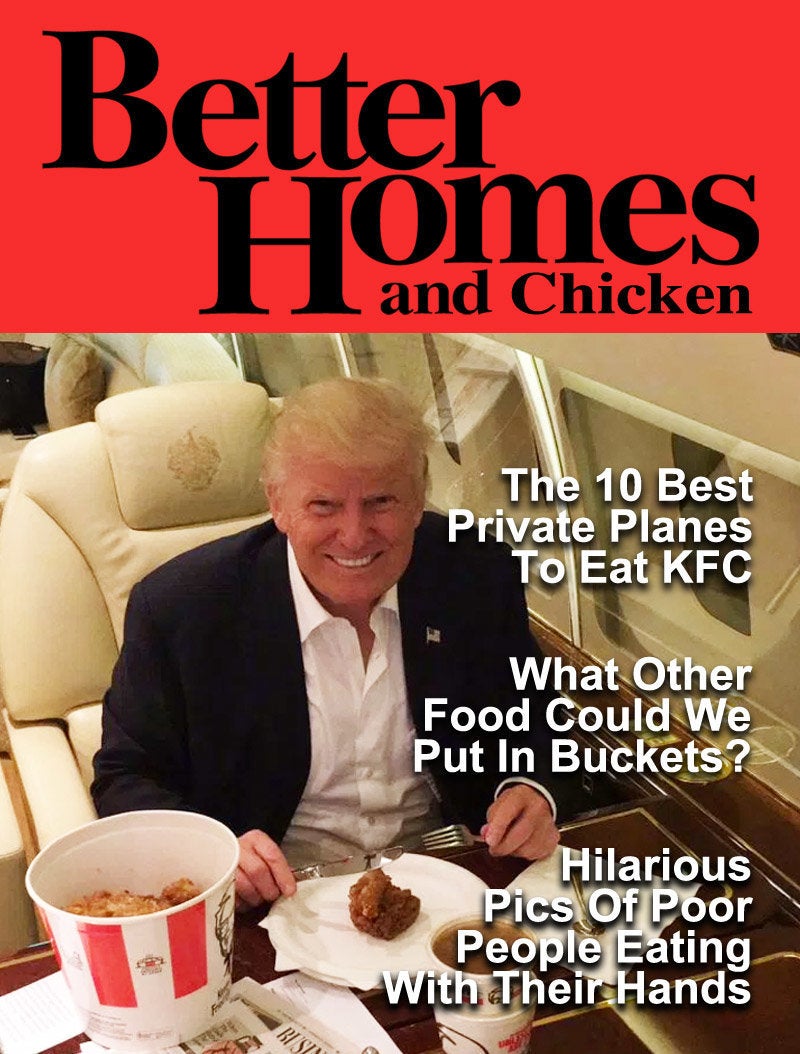 Trump Actually Has Other Fake Magazine Covers Hanging Around His Properties
Popular in the Community