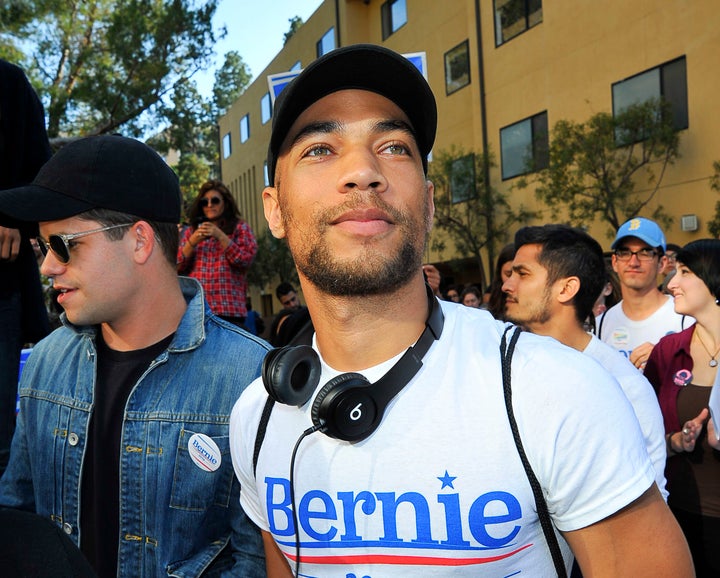 PHILADELPHIA ― Kendrick Sampson, the popular actor, Black Lives Matter movement activist and prominent Bernie Sanders supporter, admitted that he'd had no sleep.
"I'm still wearing my Wednesday credentials, as you can see," Sampson, 28, told the Kentucky delegation at the Democratic National Convention here. "And it still seems like Wednesday to me after being up most of the night."
But there he was Thursday morning at the last convention breakfast of a state delegation that is almost evenly divided ― 27 for Bernie and 28 for Hillary Clinton (plus five superdelegates for Clinton) ― and he wasn't seeking any respite. Instead, in a mellow and ingratiating way, he was issuing a warning and embodying one of the main challenges facing Clinton in the fall campaign.
Rather than say he would vote for Clinton, much less publicly endorse her, Sampson issued what amounted to a gently worded threat: If you want my vote ― and Black Lives Matter votes and Bernie votes ― you will have to show it every day between now and November.
The same message was being delivered at delegate breakfasts across the city.
Members of Team Hillary have to explain, personally, why their policy passions are worthy of the support of Sanders voters, Sampson said.
"The American process says that we decide on Election Day and we're going to use that process to listen between now and then," he told a room filled mostly with Democratic Party regulars.
"Don't just tell me why I should vote for Hillary," he warned. "Tell me about your passion."
The party platform ― which has been hailed by others as the most "progressive ever" ― was merely a bunch of words and not all that progressive, Sampson said. The actor insisted that he was not thinking in terms of political parties, but he vowed that the Bernie movement would now focus on electing people on the local level (presumably as Democrats), so that they could build (presumably toward national power).
The Clinton supporters in the room sat respectfully through all this and offered expressions of understanding and support. Some of them, led by Rep. John Yarmuth and Louisville's popular Mayor Greg Fischer, had been working the Bernie contingent hard and with what they think is some success. Speakers before and after Sampson ― not to mention President Barack Obama on Wednesday night ― praised Team Bernie with an almost condescending earnestness.
But there was also, in muttered remarks before and after Sampson's speech, an undertone of annoyance, impatience and even disbelief that the mere threat of Donald Trump was not enough, at least for now, to guarantee the support of Sanders voters.
"What was he talking about?" one member of the Kentucky delegation said with a rueful laugh. "We don't operate that way."
In Kentucky, political feuds are a blood sport. The state's motto, "United We Stand, Divided We Fall," operates as a plea to the locals to behave. And so like a jockey whipping her horse toward the finish line, Secretary of State Alison Lundergan Grimes ― Kentucky's top elected Democrat ― all but shouted a plea for unity on Thursday morning.
But Sampson's message was clearly different: We aren't really on your team yet, and we will never be, unless and until we control it.
Popular in the Community