A missing Arizona woman allegedly kidnapped by a man she knew who disguised himself as an Uber driver was rescued after she passed a note to a stranger asking for help.
The woman was allegedly abducted on Monday outside a car dealership in the Phoenix area and reported missing on Tuesday by her mother, who named 41-year-old Jacob Wilhoit as a person of interest. A spokesperson from the sheriff's office told NBC News Wilhoit was "known" to the victim.
The Yavapai County Sheriff's Office said the woman was reunited with her family after she slipped a note to a customer at the gas station begging for help.
Wilhoit was booked on Wednesday on suspicion of multiple charges, including harassment, aggravated assault, unlawful imprisonment and kidnapping.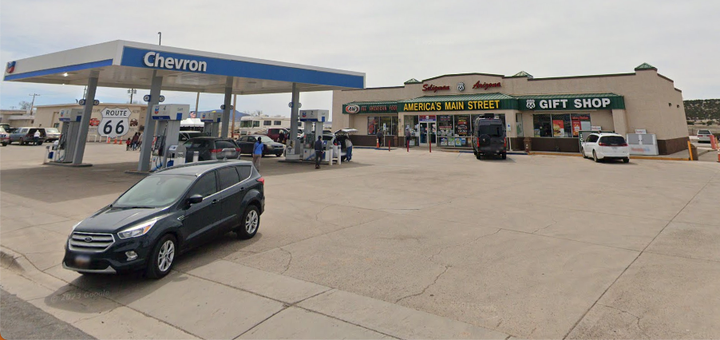 According to authorities, Wilhoit had lured the woman into his vehicle by pretending to be an Uber driver and disguising himself with a wig. He was then able to restrain her as they drove from Phoenix to Las Vegas.
After spending the night at a park in Lake Mead, they stopped at a Chevron station in Seligman, a tiny census-designated place on Route 66, authorities said. At the gas station, the woman signaled another customer and handed over the note, a photo of which the sheriff's office provided to local media organizations. It gave the woman's name, a description of the van she was held in, a phone number and a message that they were headed toward Kingman and Las Vegas.
The customer called 911 immediately, giving officers a description of the two and telling authorities they were headed west.
State troopers stopped the van on the highway, detaining Wilhoit without incident. Authorities said multiple firearms could be seen in plain view inside the van. The local district attorney's office didn't immediately respond to HuffPost's request for comment.
The Yavapai County Sheriff's Office said, "The victim's extraordinary action in passing the note, the customer's willingness to assist, and the quick actions of YCSO and DPS saved the victim from her kidnapper and allowed her to return home with her family."
Support HuffPost
The Stakes Have Never Been Higher
Popular in the Community