NEW YORK ― Sen. Kirsten Gillibrand (D-N.Y.) has launched an exploratory committee to begin raising money for a possible 2020 presidential campaign, she said Tuesday during an appearance on "The Late Show with Stephen Colbert."
"I'm filing an exploratory committee for president of the United States ― tonight!" Gillibrand told host Stephen Colbert, eliciting cheers from the studio audience.
Asked why she was running, Gillibrand replied, "I'm going to run for president of the United States, because as a young mom I am gonna fight for other people's kids as hard as I fight for my own, which is why I believe health care is a right and not a privilege."
"It's why I believe we should have better public schools for our kids ― it shouldn't matter what block you grow up on, and I believe that anybody who wants to work hard enough should be able to get whatever job training they need to earn their way into the middle class," she said.
Gillibrand went on to argue that any president hoping to accomplish those goals would have to take on "systems of power" that currently stand in the way, including "institutional racism," "corruption and greed in Washington," and "special interests that write legislation in the dead of night."
"I know that I have the compassion, courage and the fearless determination to get that done," the senator said.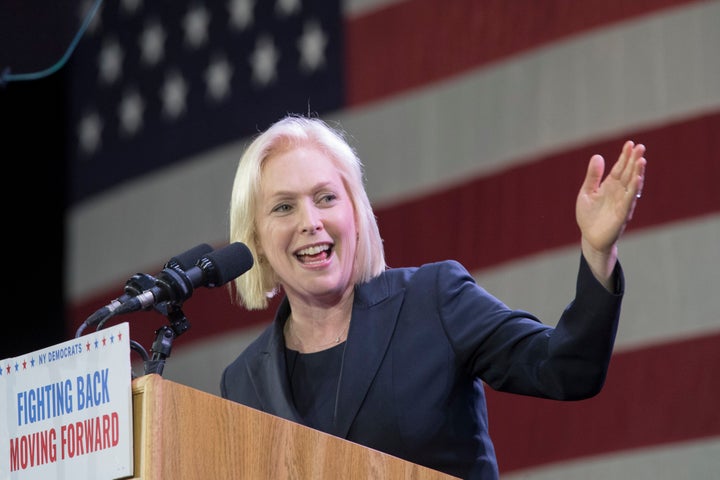 Although Gillibrand has spent the previous two years courting the left wing of the Democratic Party, co-sponsoring Sen. Bernie Sanders' "Medicare for All" bill and unveiling her own postal banking legislation, she emphasized to Colbert that she has experience finding common ground with Republicans on the September 11 health benefits bill and the repeal of the military's "Don't Ask, Don't Tell" rule.
"I have a bipartisan bill with nearly every Republican member of the Senate," she said, before noting that she had crafted legislation combating sexual harassment in Congress with Sen. Ted Cruz (R-Texas).
Colbert also gave Gillibrand an opportunity to show her sense of humor ― and preview a potential network of political allies that she might be able to tap over the course of her run.
Focusing on Gillibrand's apparent penchant for profanity, Colbert asked her whether she would refrain from swearing on the campaign trail.
"I'm gonna definitely try," she replied.
He followed up: Which curse word would she miss most?
"It rhymes with duck," she said, prompting laughter from the audience.
At the interview's close, Colbert provided a bunch of gag gifts to help her in the early primary and caucus states: a corn cob for Iowa, a piece of granite for New Hampshire, barbecue sauce for South Carolina, and ― in a dig at Hillary Clinton, who was famously absent in key Midwestern states ― a plane ticket to take her to Michigan.
Gillibrand took the latter item as a cue to highlight her support for Michigan's new Democratic governor, Gretchen Whitmer, whom Gillibrand backed in both the primary and general elections last year.
"She crushed it in the last election," Gillibrand said. "I helped her campaign and I helped her in the primary."
On Tuesday, the senator also released a roughly 2-minute campaign announcement video, "Searching," that highlights many of her legislative accomplishments:
Gillibrand, who had been widely expected to jump into the race, is the latest high-profile Democrat to confirm that she is seriously considering a bid to oust President Donald Trump in 2020.
Trump's 2016 defeat of Clinton, who would have become the first female U.S. president, left Democrats hoping for a slate of several female candidates to challenge his re-election bid and make history.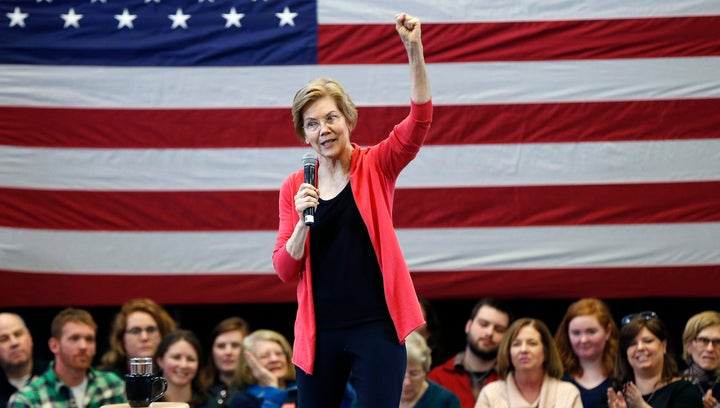 Gillibrand became a senator in 2009, appointed to fill the seat vacated by Clinton, who had been named secretary of state under President Barack Obama. The two met during Clinton's first Senate campaign in 2000, and Gillibrand came to consider her a mentor. Gillibrand later supported Clinton's 2008 and 2016 presidential campaigns.
Before joining the Senate, Gillibrand, an attorney, served two years in the House representing New York's 20th Congressional District, which lies outside the state capital of Albany. Representing a more conservative and rural area of the state, she was considered a moderate Democrat and was part of the now-defunct group of Blue Dog Democrats in the House.
As a senator, she took on more progressive positions, later winning a special election in 2010 and a full Senate term in 2012. She handily won re-election last November.
One of Gillibrand's key issues during her Senate tenure has been advocating for survivors of sexual violence. Long before the Me Too movement, she sponsored legislation to combat sexual misconduct in the workplace, on college campuses and in the military.
Gillibrand also made headlines when she said that former President Bill Clinton, who was accused of sexual misconduct by several women, should have resigned in 1998 after his extramarital affair with then-White House intern Monica Lewinsky became public.
Popular in the Community