 Kansas' Republican secretary of state is explaining comments he made at a regional Republican event over the weekend where he suggested that young Democrats do not have a brain.
Secretary of State Kris Kobach was quoted at a Saturday event saying, "Let's change that old adage -- it should be, 'If you're 20 and a Democrat you have no brain.'" Kobach, who was talking about how Republicans can better recruit on college campuses, was referring to Winston Churchill's famous quote: "If you're not a liberal at 20, you have no heart. If you're not a conservative at 40, you have no brain."
Kobach told The Huffington Post that he used the line during one of the two speeches he made Saturday at the Midwestern Republican Leadership Conference in Kansas City, Mo., to answer a question about how to bring the Republican message to college students. He said he used the phrasing to say that if the GOP is to appeal to students, it must utilize an intellectual approach.
Kobach's comments were first tweeted by Dalton Glasscock, a field director for the Kansas Republican Party, and they angered some Democrats. Glasscock has since deleted the tweet, but union organizer Colin Curtis tweeted a screen shot of it.
"I am not trying to insult college students," Kobach told HuffPost. "College students are won where you can appeal to the mind of the voter."
Ben Cohen, a Kansas resident and vice president of the Young Democrats of America, said that regardless of Kobach's intended meaning, he doesn't think a "major elected official in this state" should be making comments of that nature.
"It's terribly condescending," Cohen told HuffPost. "It is dismissive and ignorant of what college campuses in Kansas are like. There are active conservative and Republican college professors, especially in small colleges in conservative towns. I graduated from the University of Kansas, which is the liberal bastion of the state, and it has a conservative population."
Kobach participated in two segments at the conference, including one centered on his signature issue of immigration. While negative Twitter reaction centered largely on Kobach's comments about college students, the secretary received positive support on Twitter during the immigration forum.
Among other comments, Kobach said during the conference that an amnesty program would be a fiscal drain on the United States.
Kobach told HuffPost that he was referring to a Center for Immigration Studies study showing that 71 percent of undocumented immigrants are receiving a form of welfare benefits. (A study found that in 2009, 71 percent of undocumented immigrant households with children used at least one form of welfare.) If granted amnesty, he said, that group will seek even more benefits -- which will come at a cost.
"It would have a huge fiscal cost for the country, Kobach said. "The fiscal impact of amnesty is disastrous. You are taking a poor population and unskilled population and giving them access to the most generous welfare state."
Kobach also took issue with the phrasing "undocumented immigrant," saying using it is comparable to calling a thief an "undocumented owner." He feels this way based on his reading of federal law, Kobach said.
"The correct term of federal law is illegal alien," he said.
Before You Go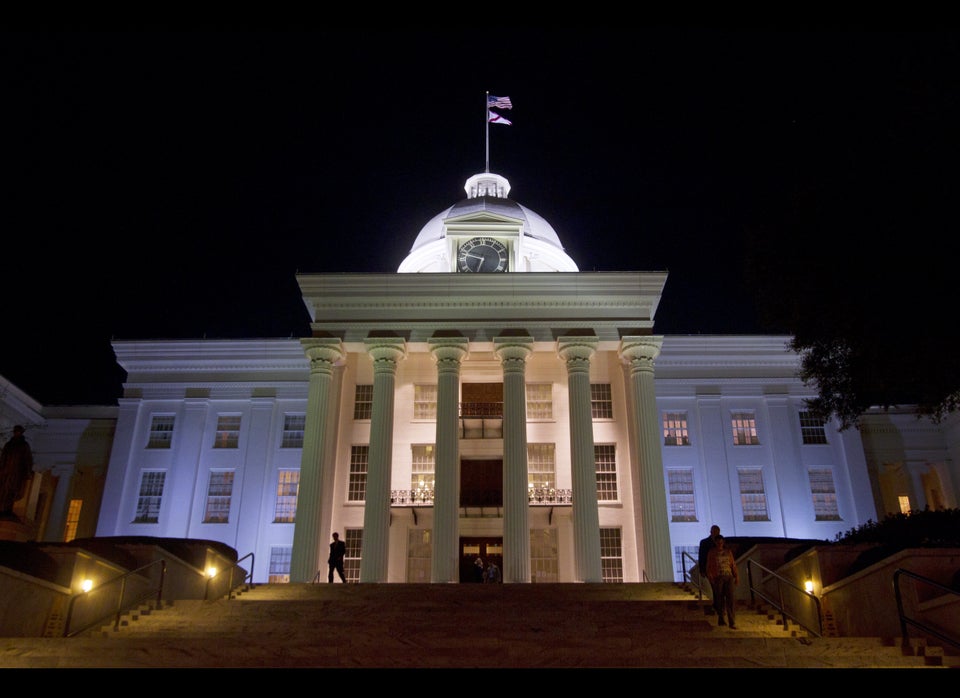 U.S. State Capitol Buildings
Popular in the Community