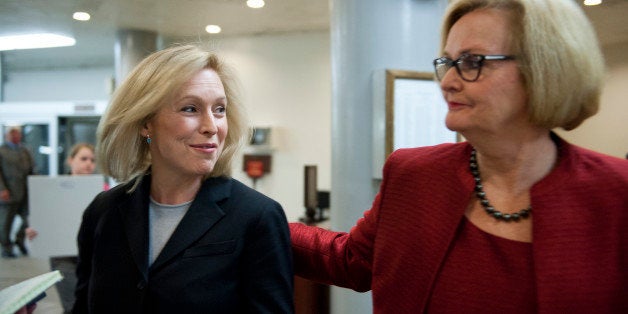 On Tuesday, Sen. Claire McCaskill (D-Mo.) announced an "unprecedented," extensive survey sent out to 350 colleges and universities -- public, private non-profit and private for-profit -- to gather information about how the institutions handle sexual assault cases.
The survey is the latest in a recent series of efforts by McCaskill to learn more about how colleges handle sexual assaults on campus. In March, McCaskill visited various colleges in her home state, and sat down this month with officials from the departments of Justice and Education to discuss current federal law enforcement efforts.
McCaskill is far from alone among federal lawmakers looking into the issue. The same day McCaskill announced her survey, U.S. Rep. Jackie Speier (D-Calif.) appeared at the University of California-Berkeley proclaiming her intent to file legislation. Staff with Sen. Kirsten Gillibrand (D-N.Y.) also told The Huffington Post they too are likely to craft a proposal.
Laura Dunn, founder of SurvJustice, told HuffPost she noticed an increase in interest from lawmakers around the same time. Dunn, a sexual assault survivor who lobbied to enact the Campus SaVE Act in 2013, said her only concern is "that a lot of lawmakers are picking up an issue they aren't deeply familiar with -- it's always a concern that anyone is rushing the legislation."
Which appears to be why lawmakers are keen to declare their desire for legislation, but are being cautious about the details.
"What I learned is you need to slow down and get the policy right," McCaskill told HuffPost, reflecting on her successful effort to pass legislation aimed at addressing military sexual assault. McCaskill emphasized she's currently focused on collecting information from stakeholders -- and is even teaming up with a former rival.
On April 4, McCaskill and Gillibrand caught political observers by surprise when they released a letter calling for a significant increase in funding for the offices in the Education Department tasked with enforcing campus safety laws. The two senators dueled for a year over competing, bipartisan military sexual assault reform bills. In the end, Gillibrand's failed to pass the Senate and McCaskill's sailed out unopposed. It is currently waiting for a vote in the House.
What was most frustrating about the military reform effort, McCaskill said, was that she and Gillibrand agreed on 35 of 36 proposed reforms. The one disagreement -- over whether to take prosecutions out of the military chain of command -- was the one "shiny object."
Gillibrand's staff had a slightly different take, suggesting the senators had a "fundamental and honest and deep disagreement over the policy." Still, like McCaskill, Gillibrand's staff said reforming college sexual assault policy was a natural next step after the military reform effort.
"Through the course of that work, in the last couple months, we started hearing from students and advocates about the issue of sexual assault in college campuses," said Gillibrand's communications director Glen Caplin. "You start to hear some things that are eerily similar. They're very different in terms of solutions, but you start to hear things that are systemic in nature."
What has emerged, Caplin said, is a set of similar concerns from around the country, as well as some common ideas about possible legislative solutions. He didn't identify specific items on the short list for policy reform at this point.
Among the ideas discussed in interviews by HuffPost with experts, advocates, survivors, as well as public statements from lawmakers, reforms could include creating some type of nationwide victim or climate survey, increasing resources to enforce existing campus violence laws, or making federal investigations of colleges' handling of sexual assault more transparent.
"I think some questions need to be asked about what is the value of keeping these investigations closed until they have been concluded," McCaskill told HuffPost.
There is also a question of whether it's an effective enforcement tool to threaten to cut off a school's federal funding through the gender equity law Title IX -- a harsh punishment that has never been imposed.
"Is it realistic that were going to cut off student aid to thousands of students who have done nothing wrong because the university [violated Title IX]?" McCaskill asked. "How much of a deterrent is it if the ultimate penalty is so broad?"
Both senators say their offices have stayed in contact with survivors and activists. Gillibrand appeared with a survivor at a recent press conference, and on Tuesday she expressed her gratitude on Twitter to those who have come forward about their experiences:
All of this new focus comes just as the Education Department concluded a rulemaking session for the Campus SaVE Act, which has been hailed as the biggest reform of campus safety laws in a generation but which hasn't yet gone fully into effect.
The new law, which was included with amendments to the Clery Act in the 2013 reauthorization of the Violence Against Women Act, provides several notable reforms to how colleges handle sexual violence. Among them, accusers and the accused are permitted outside advisors during adjudication; colleges must post an expected timeline for investigating sexual violence cases; and dating violence, domestic violence and stalking will be now all be reported separately in institutions' annual crime statistics.
"That really does represent the most fundamental change in campus sexual violence policy in 20 years," said Daniel Carter, Director of 32 National Campus Safety Initiative and one of the negotiators. "It's important that it be supported and given time to take effect and not to try to get out ahead of that."
Support HuffPost
The Stakes Have Never Been Higher
Related
Popular in the Community