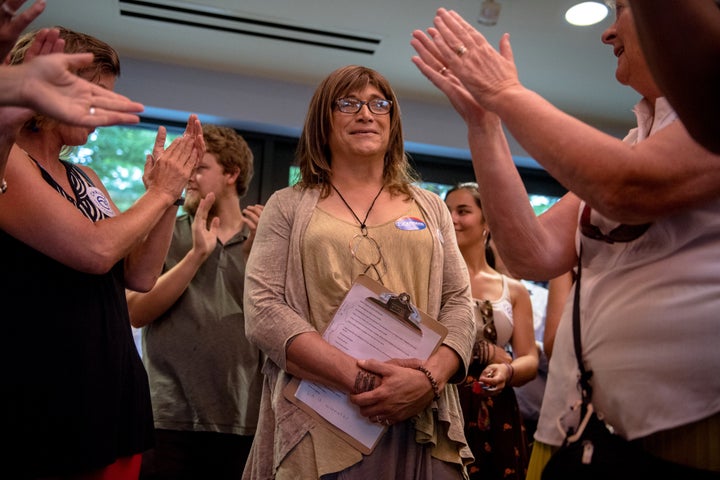 A record-breaking number of lesbian, gay, bisexual, transgender or queer candidates ran for office in 2018 ― and an unprecedented number won their primaries, according to a report from the LGBTQ Victory Fund.
There are 21 openly queer Democratic nominees for the U.S. Senate and House this election cycle ― a 24 percent increase compared to 2016, and 320 percent increase since 2010, per the group's report released Thursday. And seven openly LGBTQ candidates ran for governor in 2018, with a historic high of four candidates receiving a major party nomination.
There were zero openly LGBTQ nominees from the Republican Party for Congress or governor in 2018, per the report.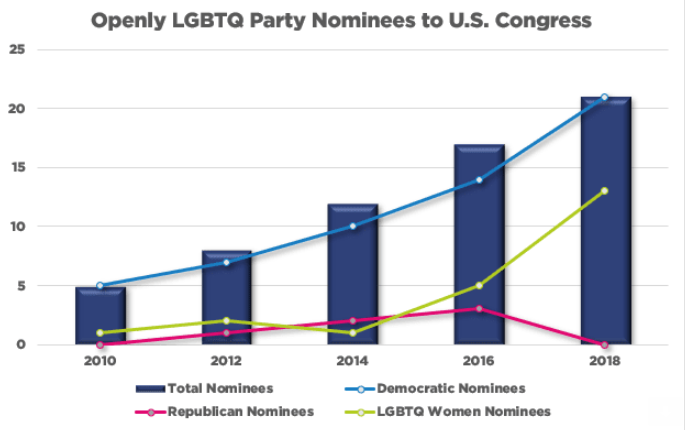 There were more than 430 openly LGBTQ people who ran for office at every level of government in 2018, according to the report. After the primaries, at least 244 were still in the running.
If elected, they would join Sen. Tammy Baldwin (D-Wis.) ― the only openly LGBTQ person ever elected to the U.S. Senate ― as well as six openly queer members currently in the House. Oregon's Gov. Kate Brown (D), who identifies as bisexual, is the only openly LGBTQ person ever elected governor.
A handful of the LGBTQ nominees this cycle could make America's history books with their wins: Former Dallas County Sheriff Lupe Valdez in Texas would be the nation's first openly lesbian governor. Rep. Jared Polis in Colorado is vying to become the nation's first openly gay man to be elected governor.
Gina Ortiz Jones in Texas would break records for the state as the first openly lesbian Iraq War veteran and Filipina to represent the historically red state in the U.S. House. And former state legislator Chris Pappas hopes to be New Hampshire's first openly gay member of Congress.
"The rainbow wave of LGBTQ candidates running for office marks an evolution in American politics," LGBTQ Victory Fund president Annise Parker told HuffPost by email. Parker is the former mayor of Houston, and first openly LGBTQ person elected mayor of a major U.S. city.
"LGBTQ people are running like never before because we are tired of the relentless attacks on our equality from this White House and state legislatures across the nation," she added.
Popular in the Community