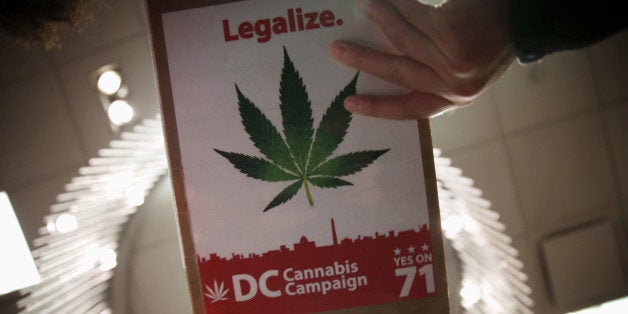 WASHINGTON -- This might be as good a time as any to share that I have never tried pot. This makes me less cool than pretty much everyone on the planet, including President Barack Obama, Sen. Ted Cruz (R-Texas), writer Cat Marnell and you, probably. I would claim my inexperience is part of my straight-edge, Ian MacKaye ethos, but I drink bourbon, so who am I kidding?
I've had the opportunity to try pot illegally approximately 853 times, including, but not limited to: at a hotel room in Reno during a high school orchestra trip, in a van parked outside of a dinosaur museum in Montana at 2 a.m., on the Great Ocean Road in Australia and as part of a delicious bowl of cookie dough in a Rockville warehouse. Moreover, obtaining weed illegally in Washington, D.C., isn't exactly a feat. As one libertarian told me recently, "You order pizza, they bring pot with your pizza."
But what's the fun in illegal weed? (Rhetorical question.) I wanted the holy grail: Legal weed. After the District's law legalizing possession of limited quantities of marijuana went into effect last week, I decided that attending the ComfyTree Cannabis Convention with my colleague Ryan J. Reilly, who reported on the first major cannabis industry convention in Colorado last summer, would be the perfect opportunity to get some advice on finding it.
My quest did not go well.
Marijuana enthusiasts and budding entrepreneurs convened at a hotel just down the street from the U.S. Capitol this past weekend to explore business opportunities and swap advice about the new law. As attendees mingled in a convention room filled with bongs, vaporizers, pot-themed swag and the distinct smell of cannabis, many expressed confusion over how the marijuana business would fare in the District of Columbia.
In November, D.C. voters overwhelmingly approved a ballot initiative that allows adults over 21 to possess up to two ounces of marijuana and grow up to six plants on their own. But the law is silent on how those folks might go about obtaining it.
Washington is in this unorthodox political position because Congress still has say over the city's laws and attempted to block the initiative in the federal spending bill passed in December. House Republicans have also warned D.C.'s mayor against moving forward with implementation of legalization. This congressional intervention could stall further local plans for addressing sales and taxation of marijuana.
In other words, I now live in a city that has legalized marijuana without creating any obvious method for residents to legally buy it, outside of obtaining it from medical dispensaries. Joseph Heller is laughing at me.
Nobody at the convention was selling weed, but they were selling plenty of products you could use with pot. Attendees milled around booths offering marijuana testing products, air filters, grow lights and the latest in vaporizer technology. Speakers also discussed the pot business at a number of sessions. But questions about the law, ranging from carding for paraphernalia to selling cannabis-infused massage oils, bedeviled conferencegoers.
"It's kind of the Wild West, nobody really knows what's really going on," said Abe Garcia, co-founder of Workhorse, a design agency that is looking to get involved in the cannabis market.
I zeroed in on Rico Valderrama, 38, who was wearing hipster glasses and a baseball cap depicting a guy smoking on a bicycle. People kept coming by to shake his hand and check out swag from his clothing company. Rico was semi-popular in high school, for sure.
Valderrama assured me that he is "very much a stoner," despite his four years of service in the Marine Corps. ("Semper Fi!" he told a passerby.) He told me he is known as "Phone Homie," because one time, "I was smoking some blunts, I rolled up a really big one, seven, eight grams of weed with a bunch of hash in it, the joke was I chopped off ET's finger, I'm smoking ET's finger."
"By the end you're in a different state of mind," he continued. "There came in 'Phone Homie' through a cloud of smoke. Phone ET, Phone Home, Phone Home-iee."
I asked Rico, my new spirit guide, how to go about obtaining legal weed. "I would say in the next three or four months, people are going to come out with their grows, and there's a free trade system," he said. "Let's say you don't have something to trade, I'm pretty sure you could work it out with a service or something like that, as long as there's no cash involved."
He also advised me to be in a "nice safe setting" and not to "operate big bulldozers" when I finally did try pot for the first time.
Emboldened, I went to talk to Wayne Saunders, a D.C. resident who had a fancy Willy Wonka machine on his table for assessing the potency of marijuana. Saunders said testing marijuana for quality control was his professional passion. "Do you guys have a shop?" I asked, hoping to avoid a Maureen Dowd-style meltdown. Not yet, Saunders told me. "My partner here has been working with this machine for two years on Rhode Island," he added.
I confided to Saunders that I had never smoked pot. "Wow," he said, and then advised me to get a medical marijuana card.
I briefly considered the possibility of growing my own marijuana, but my black thumb would likely doom the effort. Jacob Asbell, 27, is the co-owner of Hydro-City, a company recently formed to sell and rent hydroponic kits to D.C. residents who are interested in growing their own product at home. He said that his company could provide pretty much everything a resident needs to grow their own marijuana plants, except for one crucial component: seeds.
"As a commercial entity, we can't really have anything to do with the distribution of seeds, so you will have to find a friend to give it to you," Asbell said. (I can't even get my friends to give me nachos.)
I consulted with Jim Bergan, a Virginia resident who recently started a blog, "Weed Be Better Off," to promote marijuana knowledge. Bergan told me to start my weed adventure with a "well-educated dispensary." But where would I find that?
"I don't think there's anywhere to get it legally currently in D.C.," he said. "That's still the grey area."
That's when I came across Rico Joran Stringfellow, 23, the assistant manager at The Noon, a smoking shop in Silver Spring. His table offered "pipes, water pipes, oil rigs, vaporizers [and] grinders," none of which I knew how to use. Asked whether business has gone up since the law changed, he said, "Hell yeah!" Stringfellow added that he found the new regulations "quite liberating -- it's letting everyone kind of come out of their shell."
I asked Stringfellow how he thought I might be able to obtain pot legally. He peered out the door. "We could probably smoke somewhere around here," he said, laughing. "Right now the law is you can gift up to an an ounce." It wasn't clear whether this was an offer or a statement of legal fact.
We determined that we couldn't actually smoke in the Holiday Inn conference area, since the law prohibits smoking on public property and anywhere open to the public. Also, there were a lot of children in the lobby. Not cool.
So, I headed home from the convention on that dreary February day with only a few promotional rolling papers to show for my efforts. Until the District's law plays out, I will continue to hold onto my loser status.
Ryan J. Reilly contributed reporting.

Before You Go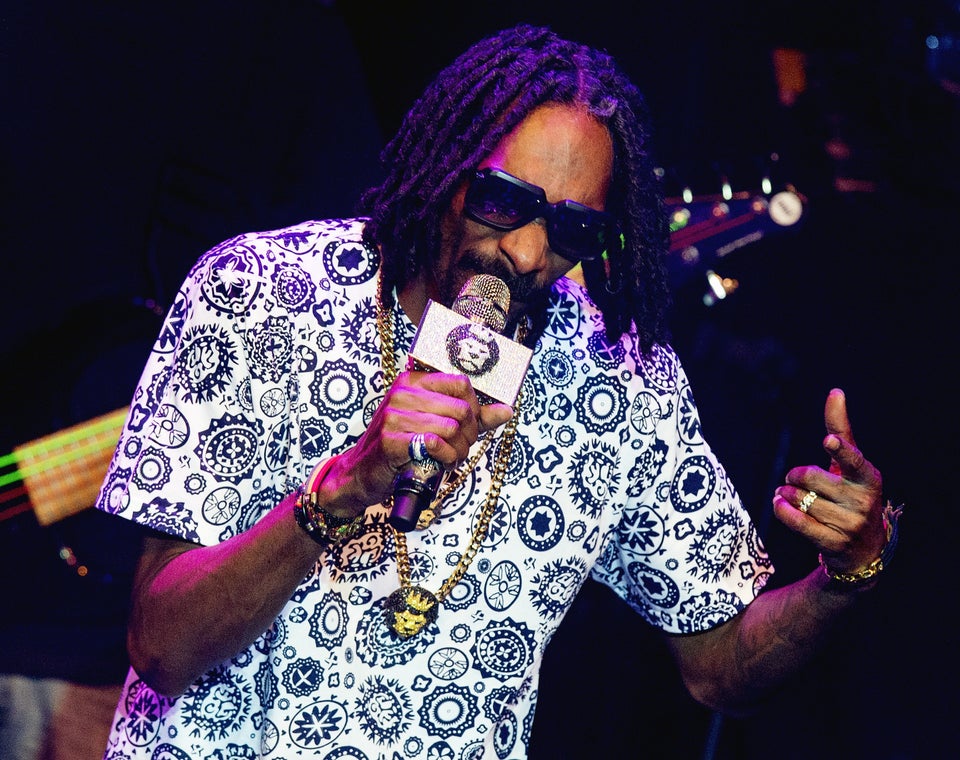 Most Influential People Who've Used Marijuana
Popular in the Community