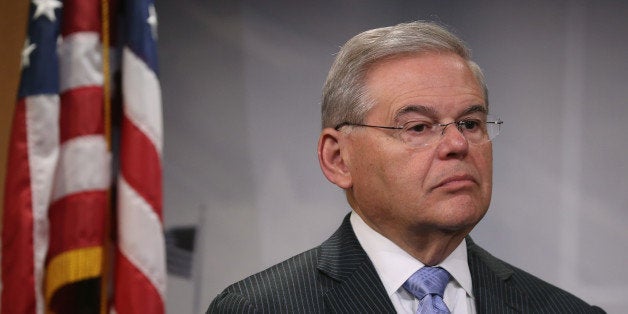 WASHINGTON -- Citing Malaysia's abysmal slavery record, Sen. Robert Menendez (D-N.J.) urged the House on Monday to ensure his provision blocking the country's membership in the Trans-Pacific Partnership makes it into final legislation that would give the president fast-track authority on such agreements.
The bill in question would give President Barack Obama expedited powers to push through Congress trade deals like TPP, which he hopes to seal with 11 Pacific nations.
It's a change of tune for Menendez, who had worked out a deal with Obama to include modified language in the Senate bill. The newer language, which didn't make it into the Senate-passed bill, would have allowed Tier 3 nations -- the lowest rank that a country engaged in modern-day slavery can receive from the State Department -- into Obama's trade deals.
Malaysia, one of the countries expected to be party to the deal, is a Tier 3 human trafficking nation and has done little, if anything, to fix it.
"With those images fresh in our minds, with new revelations of the scope of the trafficking problem in Malaysia and other countries coming every day, now is the time for our colleagues in the House to add their voice to a clear statement of bipartisan American values: no fast track for human traffickers," Menendez wrote. "If House Leadership or the Obama administration wants to make substantive changes to the Menendez anti-trafficking provision they need to do it in the light of day and not in a backroom deal on unrelated legislation. Any effort to strip or change this provision, should be addressed in the fast-track trade promotion bill and open to debate."
It's up to the House to include the weaker language. Without it, the White House argues, the TPP could fall apart. House Ways and Means Chairman Paul Ryan (R-Wis.) is working to include the modified text -- which would allow Malaysia membership to the TPP if it crafts a plan to combat trafficking -- in a customs enforcement bill that will come to the floor after fast-track.
"Human trafficking is a real problem, and that's why Chairman Ryan has an agreement with Senator [Ron] Wyden (D-Ore.) to adopt the modified Menendez amendment, as proposed by Senator Menendez," Ryan's spokesman Brendan Buck said in an email.
Democrats like Menendez want to keep the stronger provision in the final bill, and don't want any changes attached to the House customs bill that is ultimately sent to Obama.
Menendez's original measure sneaked into the Senate bill, creating further headache for the White House, which is facing an uphill battle in the House. Democrats vehemently oppose giving the president so-called fast-track authority to shepherd trade deals like the TPP through Congress without amendments and the ability to filibuster.
House Republicans are optimistic they will find the votes to push through fast-track for Obama, but the slavery provision is sure to complicate matters.
This story has been updated to include comment from Ryan's spokesman.
REAL LIFE. REAL NEWS. REAL VOICES.
Help us tell more of the stories that matter from voices that too often remain unheard.
BEFORE YOU GO
PHOTO GALLERY
Scenes From 114th Congress And Capitol Hill