UPDATE: Feb. 1 ― Fox 2 Detroit reported Wednesday that a local Detroit man had lied in a interview in which he alleged his ailing mother had died in Iraq because of President Donald Trump's executive order targeting individuals traveling from seven Muslim-majority countries. The station published the initial interview on Tuesday.
Citing the imam of a Dearborn mosque, Husham Al-Husainy, the station reported that Mike Hager's mother died on Jan. 22, five days before the executive order, contradicting Hager's earlier claim in his interview with the station. Husainy, who serves at the Karbalaa Islamic Education Center, told The Huffington Post that he saw a notification about Hager's mother's death on Facebook about a week prior to the signing of the order.
Hager did not appear to have an active, publicly accessible Facebook account as of Wednesday afternoon.
Representatives for the station declined to comment when HuffPost reached out for additional information.
HuffPost has made repeated attempts to contact Hager for comment.
Mike Hager, a U.S. citizen who is from Iraq, told the Detroit television affiliate Fox 2 that he had gone to Iraq to bring his mother, Naimma, back to the United States for medical treatment after she fell ill while visiting there. His mother, a permanent U.S. resident, had lived in America since 1995. But when Hager got to the airport in Iraq, she was turned away, and so were two of his nephews and a niece, because of Trump's executive order. She died the following day.
"She knew right there if we sent her back to the hospital, she's going to pass away, she's not going to make it," the Detroit resident said in the interview. "They destroyed us. I went with my family; I came back by myself. They destroyed our family."
In an interview with CBS in Boston, Hager, who worked in Iraq as a translator for U.S. Special Forces, said the decision "came out of nowhere."
"We put our lives on the line. I got shot twice in Iraq in Fallujah. And I sacrificed, give all my life to this country. Now I'm coming over here with my family not with me," he said.
Hager blames his mother's death on Trump and his decision to temporarily ban the citizens of seven predominantly Muslim countries from entering America. The ban initially included green card holders.
"I really believe this in my heart, if they would have let us in, my mom ― she would have made it and she would have been sitting right here next to me," Hager told Fox 2. "She's gone because of him."
Kate Abbey-Lambertz contributed reporting to the update.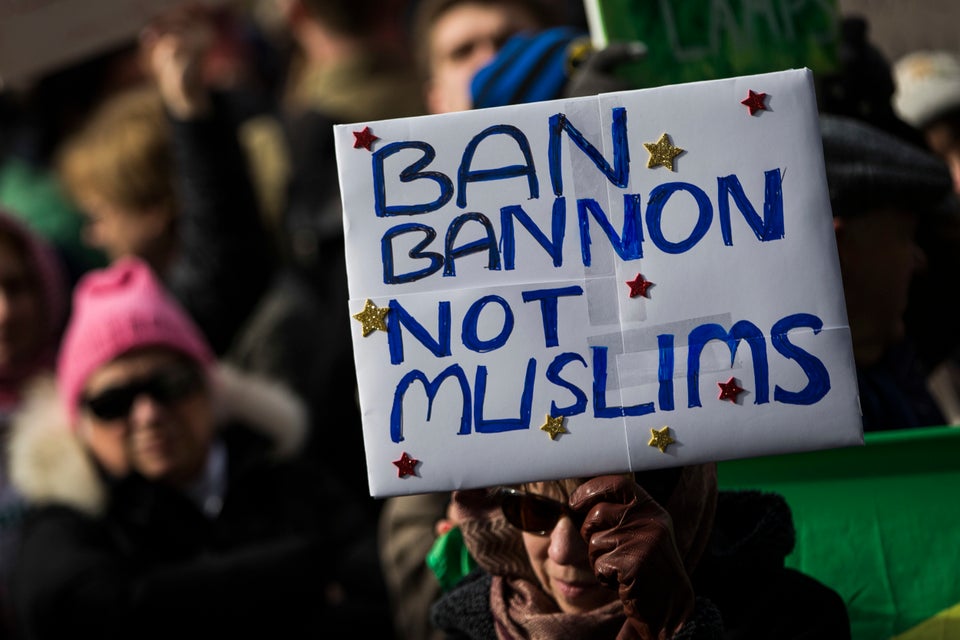 Nationwide Protests Against Trump's Executive Order
Popular in the Community