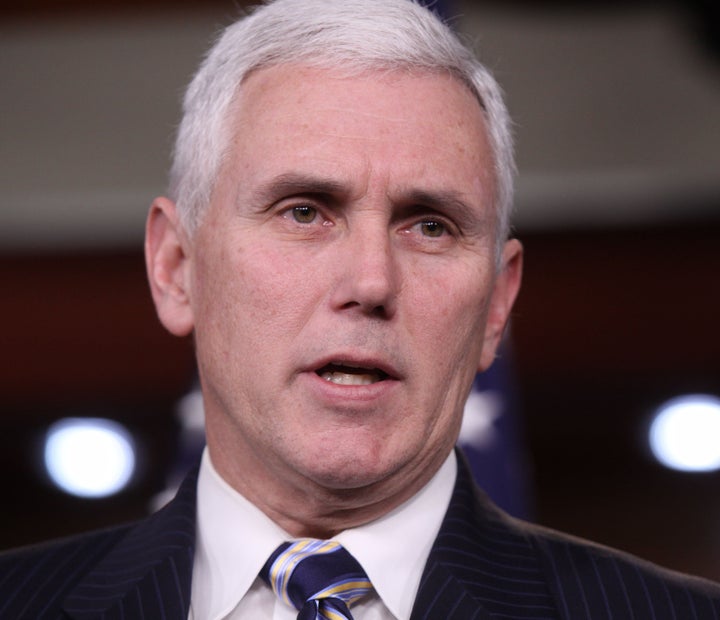 WASHINGTON -- Rep. Mike Pence (R-Ind.), a leading conservative House Republican, said Sunday he will likely vote against a budget deal to cut about $38 billion from federal spending levels because the compromise bill does not eliminate subsidies for Planned Parenthood.
Pence, who introduced the amendment to strip federal funding from the reproductive health services provider, is one of many conservatives who have said they could not support a deal that did not include such riders, including one that would have blocked funds for the implementation of President Barack Obama's signature health care law.
"From what I know, it sounds like John Boehner got a good deal -- probably not good enough for me to support it," Pence said Sunday on ABC's "This Week."
House Speaker Boehner (R-Ohio) said last week he hoped to make a funding deal that could pass the House solely with Republican support, meaning he would need 218 votes from within his conference to pass a majority threshold.
Negotiations nearly broke down over the riders to defund Planned Parenthood and health care reform after the White House and Senate Majority Leader Harry Reid (D-Nev.) said they could not be included. Both measures were dropped from the final deal, though they will receive separate up-or-down Senate votes instead.
The exclusion of those policy provisions remains a principal objection to the deal within Boehner's conference, though some Republicans have also said they are disappointed the speaker was unable to win deeper spending cuts.
Rep. Jim Jordan (R-Ohio), who leads the conservative Republican Study Committee, told HuffPost late Friday night that he does not expect the deal to receive 218 Republican votes, although it is expected to pass the majority threshold with some Democratic support.
While Pence said he may vote against the bill because it did not block funding to Planned Parenthood, he was careful not to criticize Boehner for the overall agreement.
"I can't bring myself to be critical of a basketball player who plays two-on-one all night," he said. "I can't bring myself to be critical of John Boehner."

Popular in the Community