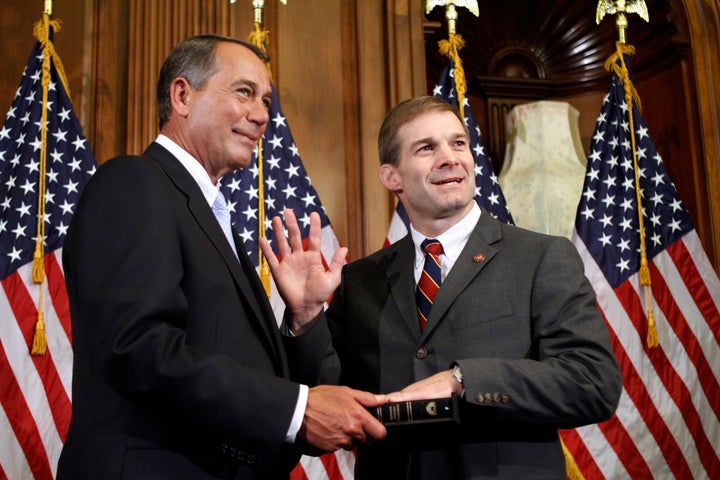 This story has been updated.
WASHINGTON -- A deal has been reached to keep the federal government running, but not all House Republicans are pleased that Speaker John Boehner compromised with Democrats on social issues that have long been sticking points for the GOP during the budget negotiations.
Boehner angered some members of his own conference by dropping riders that would have rolled back taxpayer subsidies for Planned Parenthood and the implementation of President Barack Obama's signature health care law, among other programs. Rep. Jim Jordan, who leads the conservative Republican Study Committee, told The Huffington Post that he does not think Boehner, a fellow Ohioan, will be able to pass the funding deal through the House without votes from Democrats.
Boehner would need 218 Republican votes to pass the House majority threshold, which he said earlier this week was his goal. But given the concessions in the final deal, that may be impossible.
"218 Republicans? I don't think so," Jordan said.
A number of members of the Republican Study Committee have said they will not support a bill that does not include certain policy riders, notably those that defund Planned Parenthood and health care reform. Rep. Mike Pence (R-Ind.), who introduced the Planned Parenthood amendment, has said he will vote down any deal that omits it, while Rep. Steve King (R-Iowa) has compiled a list of fellow GOP members who would only approve a bill that stripped funds from the sweeping health care law passed last year.
In exchange for taking those policy riders off the table -- which the White House and Senate Democrats said was non-negotiable -- Boehner won promises to hold up-or-down Senate votes on a few key initiatives that Democratic leaders had previously kept from the floor, Planned Parenthood and health law defunding included.
The deal would also block the District of Columbia from using its tax revenue to fund abortion services in its short-term stopgap bill.
For some Republicans, those concessions may be enough.
"The deal for a vote is all we can ask for in a democracy," House Oversight Committee Chairman Darrell Issa (R-Calif) said after a GOP conference meeting in which Boehner laid out specifics of the deal.
Within the Republican Study Committee, though, Jordan predicted mixed support. A staunch opponent of abortion, he said earlier in the day the effort to defund Planned Parenthood was central to the Republican mission.
"You're going to see a significant number of Republican Study Committee members vote for the deal, and you're going to see a significant number vote against the deal," he said.
UPDATE: 1:07 a.m. -- Rep. Heath Shuler (D-N.C.), a leader of the Blue Dog Caucus whose votes were crucial to passage of a previous stopgap measure that was opposed by 54 conservative freshmen, said he thought the extension through Sept. 30 would pass with a similar mix of yes votes from conservative Democrats to make up for opposition from the most hardline fiscal hawks in the GOP.
"You're probably looking at something similar," Shuler, who said he will support the measure, told HuffPost on his way out of the House chamber after midnight.
"It's up to each individual, but I think you move forward, move on to the bigger things at hand," he added.
The vote on the six-day stopgap was an indicator on where opposition to the longer-term measure would come from, and it was not alarming to Republican leaders. The 70 votes against it came mostly from liberal Democrats, with only a few conservative Republicans voting nay: Reps. Louie Gohmert (Texas), Michele Bachmann (Minn.), Justin Amash (Mich.), Mick Mulvaney (S.C.), Thaddeus McCotter (Mich.), Joe Barton (Texas) and Jason Chaffetz (Utah).
As the vote wound down, House Majority Leader Eric Cantor (R-Va.) and House Minority Whip Steny Hoyer (D-Md.) sat next to one another in the chamber, talking and looking friendly and relaxed. Cantor then went and conferred with Majority Whip Kevin McCarthy (R-Calif.), standing and looking up to scour the vote board on the wall displaying how every one of the 435 members had voted on the stopgap.