Miley Cyrus knows what it's like to have a blue Christmas. 
But Cyrus wrote on Instagram that the new song was inspired by events around the holidays a few years ago. 
"[I] was feeling like shit cause I couldn't be with the one I loved. Even with a house full of family and friends I still felt alone," the singer said. "In ways that still feels relevant and someone reading this right now could possibly relate!" 
Cyrus acknowledged that the holidays can be a tough time for a lot of people and sent out an encouraging message to her fans. 
"If you feel lonely this season just know YOU ARE COMPLETELY MADE OF MAGIC!" she said. "You are as special as a snowflake, beautifully unique and I hope inside your soul feels light, hope, peace, and joy knowing how singularly amazing YOU are! Love always wins!" 
The song, which belongs in the same category as Kacey Musgraves' holiday song, "Christmas Makes Me Cry," includes lyrics like "Why did I even put up a fuckin' tree / If no one here is gonna see," and "I turn on the radio/ I binge-watch our favorite shows/ This year feels kind of lame/ But the last one was the same."
You can listen to the full song below: 
Cody Simpson's sister, Alli, confirmed at an event on Sunday that Cyrus and Simpson were indeed still together. 
"Yes, together for sure," she told Daily Mail Australia and said the Playboy model spotted out with her brother is simply: "His best friend, [actor] Ryan McCarthy's girlfriend of a few years. He's visiting him for a couple days."   
Cyrus began dating Simpson in October, after ending things with reality TV star Kaitlynn Carter and splitting with her longtime love Liam Hemsworth in August, after less than a year of marriage.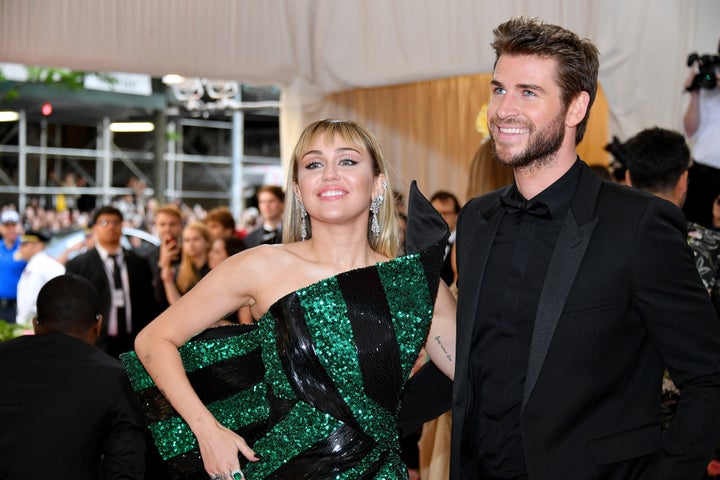 "Upping my manifestation game for 2020 and putting this out there — @mileycyrus," Matty Mo, known as The Most Famous Artist, captioned a post that showed he'd changed his Instagram bio to "Getting married to @mileycyrus in 2020." 
Cyrus responded back with a healthy dose of self-deprecating humor. 
"It probably won't last long. 💍But always down to try," the star said in the comments of Matty Mo's Instagram. "You miss 100% of the shots you don't take." 
Calling all HuffPost superfans!
Sign up for membership to become a founding member and help shape HuffPost's next chapter