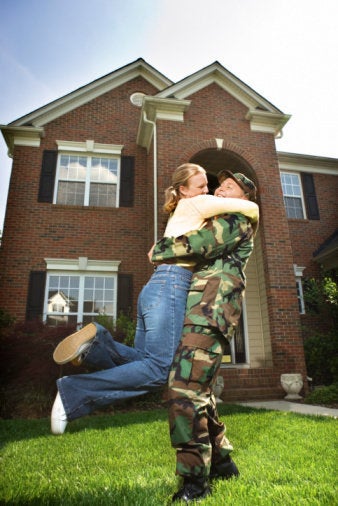 I am the COW. Not a cow. The COW. The Commanding Officer's Wife means I officially have no position. I make no money. I am not on any letterhead nor am I included on matters of policy or leadership. But I do have a job. At least I think I do.
I am unofficially the head wife of an operational Harrier squadron simply because of my husband's rank and position. If I was bold, I might compare myself to Michelle Obama and Dr. Jill Biden -- also women in unpaid jobs thanks to their husbands' livelihood. And while Dr. Biden and the first lady enjoy considerably more perks, I am happy to report that I do get a good parking spot at the O club on base.
If you are scratching your head, that's okay. It's a two-for-one kind of gig -- the Marine Corps gets my husband and their families get me. That's how it goes in the upper ranks of military life.
I've been in this role before, as my husband has been in positions of leadership before. For example, when he was the OIC (Officer in Charge) of a detachment, before the dawn of the Family Readiness Program and social media, I was the trunk of the call tree, the bearer of bad news ("Ladies, the deployment has been extended again") and the one the wives called in times of emotional, financial or medical crisis. I almost always had wine and cookie dough at my house and hosted countless wine and whine nights for the wives. We were, by the way, wives back then -- now, of course, we are gender-neutral spouses. I handed out binders with phone numbers and emergency contacts and kept privileged information close to the vest. Somewhere between a den mother and a sorority president.
Today, however, I am questioning my relevance just as my husband reaches the halfway point of our fifth deployment. The spouses of today are so far beyond where I was during my early deployments that perhaps they don't need me after all. They don't need a temporary mama for theirs is just a Skype session away. Why would I write a handwritten note of encouragement when I can just post to their Facebook page along with 657 of their closest and dearest friends? And I don't need to talk them through a lonely night like Valentine's Day, because it's entirely likely that their husbands have phoned, FaceTimed, Skyped, emailed and texted more than once.
Where I had experience dealing with months-long periods of radio silence between my spouse and I, this generation is far more connected. I can share ideas for keeping the bond alive -- butcher paper trees, Hersey Kiss jars and so forth, but they can check Pinterest for ideas that are far more hip than a giant paper Easter basket. They have deployment playlists, blogs, Army Wives and endless resources from their base, not to mention the extensive support their Family Readiness Officer provides. There's the school liaison officer and Marine Corps Family Team Building. The list of acronyms that do nothing but support Marine families is endless.
I might be the senior officer's wife but who cares? In this era where milspouses are invariably in touch with their brethren regardless of their locale, what role does a seasoned and local milspouse play? In other words, does the COW still moo?
When Blue Star Families released their Military Family Lifestyle Survey, one of the statistics that stood out detailed the number of military spouses (10%) who have considered suicide. It stood out because Blue Star Families actually had to ask this question. The reality of life as a military spouse has been, for some, so unbelievably stressful that life didn't seem worth living. No one knows how many military spouses have committed suicide, but since the results of the survey, it's clear that spouse suicides should be tracked. We are still fighting in a war -- yes, folks, we are still sending Marines to Japan, Afghanistan, aircraft carriers and unsavory parts of the world. For military spouses, it's our reality but just because the rest of the nation is war-weary doesn't mean we can slack on our support for military families.
I am still friends with the woman whom I once called COW. When I see her, we inevitably share a humorous memory from deployments gone by. I tell her tales about the girls in my squadron, our events and gatherings and I never fail to mention how eye-opening it is to hang out with women 10 years (and more) younger than me. She always laughs and reminds me that she is also a decade older than me and I too was once that impossibly young spouse.
Despite the girls and their endless means of communication from friends near and far, I hope they have learned something from me. I am hopeful that they see a marriage, despite what will amount to several years of separation, can thrive. I hope they see that life as a military spouse can be fulfilling and funny and entertaining and educational (bonus: I always learn a cool new trick on my phone after spending time with 28-year-olds). I hope they think the Hersey Kiss jar is more than just a hokey schtick.
And I hope they know they can always come to me, a seasoned military spouse with five deployments under her belt, to share the fears that all military spouses have -- particularly when our husbands are at war.
But mostly I hope they look back on this period in their life as one in which they felt unmatched camaraderie. Military spouses don't need call trees anymore but they need an anchor. And a COW is the perfect mooring in times like these.
Related
Popular in the Community