 During the final presidential debate Monday night, Republican presidential candidate Mitt Romney suggested a surprising tactic to deal with Iran and the threat it poses to Israel.
"I'd make sure that [Iranian President Mahmoud] Ahmadinejad is indicted under the Genocide Convention. His words amount to genocide incitation," Romney told debate moderator Bob Schieffer. "I would indict him for it."
The statement, which marked a departure from the Republican Party's traditional opposition to an international criminal justice system, may have been part of an effort by Romney to appear less bellicose and more reasoned, according to William Burke-White, a deputy dean and professor at the University of Pennsylvania Law School
"I was somewhat shocked to see Romney embrace international criminal justice, which is not usually part of a Republican platform," said Burke-White, who served on Secretary of State Hillary Clinton's policy planning staff from 2009 to 2011.
But an indictment of Ahmadinejad would be fraught with problems: It would ruin any possibility of negotiating with Iran, would be a difficult case to win, and would draw an international audience for Ahmadinejad's frequently incendiary and anti-Semitic statements, according to Burke-White.
If elected, a Romney administration could ask the United Nations Security Council to call for a special court with limited jurisdiction to investigate and handle the case, as it did following conflicts in Rwanda, Lebanon, Sierra Leone and the former Yugoslavia.
The International Criminal Court, however, is a more likely option. Since it was created in 2002, the ICC has indicted 29 individuals for various war crimes and crimes against humanity.
But the United States, Israel and Iran have refused to join other nations that have made their citizens subject to the court's jurisdiction under specific conditions. President George W. Bush's administration withdrew from the 2002 Rome treaty that created the court, claiming that Americans would become vulnerable to illegitimate or politically-motivated prosecutions.
The United States would have to ask a close ally that offically recognizes the court and has a seat on the United Nation's Security Council -- such as the United Kingdom -- to call for Ahmadeinejad's indictment. The U.S. used this tactic to bring matters in Libya and Sudan before the International Criminal Court.
With those hurdles cleared, international prosecutors would face more difficulties. International law defines genocide as the intent and effort to eliminate an ethnic, racial or religious group. An attempt to incite genocide involves public statements or actions that lead to mass murder. The court has successfully prosecuted a Rwandan mayor who made daily radio announcements calling for the country's Hutu tribe to slaughter members of the Tutsi tribe in the run up to that country's 1994 genocide. Over the course of about 100 days, some 800,000 people -- most of them Tutsi -- were killed.
In 2005, a poorly translated Ahmadinejad speech caused an international furor when he was quoted calling for Israel to be "wiped off the map." Ahmadinejad has also made subsequent statements questioning Israel's right to exist and whether or not the Holocaust occurred.
The comments have provoked condemnations from leaders around the world and in the United States. In 2007, a bipartisan group of 103 members of Congress co-sponsored a bill calling for the U.N. Security Council to back an International Criminal Court indictment for "inciting genocide." The bill, however, languished in committee.
"The danger is if he were to get the International Criminal Court to take it up, there's no way to arrest Ahmadinejad without putting troops on the ground," Burke-White said. "Then that would give him [Ahmadinejad] a trial, a platform to share his crazy views where someone would have to make a very difficult case. To me, it seems like an enormous amount of political capital to expend on a rather uncertain case."
Just after the debate, Congressman Jason Chaffetz, a Republican from Utah and Romney surrogate, downplayed the significance of Romney's call for an indictment.
"The point Mitt Romney was making is you have to try everything," Chaffetz said.
Romney's comments are likely part of an effort to establish himself as a potential president who would not be quick to go to war, Burke-White said, but an indictment would make America's broader diplomatic goals regarding Iran -- an end to the country's nuclear enrichment program and a de-escalation of tensions with Israel and other countries in the region -- harder to achieve.
"Unlike sanctions, which you can withdraw, too, an indictment or conviction does not work that way," he said. "With Romney's plan, you lose the carrot while you increase the stick."
Before You Go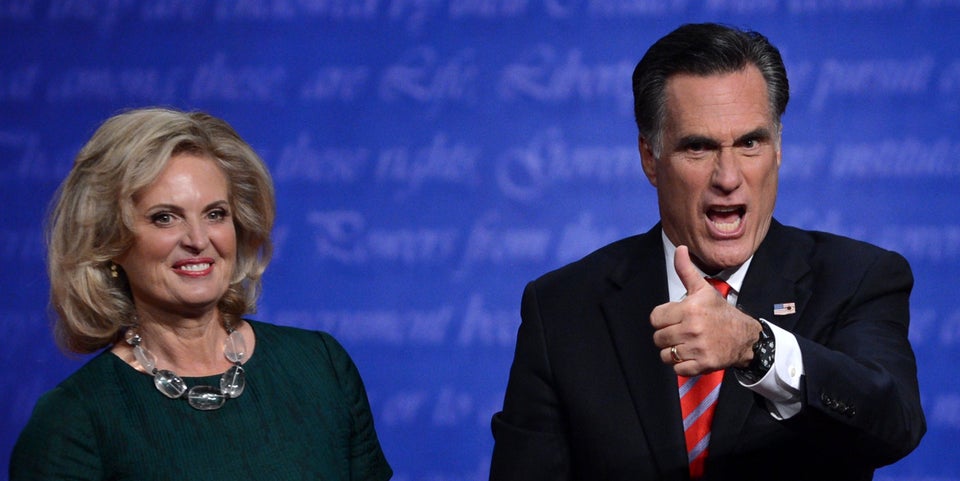 Presidential Debate: The Final Showdown
Popular in the Community