WASHINGTON ― Moderate House Republicans are having a crisis of faith over the GOP plan to repeal and replace the Affordable Care Act: Do they take the plunge and support a bill that could leave 24 million people uninsured? Or do they break with their new president and vote against Trumpcare, potentially stirring re-election revenge?
After multiple meetings with President Donald Trump and House GOP leadership, a number of prominent moderates abandoned ship Wednesday night, announcing their opposition to Trumpcare. Moments after leaving the office of House Speaker Paul Ryan (R-Wis.), Rep. Charlie Dent (R-Pa.) announced he will vote against the bill. Dent leads the moderate Tuesday Group, which includes roughly 54 Republicans members.
"I cannot support this bill and will oppose it," Dent said in a statement. "I believe this bill, in it's current form, will lead to the loss of coverage and make insurance unaffordable for too many Americans, particularly for low-to-moderate income and older individuals."
Dent's decision came as members of the House Freedom Caucus huddled late into the night, engaging the White House directly in negotiations. A deal still hadn't been announced as a number of conservatives trekked over to the White House on Thursday morning for one final meeting with Trump before the vote. If Freedom Caucus members are successful in winning concessions from Trump ― by bypassing Ryan ― those tweaks would likely alienate moderates even more.
Indeed, as conservatives hinted they could be close to a deal, more moderates came out against the bill. New Jersey Republicans Frank LoBiondo and Chris Smith joined Dent in announcing the would oppose the plan even with the latest changes.
"This bill does not meet the standards of what was promised; it is not as good as or better than what we currently have," LoBiondo said, admitting that the ACA is a better option.
A day earlier, Dent told Trump that efforts to defund family planning provider Planned Parenthood should be dealt with separately, and he expressed concern that the House bill doesn't make tax credits more generous for older and low-income people to offset increased insurance premiums. He also handed the president a letter that four Republican governors had sent to House Republicans saying they oppose the plan for its lack of flexibility and resources for states that expanded Medicaid.
"It was a soft sell, not a hard sell," Dent said of Trump's talk with him and 12 other, primarily moderate, members on Tuesday. "Whether or not minds are changed, I can't speak to that."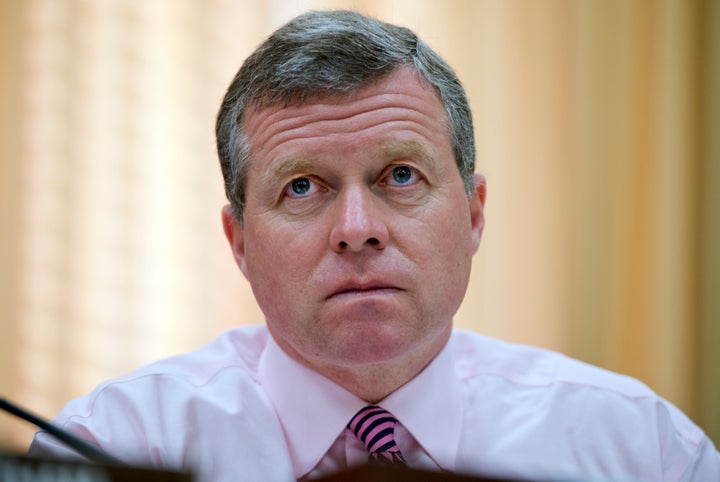 Unlike the House Freedom Caucus, whose conservative base expects members to clash with House leadership, moderate members could stand to lose the most in next year's congressional elections. Trump himself appeared to hammer this point in the larger meeting on Tuesday morning, calling out not only Freedom Caucus Chairman Mark Meadows (R-N.C.), but moderate Rep. Peter King (R-N.Y.), warning that Republicans could suffer in 2018 if they don't pass something.
Rep. Tom Cole (R-Okla.), who supports the Trumpcare legislation crafted by House leadership, said Trump's message to members wasn't threatening, but was an "incredibly effective presentation politically and personally."
"We got to win and he made that abundantly clear," Cole said. Still, the eight-term Republican admitted the outcome of the vote "is still in the air."
Pressed on the atmosphere among moderates who could lose their seats if they help pass a bill that ends up hurting their constituents, Cole said he thinks they'd "get a lot more hurt if you don't get something done."
"It's a mistake for anybody to draw lines in the sand right now if you're a Republican member," Cole said.
"You got to keep the process going, but if you kill the baby in the cradle, there's not going to be any product here, and I think then you have to go home and explain why you were right, and the president and the speaker and the chairman of the committees of jurisdiction were all wrong, and you know more," Cole continued. "Maybe some guys can do that, but I think that's a tough sell for most Republican primary voters. They're going to put their faith in the president, the speaker and the fact that most of your colleagues voted for it."
But Trump's pitch didn't appear to flip even the members he singled out during his visit to the Capitol.
King told reporters a few hours after the meeting that changes to the bill so far are "not that big a help" to his district, so he's still undecided.
Rep. Dan Donovan (R-N.Y.) said he pretty much knows how he will vote, but wouldn't reveal his decision.
"There are portions of it that I have great concerns with," Donovan said. Calls to his office are running about 1,000-to-1 against the Republican plan, though Donovan said he couldn't be sure all the calls are from his district.
Donovan quipped that if his colleagues are making decisions based on re-election they should "go do something else."
"I would hate to think somebody would vote against their conscience and against the interests of their constituents because they're afraid of not getting re-elected 18 months later," Donovan said.
Republican leaders attempted to sway a number of New York moderates with a sweetheart deal on Monday meant to change the Medicaid funding formula to help out rural counties. And Rep. Carlos Curbelo (R-Fla.) is working with Sen. John Thune (R-S.D.) to improve tax credits for older Americans ― a major point of contention for moderates.
Still, it appears many members are holding out for different tweaks, making it a huge feat for leadership to persuade enough to back the rapidly pieced-together bill speeding through Congress.
"I'm a no," moderate Rep. Leonard Lance (R-N.J.) said Tuesday. "The word is a simple, two-letter word. The word is no."
The HuffPost whip count breaks opposition to the Republican health care bill into multiple categories. House Freedom Caucus members helped HuffPost identify who was so strongly against the legislation that pressure from Trump would not swing them. While we have not independently verified the positions of every member on the list, we have verified most of them, and are basing some predictions on other members' knowledge.

This is our best guess as to where things currently stand with the vote, but changes to the bill could change positions. The Freedom Caucus appears to be voting mostly as a bloc, so some changes could dramatically affect the whip count. But there could also be a number of Republican members who are opposed to the bill and not sharing their thoughts, meaning the current whip count could be worse.

With those considerable caveats in mind, here is our working list of where all House Republicans stand, as of Wednesday:

Members extremely likely to be against 32 (+5 since Tuesday): Justin Amash (R-Mich.), Jaime Herrera Beutler (R-Wa.), Rod Blum (R-Iowa), Dave Brat (R-Va.), Mo Brooks (R-Ala.), Ken Buck (R-Colo.), Ted Budd (R-N.C.), Warren Davidson (R-Ohio), Charlie Dent (R-Pa.), Scott DesJarlais (R-Tenn.), Ron DeSantis (R-Fla.), Jeff Duncan (R-S.C.), Tom Garrett (R-Va.), Louie Gohmert (R-Texas), Paul Gosar (R-Ariz.), Andy Harris (R-Md.), Jody Hice (R-Ga.), Mike Johnson (R-La.), Walter Jones (R-N.C.), Jim Jordan (R-Ohio), Raul Labrador (R-Idaho), Leonard Lance (R-N.J.), Frank LoBiondo (R-N.J.), Thomas Massie (R-Ky.), Mark Meadows (R-N.C.), Scott Perry (R-Pa.), Bill Posey (R-Fla.), Mark Sanford (R-S.C.), Rep. Chris Smith (R-N.J.), Randy Weber (R-Texas), Ted Yoho (R-Fla.), David Young (R-Iowa).

Members leaning against (13): Mark Amodei (R-Nev.), Lou Barletta (R-Pa.), Andy Biggs (R-Ariz.), Rick Crawford (R-Ark.), Dan Donovan (R-N.Y.), Trent Franks (R-Ariz.), Brian Fitzpatrick (R-Pa.), John Katko (R-N.Y.), Alex Mooney (R-W.Va.), Ileana Ros-Lehtinen (R-Fla.), Glenn Thompson (R-Pa..), Daniel Webster (R-Fla.), Rob Wittman (R-Va.).

Undecided members (7): Brian Babin (R-Texas), Joe Barton (R-Texas), Jim Bridenstine (R-Okla.), Ryan Costello (R-Pa.), Michael McCaul (R-Texas), Steve Pearce (R-N.M.), Scott Tipton (R-Colo.).
Ryan Grim contributed reporting.
This article has been updated with more details ahead of the Thursday vote.
Popular in the Community