With their parents present, Trump spoke about the friends, ages 15 and 16, who were slain on New York's Long Island in 2016. "Two precious girls were brutally murdered while walking together in their hometown," he said. Four men associated with MS-13 have been charged with the killings.
Trump used the anecdote to pivot toward his immigration plans and his hope to beef up border security and build a wall between the United States and Mexico.
"Tonight, I am calling on the Congress to finally close the deadly loopholes that have allowed MS-13, and other criminals, to break into our country," Trump said. "We have proposed new legislation that will fix our immigration laws, and support our ICE and Border Patrol Agents, so that this cannot ever happen again."
His comparison between MS-13 and the millions of undocumented immigrants in America ― including hundreds of thousands of young people known as "Dreamers" ― prompted swift rebuke from Democrats.
"MS-13 is an example of some of the worst of criminal gang behavior," Sen. Kamala Harris (D-Calif.) told MSNBC's Chris Matthews after Trump's address. "To equate that with Dreamers and DACA was completely irresponsible, and it was scapegoating, and it was fearmongering, and it was wrong."
So just what is MS-13, and how did it become a talking point for the anti-immigration movement? Take a look below.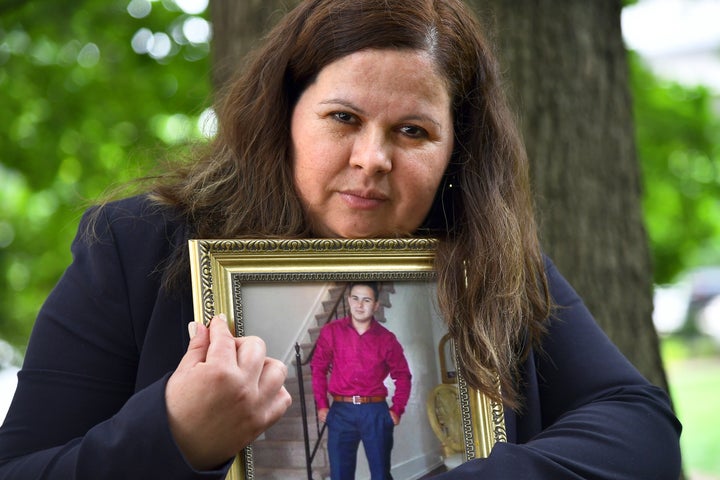 MS-13 is a brutal gang with roots in Central America.
MS-13, also called La Mara Salvatrucha, began in Los Angeles in the 1980s among Salvadoran immigrants, according to a report last June from The Atlantic. The group has grown in recent years and developed a violent reputation. Its members are often young men and women who get recruited in U.S. schools with heavy immigrant populations.
"Violence is a central tenet of MS-13, as evidenced by its core motto ― 'mata, viola, controla,' translated as, 'kill, rape, control,'" the Department of Justice wrote in a 2016 release.
Gang members are spread throughout the U.S. & Central America.
Trump claimed in May that the gang had "literally taken over towns and cities" across the U.S. This is hyperbole, at best. DOJ estimates there were about 10,000 MS-13 members spread throughout the country as of last month, representing about 1 percent of the total number of criminally active gang members nationwide (a category that includes "violent street gangs, motorcycle gangs, and prison gangs," according to the FBI). Another 30,000 MS-13 members operate internationally in El Salvador, Mexico, Honduras and Guatemala.
The gang has been able to recruit unaccompanied minors crossing the U.S.-Mexico border who get detained and then placed in communities across the country, The Washington Post found. Some of these teens belonged to the gang in their home countries and came to America seeking to escape violence, but ended up getting roped back in.
The U.S. government has moved to crack down on groups like MS-13.
Trump also said in May that the groups of gangs were being "decimated by the Border Patrol and by ICE and by our incredible local police forces, and they are getting out of our country or in some cases, going directly into prisons throughout our country." Attorney General Jeff Sessions has also vowed to eradicate the gang.
Since 2005, U.S. Immigration and Customs Enforcement has been carrying out an initiative called Operation Matador in an effort to curb gang violence. The program has netted dozens of MS-13 members over the past year. During an ICE gang sweep this past spring, 1,300 people were arrested nationwide, 104 of whom were linked to MS-13.
Some wonder if the government's crackdown has helped fuel the gang's activity stateside, making people more fearful of reporting crimes because of the looming deportation threat.
"I think it's emboldening them, because this gives them the opportunity to tell immigrants, 'What are you gonna do? Are you going to report us? They're deporting other innocent people... [so] they're going to associate you with us by you coming forward,'" Walter Barrientos, Long Island coordinator with Make the Road, an immigrant advocacy group, told CNN in July.
But the young, undocumented immigrants known as "Dreamers" are an entirely different class of people.
"Many of these gang members took advantage of glaring loopholes in our laws to enter the country as unaccompanied alien minors," Trump said during Tuesday's speech. He used the example of MS-13 violence to ask Congress to enact a series of reform measures, including protections for Dreamers.
Yet the fate of Dreamers is an entirely separate issue from that of MS-13, or of gang violence more generally. The Deferred Action for Childhood Arrivals program was created for the hundreds of thousands of people who came to the U.S. illegally as children.