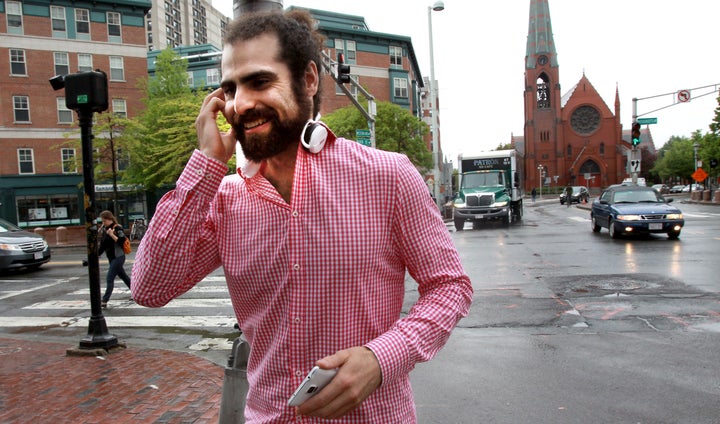 WASHINGTON -- Nadeem Mazen received his first message threatening violence last week.
A man called Mazen's office Thursday and asked to speak to the progressive Cambridge city councilor, who is also the only Muslim elected official in Massachusetts. The aide who took the message said the caller promised to spend every dime he has to make sure Mazen never gets elected again.
"Then he told me to tell Nadeem that 'The Christians are coming,'" Mazen aide Daniel Schwartz recounted.
"That's my first violent threat ever," said Mazen, 32, who won election in 2013.
The threat came just three days after GOP presidential candidate Donald Trump called for a ban on Muslims entering the United States. That same week, Rep. André Carson (D-Ind.), one of just two Muslim members of Congress, said he received a death threat, and the Washington, D.C., offices of the Council on American-Islamic Relations had to be evacuated after staffers received a "hate letter" with white powder. And there have been dozens and dozens of anti-Muslim incidents around the country since the Paris terrorist attacks last month.
Carson and Rep. Keith Ellison (D-Minn.), who was the first Muslim-American elected to Congress, have been two of the most vocal critics of Trump. Other politicians in both parties have criticized his proposal as well, but not many of them have been Muslim.
That's because there are very few Muslim politicians, at any level, in the United States. There's no public list, but Emerge USA, a civic engagement organization that focuses on bringing Muslims into the political process, estimates there are a couple of dozen Muslim elected officials nationwide.
"I expect we'll see in the future many more people running for Congress, as we see many people participating now. André and I spend a lot of time encouraging people to be active electorally," Ellison said on a press call organized by the Democratic National Committee last week.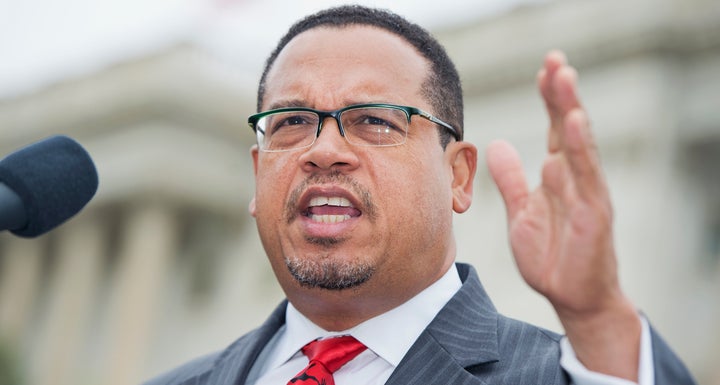 Muslim leaders who spoke with The Huffington Post pointed out that much of the community is made up of recent immigrants and people who haven't traditionally been engaged in the political process.
"Our community, as big as it is, still isn't big enough in the context of really wielding our electoral power," said Murad Awawdeh, president of the Muslim Democratic Club of New York. "We need to continuously register people to vote, we need to continuously engage them not just in elections but in other civic engagement processes."
Mohammed Hameeduddin, 42, currently sits on the Teaneck, New Jersey, City Council, after previously serving as the township's mayor -- the first Muslim to hold that role.
"As I've been in politics for the last 10 years, I think that some of the barriers [are that] we don't have organizations at this time that have matured enough to mentor people to run for office," Hameeduddin said.
The lesbian, gay, bisexual and transgender community has, for example, the Gay and Lesbian Victory Fund, which works to elect LGBT candidates, and the Latino community has the Latino Victory Project.
"There's nothing like that for the Muslim community," he added.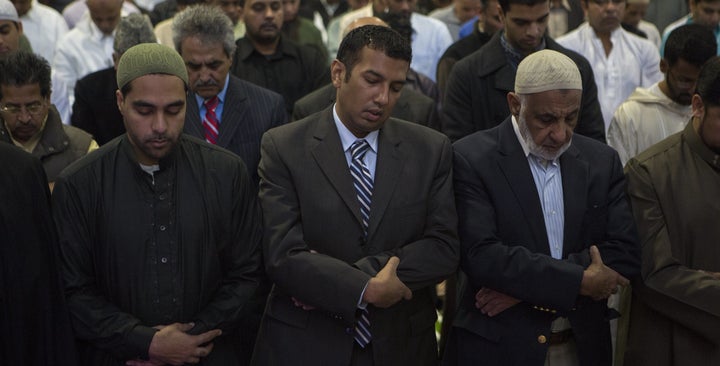 The challenges don't stop if someone does decide to run. Muslims who run for elected office are regularly smeared and accused of having ties to terrorist organizations.
Virginia Del. David Ramadan (R) dealt with these sorts of aspersions when he first ran for office in 2011. Although he received endorsements from prominent Republicans -- President Ronald Reagan's attorney general, Edwin Meese, and then-House Majority Leader Eric Cantor (R-Va.) endorsed Ramadan during his primary against a longtime GOP activist -- anti-Muslim groups still questioned whether Ramadan was a "stealth jihadist" and a tool of terrorists.
"It was hurtful to see because it was not true and these people were making it up for political purposes. It was pathetic and it was bigoted," Ramadan said after his election. "But I have a tough skin, so I dealt with it."
Ellison has constantly faced these sorts of accusations as well. A quick Google search turns up articles questioning whether he's tied to the Muslim Brotherhood and jihadist groups. As recently as Wednesday, U.S. Rep. Steve King (R-Iowa) claimed that Carson and Ellison refuse to "renounce Sharia law."
In November, the site Breitbart.com ran an article on Mazen, saying he has surrounded himself with "extremist operatives" and found "common cause with operatives connected to both the Muslim Brotherhood and Hamas." The Cambridge City Council recently approved a resolution condemning the conservative publication, saying it "has a history of outrageous and sensationalized journalism designed for shock value but which has no proven basis in truth whatsoever."
Hameeduddin didn't face these sorts of accusations when he ran for office, but he said he did get plenty of anti-Muslim hate messages when he went on television in 2010 to discuss the building of a mosque near ground zero in New York City.
Prominent Muslims who aren't in elected office -- including longtime Hillary Clinton aide Huma Abedin and former George W. Bush administration official Suhail Khan -- have faced accusations that they're part of a Muslim Brotherhood conspiracy to infiltrate the U.S. government. Anti-tax crusader Grover Norquist, who is not Muslim but is married to a Muslim woman, has also been targeted.
"If you're a Muslim seeking elected office, the opposition's go-to move in their playbook is to somehow associate them as being tied to terrorism," said Robert McCaw, government affairs manager at the Council on American-Islamic Relations. "The way this game plan works is that prominent American Muslims usually are engaged in Muslim civil society organizations. The anti-Muslim hate network in this country -- an Islamophobia network is what we call it -- they have produced a number of websites to incredulously link every national Muslim organization somehow to either a terrorist organization overseas or the Muslim Brotherhood."
"These candidates who are running, they're running to serve their entire community," said Naheed Qureshi, deputy director of Muslim Advocates, a national legal advocacy group. "They're not running on behalf of the Muslim community. But one way or the other, people try to portray them as different from other candidates and only interested in representing their own constituency."
"What we are espousing are very basic American values," Mazen added.
"If you're a Muslim seeking elected office, the opposition's go-to move in their playbook is to somehow associate them as being tied to terrorism."
Yet Muslims are still often regarded as foreigners, or threats, when it comes to public office. GOP presidential candidate Ben Carson has said the United States should not elect a Muslim to be president.
Awawdeh said he believes this anti-Muslim sentiment, rather than discouraging people from running for office, could actually be a motivating factor.
"I'd encourage people to run even more," he said, "because at this point, we've seen that because of the xenophobic, racist, bigoted, Islamophobic individuals -- they're not doing our community any justice. ... And I think that if there were more Muslim-Americans elected in Congress, in the Senate, potentially moving down the road and having a Muslim president one day -- this will help our community achieve the things that other communities have."
Because the Census Bureau doesn't collect information on people's religious affiliations, estimates of the size of the U.S. Muslim population range from 2.75 million to as many as 7 million. As Politico noted, the population tends to be concentrated in heavily Democratic states, such as New York and New Jersey, but also swing states like Michigan.
In 2013, for instance, Hamtramck, Michigan, became the first majority-Muslim city in the United States and now has four Muslim members on the city's six-seat council.
And the Muslim community is far from monolithic. While Arab-American communities tend to get a significant amount of attention, McCaw -- who identifies as an Irish-American Muslim -- said about a third of all Muslims in the United States are black, and a growing portion of them are Latino.
"The time is now just coming where Muslims are more inclined to think about running for office or going for service themselves, rather than standing next to someone who's running for office for the photo op," Mazen said. "We are now, in many ways, giving these politicians a reason to court our vote."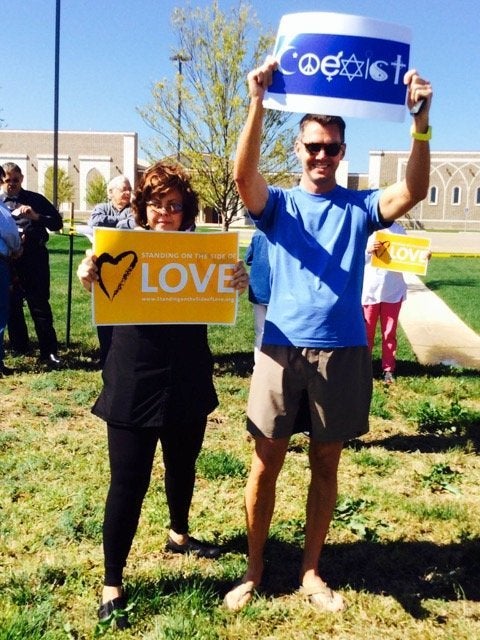 Interfaith Community Stands In Solidarity With American Muslims
Popular in the Community