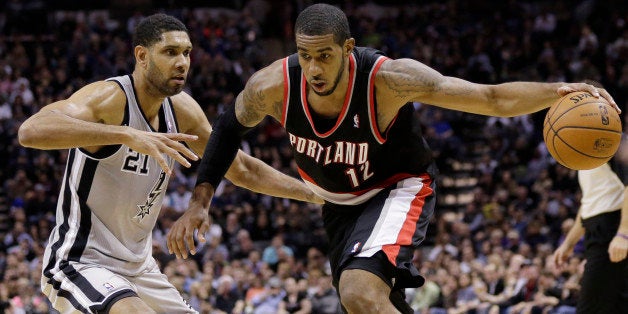 NBA free agency may not be officially over, but the marquee dominoes are off the board and we can start to evaluate what has happened.
Kevin Love turned out to be telling the truth all along when he said he would return to Cleveland, while LaMarcus Aldridge opted for a return to his home state of Texas to play for San Antonio. Plenty more happened, though, so let's take a look at the winners and losers of free agency sweepstakes 2015. If you missed it, here is my piece on the draft's winners and losers.
Hardly a free agency fixture under Gregg Popovich, this is an organization that has largely done its damage through the draft. Inking Aldridge, a four-time All-Star and three-time All-NBA selection with endless offensive ability, to a sparkling new max contract worth $80 million over four years sustains the Spurs' championship window that much longer. He allows Tim Duncan -- perhaps in his final year -- to play fewer minutes and the opportunity to be defended without the slew of double teams.
Moreover, Aldridge, an elite pick-and-pop big man, can run it from anywhere on the floor with Tony Parker, who excels under Popovich's side pick-and-roll action and spread out floor full of shooters. That's where Danny Green and Kawhi Leonard come into play. Signing Aldridge was huge, but retaining Green and Leonard, two of the premier perimeter defenders and corner 3-point shooters in the league, is equally significant. San Antonio now ensures itself of being competitive for at least another four years, and in addition will be buoyed by the 34-year-old former All-Star David West taking the veteran's minimum and turning down $10 million from Indiana. Frontcourt depth for the Spurs now goes from being a legitimate concern to a strength.
Sometimes the best moves are the ones you don't make. In the case of Golden State, not reaching for a name was part one, and part two was retaining two hugely important assets in Mo Speights and Draymond Green. Green, an All-NBA First Team defender and a natural playmaking forward, will earn $85 million over the next five years. He will actually make more than MVP Stephen Curry, who signed a "smallish" four-year, $44 million deal before the 2013-14 season in the midst of his ankle woes. Green, at 25 years old, is the rare four-year collegian and second-round pick to turn from afterthought to bonafide star. Losing him would have been catastrophic because of his remarkable two-way versatility and winning characteristics.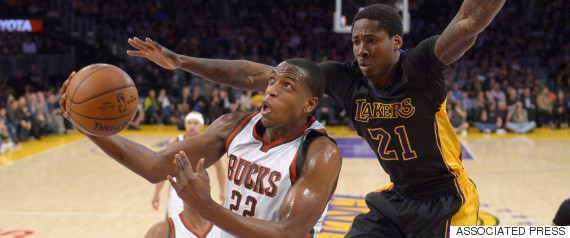 Since when did Milwaukee become a free agent hot spot? After keeping their budding young star Khris Middleton -- albeit on a slightly robust five-year, $70 million extension -- GM John Hammond somehow convinced former Detroit power forward Greg Monroe to come on board for three years and $50 million, turning down the infamously bright lights of New York City. Monroe, as I recently highlighted, is a splendid passer and a downright workhorse who hasn't averaged fewer than 15.4 points and 9.3 rebounds over the past four seasons. And, because of his offensive nimbleness, he can allow scoring dynamo Jabari Parker to play both forward slots depending on the matchups and what suits Parker the best. Hey, if Zaza Pachulia can be effective from the elbows for coach Jason Kidd, then Monroe should thrive.
The 23-year-old Middleton, at 6-foot-7, is a big-time scorer and dead-eye shooter (40 percent career from 3) who has also shown the propensity to guard multiple spots. Because of it, he blends nicely with another emerging star on the Bucks, folk hero favorite "Greek Freak" Giannis Antetokounmpo. All of this is great news for a Milwaukee team that ranked 25th in offense on a per-possession basis, the lowest mark of any playoff team. You have to retain your top-tier talent to consistently win in this league -- just look at the Spurs and Warriors -- and the Bucks acted swiftly and appropriately with Middleton.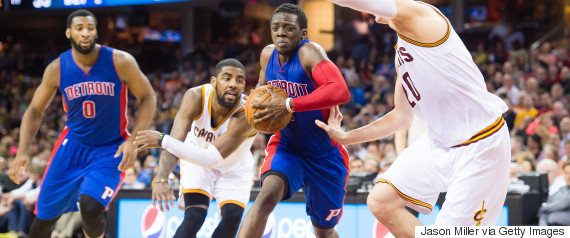 The cap is expanding, so most of these contracts seem bloated, but Detroit just committed five years and $80 million to a shoot-first point guard whose career shooting percentages of 29 percent from 3 and 43 percent from the floor are only made scarier that he couldn't rack up consistent assist numbers playing with Russell Westbrook, Kevin Durant and Serge Ibaka in the wide-open Oklahoma City offense. Detroit couldn't retain Monroe and losing Reggie Jackson would have hurt a lot, but there were bargains at point guard in this market, including Houston's defensive stud Patrick Beverley, who will sign a reasonable four-year, $25 million extension with the Rockets. In other words, Jackson hit the lottery, and not the little one either. I'm talking about one of those big lotteries they have in cities you've never heard of.
Memphis wins with grit and selfless team basketball on both ends. Brandan Wright hasn't exactly jumped onto your radar screen, but the Grizzlies newest power forward gives them both, along with a terrific pick-and-roll partner for Mike Conley. Plus, at three years and $18 million, he is precisely the type of bargain you're looking for after locking up Marc Gasol to a max deal. What's more is that he's a better player than Kosta Koufos, and a cheaper one too. The Grizz think they are close. The West is a constant grind and a battle of attrition. A lack of frontcourt depth is one way of making sure you don't contend and they just fixed a need.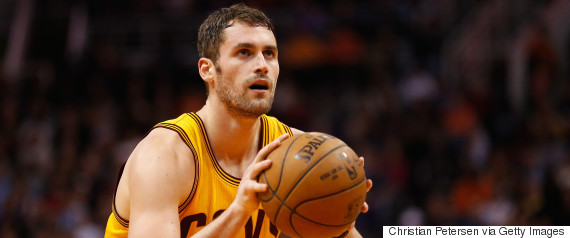 The Bucks and Pelicans (resigning Anthony Davis) struck it big, while some of the league's wealthiest big market franchises continue to miss out. The Knicks couldn't lure Monroe or Aldridge -- let alone secure a meeting -- and the Lakers whiffed on Aldridge, Love and Monroe, while the Celtics thought they had a real shot at Love only to find out they didn't.
What does this all mean? Maybe it's twofold: players feel like they don't need the lure of a major city to build their own brands off the court. Social media keeps everyone connected and seemingly on the same page. Perhaps more importantly, the massive leap in salary cap during the 2016-17 season means that everyone -- including the stingiest GMs -- can pony up the big bucks. Maybe the most pertinent question left is when exactly Jim Buss will finally retire from the Lakers and let someone with real basketball acumen take over as head of basketball operations?
Damian Lillard is the only remaining starter from last year's playoff team. That's how dismal the summer has gone in Portland, who not only lost Aldridge, Robin Lopez and Wesley Matthews, but also dealt Nicolas Batum. To be fair, it retained an interesting former top-10 from Charlotte in 19-year-old Noah Vonleh and also picked up an ace rebounder in 26-year-old power forward Ed Davis, a former lottery pick himself. But giving $30 million over four years to Al-Farouq Aminu is hardly a consolation prize.
As it stands, we know one thing for certain: the Blazers have effectively missed their title window. Lillard is a fine young triggerman, but this is now a roster bereft of high-level talent and athleticism. GM Neil Olshey's team now goes from a 50-win Western Conference club into the depths of next June's lottery. It's worth noting that a central component of that is the litany of poor free agency moves by Olshey in years past, a list highlighted by Dorell Wright, Joel Freeland and Chris Kaman.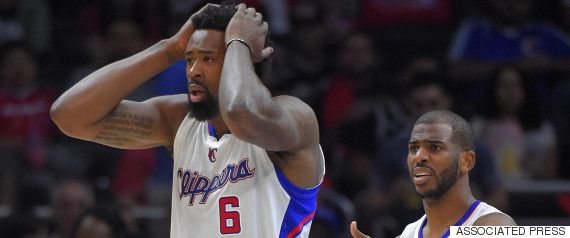 DeAndre Jordan leaving was a monumental blow for a team that loves to run and relies on its bigs to finish at the rim. Jordan was not an offensive weapon, but he finished everything around the rim (league-leading 71 percent field goal percentage) and covered up Blake Griffin's defensive flaws. The Clippers' epic postseason collapse against Houston wasn't necessarily the impetus either. Rumors of dissension between Jordan and Chris Paul have long plagued the relationship. For all of Paul's greatness, what's worse is a patterned history of incessant whining, lack of leadership and worst of all, inability to find playoff success. Not once during his brilliant 10-year career has Paul reached a conference final. With his nemesis now in Dallas, we shouldn't expect that streak to change anytime soon either.
Let's head up to the California state capital to a Kings franchise in utter disarray. He may not have had an outstanding rookie campaign, but former lottery pick Nik Stauskas appeared to be the shooting guard of the future in Sacramento last summer. Instead, the team sent him packing to Philadelphia, along with a 2018 protected first-round pick and the option to swap 2016 and 2017 first-rounders for two second-round draft choices whose names I can't even pronounce.
As if that weren't bad enough, Sacramento will spend $10 million on a one-year deal for point guard Rajon Rondo when the market clearly showed he wasn't even worth a third of that. Rondo, after all, is coming off a season in which he shot 33 percent from the line in Boston, who then dealt him to Dallas where he "improved" to 45 percent. His best basketball is clearly firmly in the rearview mirror and yet, he's going to make more money than Conley, and nearly as much as MVP Curry and All-Star Kyle Lowry.
Meanwhile, lost amid all this drama is a looming disaster with DeMarcus Cousins, the team's best asset and one of the dominant young bigs in the league today. Here's a thought: George Karl is a 64-year-old coach who's never won a title and feuded his way through a laundry list of great players. Cousins is a 24-year-old franchise cornerstone for the next decade. If this is going to turn around, Karl needs to stop acting like a petulant child and mend his tarnished relationship with Cousins. Like I said, something is very, very wrong in Sacramento.
REAL LIFE. REAL NEWS. REAL VOICES.
Help us tell more of the stories that matter from voices that too often remain unheard.