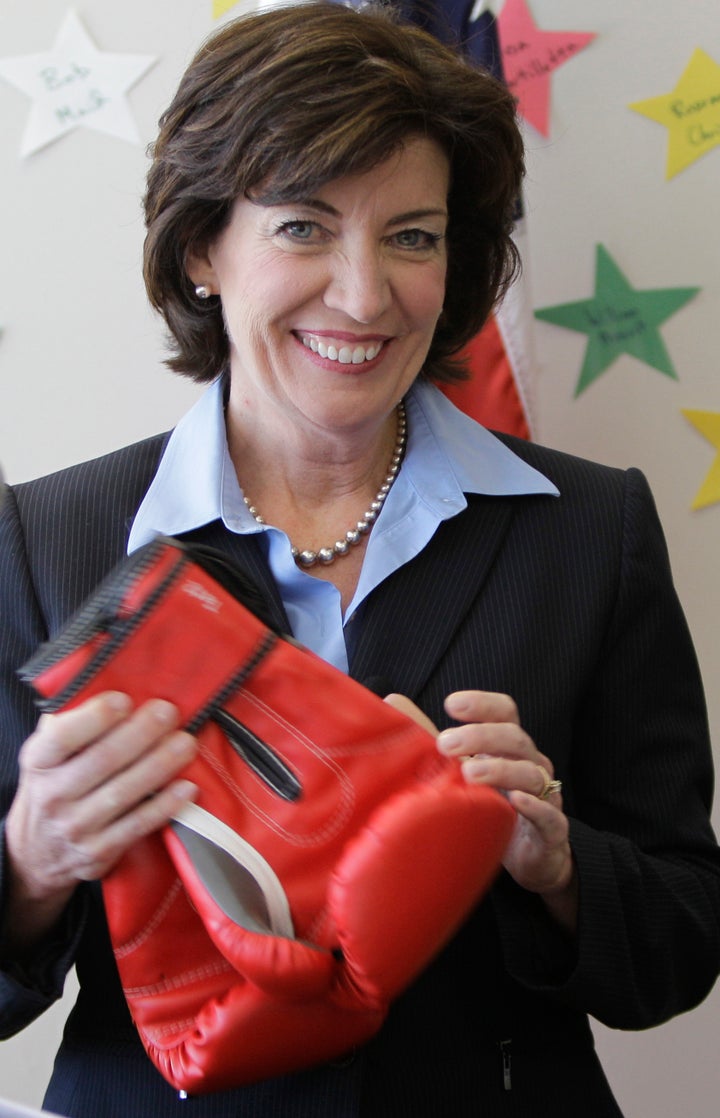 WASHINGTON -- Democrats think they've just spotted a Grand Ol' Panic in the battle to replace disgraced ex-Rep. Chris Lee (R) in western New York -- and think it's a sign their message for 2012 is working.
That's after the Republican-friendly American Crossroads -- launched partly by Karl Rove -- plucked up about $650,000 worth of ad time on TV stations in the Republican-leaning 26th Congressional District around Buffalo.
Lee left Congress earlier this year, requiring a special election to replace him, after he got caught sending topless photos of himself to women on Craigslist.
The ads are set to begin airing Wednesday, just two days after House Speaker John Boehner (R-Ohio) attended a fundraising event there for GOP candidate Jane Corwin.
Democrats said they see the ad buy and Boehner's high-profile visit as proof that Republicans are worried, and that the race could be a sign of things to come.
"John Boehner, Karl Rove and the right are clearly in full panic mode in what should have been a slam dunk for them," said Ryan Rudominer, a spokesman for the House Majority PAC, one of a number of groups springing up on the Democratic side in an attempt to answer outfits like American Crossroads.
Rudominer and other Democrats attributed the trouble for the GOP in western New York to the recent House-passed budget proposal that would, among other things, change Medicare from a government program to a voucher-like private system.
"House Republicans' budget to gut Medicare and provide tax breaks to millionaires has put this heavily Republican seat in play," Rudominer said.
The race pits the GOP's Jane Corwin against Democrat Kathy Hochul in a contest that is complicated by the Tea Party candidacy of former Democratic candidate and businessman Jack Davis.
A recent survey by the liberal-leaning Public Policy Polling had Hochul leading the divided contest, raising shades of the infamous special election in the last cycle that made Rep. Bill Owens the first Democrat to win New York's 23rd Congressional District since the Civil War. He won after a Tea Party-backed candidate chased a moderate Republican from the contest.
But American Crossroads spokesman Jonathan Collegio said there's a big difference between the contests.
"Davis is a phony, and he's trying to trick voters," Collegio said. "He's run three times as a liberal Democrat, and now he's running as the Tea Party candidate to confuse people."
Collegio confirmed that his group has committed to $350,000 worth of TV ads starting Wednesday. He said they've also reserved another week's worth of time at about $200,000 if they decide it's necessary. There will also be Internet spots.
"This ad buy seeks to expose the Democrat trick for what it is," Collegio said.
While Democrats are trying to nationalize the race, it may not necessarily be a good predictor for the 2012 contests. Democrats managed to win targeted special elections across the country before the 2010 elections swept the GOP to power in the House.
REAL LIFE. REAL NEWS. REAL VOICES.
Help us tell more of the stories that matter from voices that too often remain unheard.