The National Oceanic and Atmospheric Administration's chief scientist will investigate whether the agency's response to Donald Trump's misleading tweets about Hurricane Dorian violated NOAA policy, according to an email obtained by the Washington Post.
In the email, acting chief scientist Craig McLean reportedly told NOAA staff he'll investigate why the agency issued a press release on Friday corroborating false claims by Trump, who repeatedly said Alabama would be hit "much harder" by Hurricane Dorian than anticipated. On Monday, The New York Times revealed that the press release was issued after Secretary of Commerce Wilbur L. Ross Jr. threatened to fire top NOAA employees following a tweet from its Birmingham office contradicting Trump.
"[T]he content of this press release is very concerning as it compromises the ability of NOAA to convey life-saving information necessary to avoid substantial and specific danger to public health and safety," McLean reportedly wrote in the email.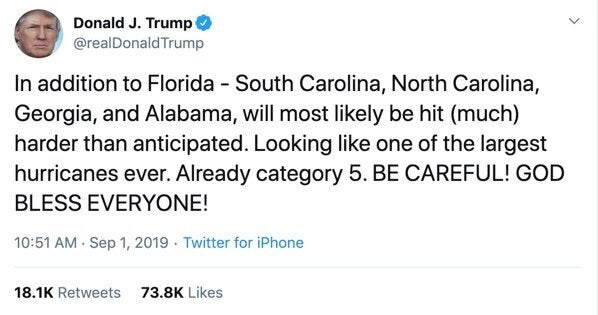 Trump's incorrect tweet was widely panned by experts watching the storm's path, who noted that the state of Alabama was extremely unlikely to face devastating impact from the hurricane and criticized the president for inciting fear unnecessarily. A tweet sent from the official account of the National Weather Service's Birmingham office contradicted Trump's claim, saying Alabama would not see "any impacts" from Hurricane Dorian.
But the NOAA, which oversees the National Weather Service, issued an unattributed public statement on agency letterhead condemning the NWS office in Birmingham. The statement, issued Friday, said the NWS tweet "spoke in absolute terms that were inconsistent with probabilities from the best forecast products available at the time."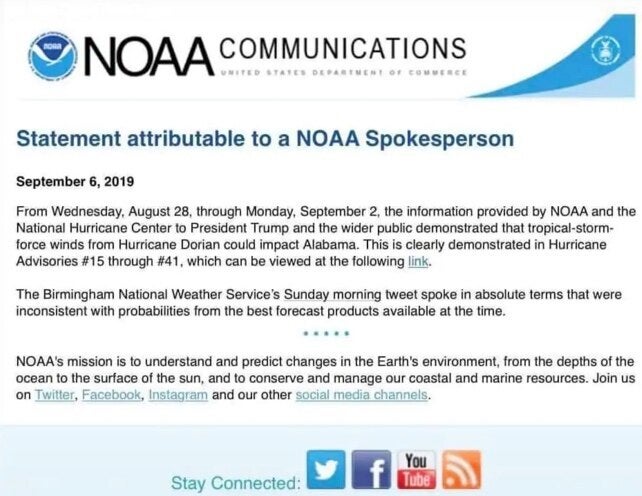 Many people initially interpreted the statement as a government agency's act of fealty to Trump, who had spent the previous five days desperately arguing his initial claims were correct.
In a video posted online Sept. 4, Trump even motioned to a map he or someone in the White House had doctored with a Sharpie to imply Alabama had been in the storm's path as he claimed.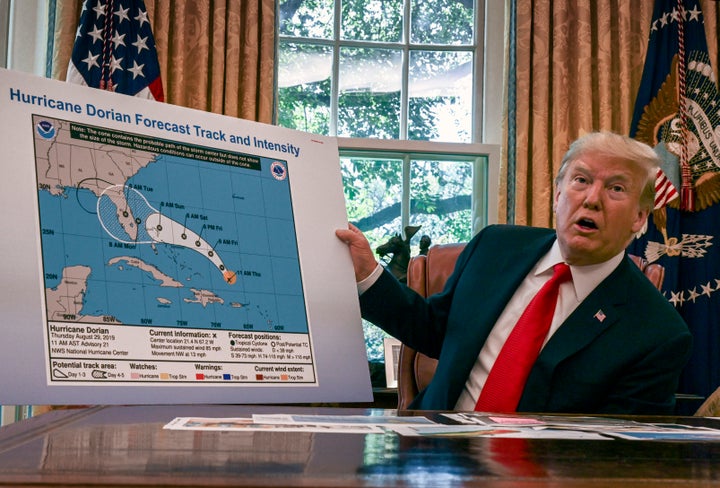 As the NOAA's chief scientist, McLean reportedly told staffers a specific danger arises "if the public cannot trust our information, or we debase our forecaster's warnings and products."
This has been updated with more information about the Friday NOAA statement.
Popular in the Community