 WASHINGTON -- Progressives in Pennsylvania are scrambling to derail a deal they say the state's U.S. senators are quietly trying to cut with the White House on a package of judicial nominees, which includes a conservative Republican aligned with groups opposed to abortion rights, gay rights and gun control.
Keystone Progress, a statewide progressive advocacy group, launched a campaign on Tuesday urging Sens. Bob Casey (D) and Pat Toomey (R) to abandon any plan to recommend corporate lawyer David J. Porter to serve on the U.S. District Court for the Western District of Pennsylvania. Among other things, the group highlights that Porter heads the Federalist Society's Pittsburgh Lawyers Chapter, helped found a coalition that tried to stop Supreme Court Justice Sonia Sotomayor's confirmation, and is a contributor and trustee at the conservative Center for Vision and Values.
"Keystone Progress has learned that a backroom deal ... may result in President Obama appointing a Tea Party lawyer," reads the group's press release. "The nomination of David J. Porter is working its way to the White House as part of a deal between Pennsylvania's two United States Senators ... [who] are expected to jointly present Porter to President Obama any day now."
According to the release, which cites only "insiders" as its sources, Porter is part of a broader deal that would allow Casey to pick three or more federal judicial nominees in exchange for Toomey getting Porter. Pennsylvania currently has eight district court vacancies, giving it one of the worst vacancy rates in the nation.
Michael Morrill, executive director of Keystone Progress, wouldn't provide The Huffington Post with any details on how the group heard about the apparent plan, saying only that his sources are tapped into the nominations review process and requested anonymity.
The Huffington Post reached out to Casey and Toomey on Wednesday for comment on any potential deal involving Porter. Neither denied that a nominations package may be coming soon or that Porter may be part of it.
"I don't make any comments on potential nominees," Toomey said when asked about Porter. The senator paused before adding, "He hasn't been nominated, I don't think, has he?"
Casey spokesman John Rizzo said his office doesn't discuss potential judicial nominees until they've been officially announced by the White House, "out of respect for the privacy of applicants."
"Nothing has been resolved," he said of a potential package deal.
A White House official did not respond to a request for comment.
It's hard to tell what is going on behind the scenes in selecting federal judicial nominees. The process tends to be shrouded in secrecy and can drag on for months or even years as the White House works with senators to vet candidates they can all agree on. In the meantime, the senators stay mum, the White House stays mum, and it's not until the president formally announces his nominees that most people learn who they are.
If a package of judicial nominees is shaping up in the way described by Keystone Progress, it bears the same outlines as another contentious deal the White House cut with Georgia's two Republican senators. In that case, Obama signed off on an all-or-nothing package of six nominees that includes Michael Boggs, a socially conservative judge who has come under intense fire from the African-American community, abortion rights groups and the gay community.
Obama made some notable concessions in the Georgia deal. Four of the six nominees are GOP picks and only one is black, in a state with a large African-American population. But the gain for the White House is that other Democrat-backed nominees in the package can move forward after years of going nowhere. The president would fare better in the Pennsylvania deal, if it comes to fruition as outlined, since just one of the nominees would be a GOP pick.
With more than 85 judicial vacancies still out there and the clock running down on Obama's presidency, it may be the new norm that the president is willing to tuck a socially conservative nominee or two into a broader package of judicial picks in order to move the process forward. The White House can't just push through its preferred Democratic nominees thanks, at least in part, to the "blue slip" rule in the Senate Judiciary Committee. Under that practice, which is more of a courtesy than a hard rule, any senator has the ability to unilaterally block a nominee from his or her home state. Some Republicans have been leaning on blue slips to prevent Obama's nominees from advancing, while committee Chairman Patrick Leahy (D-Vt.) has brushed off calls to do away with the custom.
Before You Go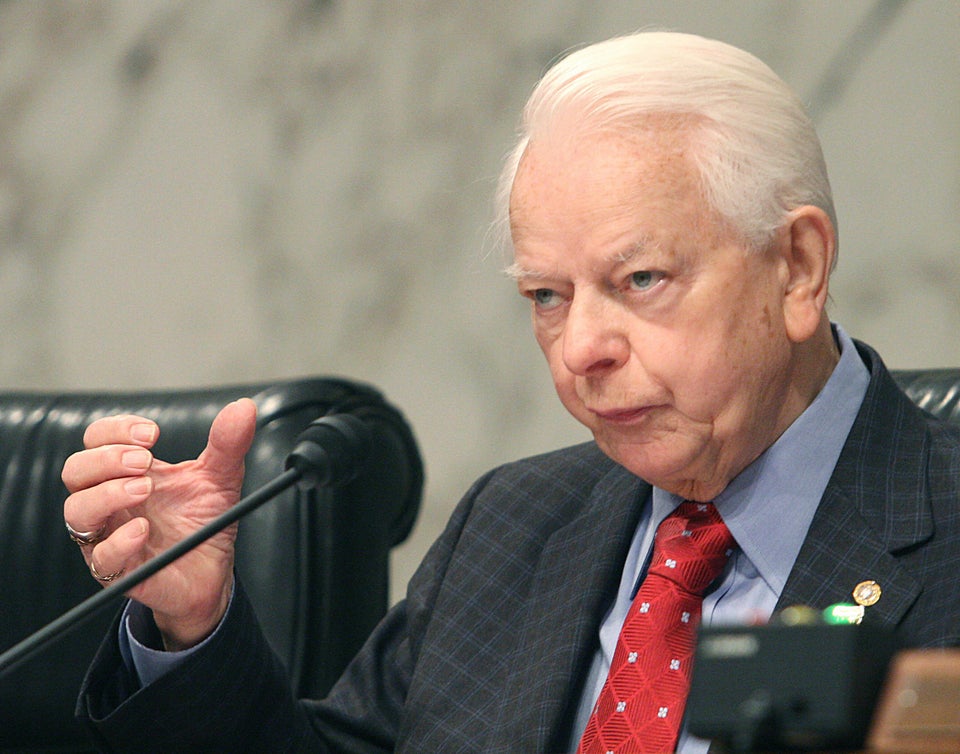 Longest Serving Senators In U.S. History
Popular in the Community