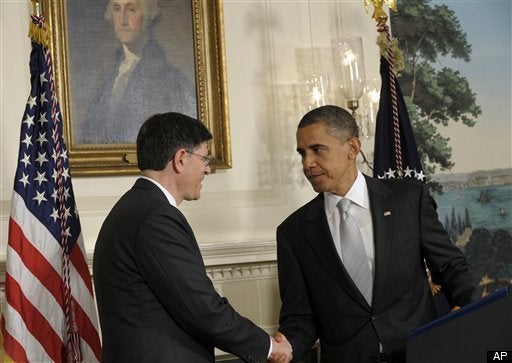 UPDATE: The Senate Homeland Security and Governmental Affairs Committee voted 9 to 0 on Tuesday morning in favor of Lew's nomination and referred him to the full Senate. The Senate Budget Committee also has a vote.
A former top executive at Citigroup who participated in the deregulation of Wall Street during the Clinton administration and recently was tapped by President Barack Obama for a top White House post told a Senate panel last week that deregulation didn't lead to the recent financial crisis.
Jacob "Jack" Lew, Obama's nominee to lead the Office of Management and Budget, the White House agency entrusted with ensuring that federal regulations reflect the president's agenda, was asked Thursday during his confirmation hearing before the Senate Budget Committee by Sen. Bernie Sanders whether he believed that the "deregulation of Wall Street, pushed by people like Alan Greenspan [and] Robert Rubin, contributed significantly to the disaster we saw on Wall Street."
Lew, a former OMB chief for President Bill Clinton, told the panel that "the problems in the financial industry preceded deregulation," and after discussing those issues, added that he didn't "personally know the extent to which deregulation drove it, but I don't believe that deregulation was the proximate cause."
Experts and policymakers, including U.S. Senators, commissioners at the Securities and Exchange Commission, top leaders in Congress, former financial regulators and even Obama himself have pointed to the deregulatory zeal of the Clinton and George W. Bush administrations as a major cause of the worst financial crisis since the Great Depression. Lew, however, doesn't appear to agree, putting him at odds with an administration and a party that tout their efforts at re-regulating Wall Street in pitches to voters and cast blame for the crisis in part on the deregulatory policies pursued by Bush and his fellow Republicans in Congress.
During an Oct. 30, 2008, campaign event in Florida, then-candidate Obama told a crowd of his then-opponent, Sen. John McCain, that: "Twenty-one times just this year John McCain has said we need to deregulate the financial industry, right at a time when we know that it's because of deregulation that Wall Street was able to engage in the kind of irresponsible actions that have caused this financial crisis." The Arizona Republican lost in part to perceptions over how he would handle the worsening crisis.
Lew served as OMB chief from May 1998 to January 2001 during the Clinton administration, when Clinton signed into law the Financial Services Modernization Act of 1999 and the Commodity Futures Modernization Act of 2000 -- two pieces of legislation at the heart of the deregulation of Wall Street. The first repealed the law that had long kept commercial banks from offering products or engaging in services more common with investment banks; the second "eliminated virtually all regulation" over the kind of derivatives that trade outside regulators' view, according to Brooksley Born, the former head of the Commodity Futures Trading Commission and a current member of the Financial Crisis Inquiry Commission.
The Obama pick worked at Citi from 2006 until he joined Hillary Clinton's State Department in January 2009, rising to chief operating officer of the bailed-out bank's Alternative Investments unit, a Citi division that engaged in proprietary trading and invested in hedge funds and private equity groups. The Huffington Post reported in July that Lew's unit invested in a hedge fund king who made billions correctly predicting that U.S. homeowners would not be able to make their mortgage payments.
Lew made millions at Citi, including a bonus of nearly $950,000 in 2009 just a few months after the bank received billions of dollars in a taxpayer rescue, according to disclosure forms filed with the federal government. The bank is still partly owned by taxpayers.
The White House declined to clarify Lew's remarks from last week, instead writing in an e-mail that "Mr. Lew gave a nuanced and thoughtful answer to a question on a matter on which he, admittedly, is not an expert," said Kenneth Baer, communications director for OMB.
While experts agree on most of the several factors that led to the crisis, there remains some debate over the particulars. The causes of the collapse are the subject of an independent commission created by Congress to investigate the roots of the financial crisis. The FCIC's report is due in December.
And Lew, a longtime public servant, spent just a few years on Wall Street. He also was testifying before Congress, so he may have wanted to be extra cautious when answering questions he may have been unsure of.
But when it comes to the financial crisis and the role played by deregulation, there appears to be little disagreement among members of the Democratic Party.
"The conditions that created this crisis had been brewing for years," Senate Majority Leader Harry Reid said Sept. 14, 2009, on the Senate floor. "A lethal combination of government deregulation and industry irresponsibility meant Wall Street could run wild. And run wild it did.
"The mantra of the last eight years was deregulation, deregulation, deregulation," Reid, of Nevada, continued during a speech meant to mark the one-year anniversary of the Lehman Brothers bankruptcy. "The last White House refused to police lenders when they deceived and defrauded Americans looking for loans, and neglected to protect consumers when we were being abused."
"If we have learned anything from the financial crisis, it is that excessive deregulation is dangerous," Rep. Paul Kanjorski, a Pennsylvania Democrat and member of the House Financial Services Committee, said during an Oct. 6, 2009, hearing on reforming the nation's financial system.
In marking the passage of a bill on July 16, 2009, House Speaker Nancy Pelosi said, "America is suffering from the deepest economic downturn since the Great Depression in part because of the financial meltdown and housing crisis resulting from the past drive for deregulation of our financial system and economy."
Several months earlier, a few days after the financial crisis had wiped out Lehman Brothers, forced Merrill Lynch into the safe hands of Bank of America, and allowed AIG to tap the Federal Reserve for what would eventually become a taxpayer-financed $182 billion rescue, Pelosi took aim at Bush and McCain for the "failure of an ideological 'anything goes' economic policy."
Telling reporters that McCain had "no credibility" when it came to economic issues, she slammed the Arizona Republican for a statement he had made boasting of his deregulatory zeal.
"What a sad boast. What a sad boast," Pelosi said. "Especially in light of the consequences of that deregulation."
The House Democratic Caucus points to deregulation as a cause of the crisis, and takes pride in its efforts to re-regulate and "keep big banks and Wall Street from gambling with our future."
The Democratic Policy Committee, a Senate panel, assailed Republicans for their efforts at deregulating the financial services industry and directly linked that to the recent financial crisis.
"Democrats have warned that conservative Republicans' hostility toward regulation and oversight would seriously harm the economy. During the last several years, and most clearly in the last few weeks, our worst fears have been realized," the panel writes on its Web site in a post dated just a few weeks before the 2008 presidential election. "After nearly a decade of Republican-controlled government in Washington, Americans have seen their dreams of economic security and homeownership gambled away by deregulation, incompetent fiscal policies, misplaced governmental priorities, lack of Congressional oversight, and unchecked greed on Wall Street and in the financial markets."
But it's not just Democratic partisans who link deregulation to the financial crisis.
Sen. Ted Kaufman, a Delaware Democrat who pleaded with his colleagues this past year to break up megabanks during several impassioned speeches on the Senate floor, accepts the link between deregulation and the crisis as a "given."
"By lifting basic restraints on financial markets and institutions, and more importantly, failing to put in place new rules as complex innovations arose and became widespread, this deregulatory philosophy unleashed the forces that would cause our financial crisis," Kaufman said March 11.
According to SEC Commissioner Luis A. Aguilar, "[t]he financial crisis and its enormous costs to society were the direct result of years of deregulation," he said May 24.
Testifying before the Financial Crisis Inquiry Commission, several regulators and market participants blamed deregulation -- at least in part -- for the financial crisis.
Eric Dinallo, the former superintendent of the New York State Insurance Department who served during the collapse of AIG, told the panel on July 1 of this year that deregulation "created a perfect storm of financial disaster."
SEC Chairman Mary Schapiro testified before the commission on Jan. 14, explaining that deregulation led to the "proliferation of complex financial products, including derivatives, with illiquidity and other risk characteristics that were not fully transparent or understood."
These products later blew up, resulting in the massive taxpayer rescue of Wall Street.
Even a top official at the Federal Reserve said deregulation played a role.
"The deregulatory effort, I think, was -- you know, there is no one piece that was a problem. But I think the mindset that it created was a problem. The mindset was that there should be no regulation; that the market should take care of policing," Scott G. Alvarez, general counsel to the Fed's Board of Governors in Washington, told FCIC investigators during a March 23 interview. "[U]nless there already is an identified problem. So it's less about anticipating problems. It's more about reacting to demonstrated problems. Once you get in that mindset, then it's -- you know, you start -- then crisis can begin because you have to have that evidence first so you have to see that it has already caused damage before you react."
So not only was deregulation a problem, but it also exacerbates them and turns them into crises.
But not everyone agrees that deregulation led to the crisis. John D. Hawke, Jr., the former Comptroller of the Currency under Clinton and George W. Bush who oversaw the nation's biggest banks as a top bank regulator, told the crisis panel on April 8 that deregulation wasn't a "contributing factor" to the crisis.
Hawke served as Comptroller from 1998 to 2004. Clinton signed into law both the bank and derivatives deregulation bills during his tenure atop the Office of the Comptroller of the Currency.
The OCC has been criticized for its supervision of large firms like Citigroup and its record on consumer protection. The OCC is a big reason why Congress and the Obama administration called for the creation of a separate consumer regulator to protect borrowers from abusive lenders.
Yet that point of view wasn't expressed by anyone other than Lew during his confirmation hearing last week.
After telling Sanders, an Independent from Vermont who works closely with Democrats, that deregulation didn't lead to the crisis, Senate Budget Committee Chairman Kent Conrad, a North Dakota Democrat, quickly responded to Obama's nominee.
"I think the senator's entirely right. I think deregulation -- part of that toxic brew -- has a central responsibility in the near collapse," Conrad said. "And I don't know how it can be otherwise."
UPDATE -- Sen. Sanders, through a spokesman, responded to Lew's assertion in a Tuesday e-mail to HuffPost: "I thought his answer was dead wrong," Sanders said. "Deregulation was a major contributor to the financial collapse. As someone who fought deregulation when I was a member of the House, it has been clear to me for years that if you allowed the people on Wall Street to do everything they wanted to do, the result would be an unleashing of incredible greed, recklessness and illegal behavior -- which is precisely what we saw. In my view, while the financial reform bill was a step forward, we need to do much more to rein in the greed of Wall Street, re-regulate the large financial institutions and get them to invest in the job-creating productive economy."
Scroll to the 1:32:53 mark to see Lew discuss deregulation, and Conrad's reaction:
Scroll to the 2:45 mark to see Obama talk about deregulation and its impact on the financial crisis:
*************************
Related
Popular in the Community