President Barack Obama responded to Mitt Romney's charge that the White House mishandled its response to the embassy attacks in Egypt and Libya by accusing his challenger of having a tendency to "shoot first and aim later."
"There's a broader lesson to be learned here: Governor Romney seems to have a tendency to shoot first and aim later, and as president, one of the things I've learned is you can't do that," Obama said in an interview with CBS News on Wednesday. "It's important for you to make sure that the statements that you make are backed up by the facts and that you've thought through the ramifications before you make them."
When asked if he found Romney's statement "irresponsible," Obama responded, "I'll let the American people judge that."
The Republican presidential nominee has faced significant backlash for targeting the president for a public statement, made by the U.S. embassy in Cairo, that did not come directly from his administration. The statement was made by the embassy prior to an Egyptian demonstration in reaction to an anti-Islamic video. Other officials have accused Romney of prematurely politicizing an episode that took the lives of four diplomatic officials, including U.S. ambassador to Libya Christopher Stevens.
Romney released his first statement on Libya and Egypt Tuesday night, in which he called the president's handling of the situation "disgraceful." He reiterated that criticism in a press conference Wednesday, stating, "The president takes responsibility not just for the words that come from his mouth but also from the words of his ambassadors, from his administration, from his embassies, from his State Department."
"They clearly sent mixed messages to the world," Romney said. "The statement that came from the administration -- and the embassy is the administration -- the statement that came from the administration was a statement which is akin to apology. And I think was a severe miscalculation."
Obama delivered his own statement on the crisis in Libya on Wednesday, with Secretary of State Hillary Clinton by his side, but chose not to engage with Romney during his speech. He instead focused on the incident and lives lost, while making it clear that those responsible would be brought to justice.
"We reject all efforts to denigrate the religious beliefs of others," Obama said, "But there is no justification for this kind of violence. None."
UPDATE: 6:19 p.m. -- While aboard Air Force One on Wednesday evening, White House Press Secretary Jay Carney read more quotes from a transcript of Obama's "CBS News" interview, which makes up one portion of a larger package in this Sunday's edition of "60 Minutes."
"I think most Americans, Democrats or Republicans, understand that there are times when we set politics aside, and one of those is when we've got a direct threat to American personnel who are overseas," President Obama said.

"And so I think that if you look at how most Republicans have reacted, most elected officials, they've reacted responsibly, waiting to find out the facts before they talk, making sure that our No. 1 priority is the safety and security of American personnel."

"It appears that Gov. Romney didn't have his facts right. The situation in Cairo was one in which an embassy that is being threatened by major protests releases a press release saying that the film that had disturbed so many Muslims around the world wasn't representative of what Americans believe about Islam."

"In an effort to cool the situation down, it didn't come from me, it didn't come from Secretary Clinton, it came from people on the ground who are potentially in danger. And my tendency is to cut folks a little bit of slack when they're in that circumstance, rather than try to question their judgment from the comfort of a campaign office," Obama said.

"I do have to say that, more broadly, we believe in the First Amendment. It is one of the hallmarks of our Constitution that I am sworn to uphold, so we're always going to uphold the rights of individuals to speak their minds. On the other hand, this film is not representative of who we are, and our values, and I think it is important for us to communicate that. That's never an excuse for violence against Americans, which is why my No. 1 priority and my initial statement focused on making sure that not only are Americans safe, but that we go after anyone that would attack Americans."

Obama said the U.S. will "remain vigilant," and that "even as we apply pressure on al Qaeda and other elements that are affiliated in big chunks of the world, such as North Africa and the Mideast, we've got a lot of dangerous characters, and we've got to make sure we're continuing to apply pressure on them. And that's something I'm determined to do."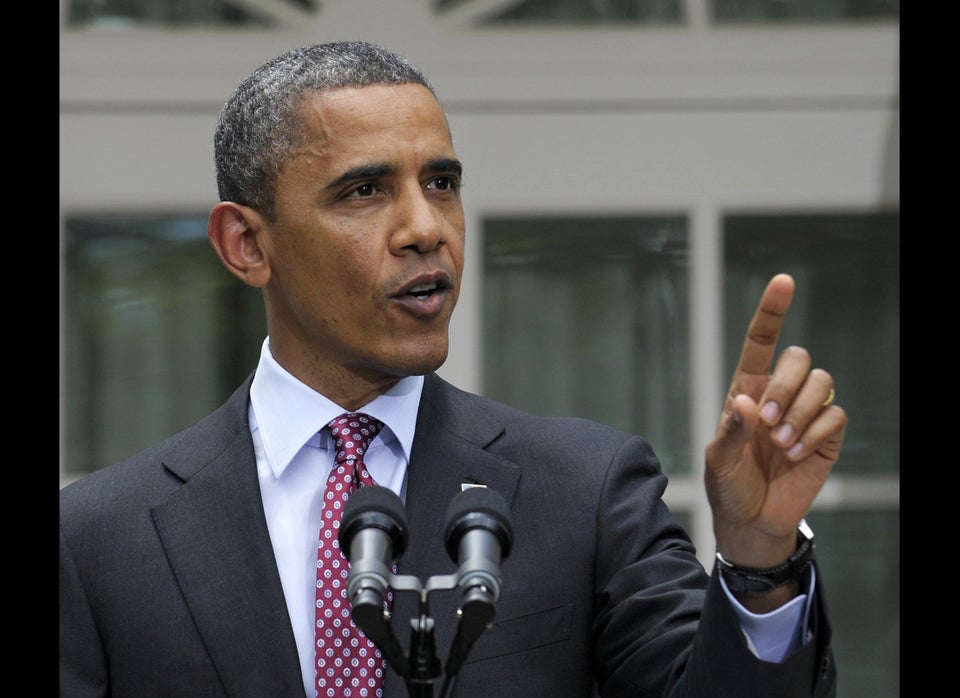 Politicians React To Attacks In Libya, Egypt
Popular in the Community