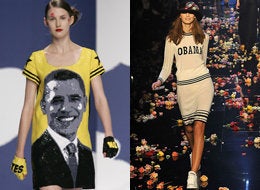 No, make that Dateline: Obama Soiree. The fetes for Barack Obama spilled out of American restaurants and onto cobblestone rues, the town hall of the 3rd Arrondissement (where they were showing American movies all night), and the enormous Palais de Congres! O-ba-ma! O-ba-ma! And this was early in the evening before we knew for sure that Democrat Obama won the presidency, though the vibe had steadily been coming and growing. The Obama vibe had been laying a solid foundation in the months leading up to our man's big electoral bang.
Parisians had been talking to us about Barack Obama for months--wanting, perhaps needing, at the very least feeling compelled to bring up the charismatic nominee whose multi-racial, multi-cultural though heartily American face, mind, and background would instantly change the global image of the United States if he were elected. These Parisians who were of varied backgrounds themselves, like us dared to invest in hope for our country. The truth is--and some Americans don't understand this--the French also wanted the best for us. In many ways, the election of Barack Obama also brings good news for them--just as it does for everyone else on the planet.
Dark days are over. Bright days are here again. Don't we all hear the world sigh with relief ?
Whether it was our Turkish tailor, the woman at the post office who sells envelopes and stamps, or the Chilean man who walked up to me in a store and explained in great detail why Obama had to win so things would get better, there has been a huge interest in this election and in Barack Obama. We live next door to classic bistro Chez Georges in the 2nd Arrondissement, which has a luscious menu of most everything one hopes to eat in France, and the chef and my husband, Jim, have been chewing the duck fat about Obama every time they crossed paths.
By the time yesterday rolled around, the French media was obsessed with the election and the events Americans were planning around town. Print, radio, television, various websites and blogs dished on all the parties. Around 50,000 Americans--who have highly anticipated this election--live in and around Paris, and that isn't even counting the hefty student population that's here at any given time. I am talking about Americans who want to huddle together in this time of national unity. But the group people really underestimated coming out were the French who showed up in droves!
Festivities were kicked off on November 3rd by the French Support Committee for Barack Obama, an organization that 23-year-old student Samuel Solvit started and grew into a 9,000 member organization--even though his group couldn't vote in the U.S. but cared about our mutual relationship! Another testament to the power of Obama's message and motivational skills. A gaggle of red, white, and blue balloons were released on the Esplanade at Trocadéro, which was followed by a packed and gospel-singing cocktail party. "Oh Happy Day!" the singers belted out, rocking the French restaurant across from the American Cathedral.
Naturally, we wanted to spend Election Night with our friends. But some people were skipping around town before meeting up at our buddy Paul's. Many tasty party pickings turned my head. Democrats and Republicans Abroad were holding their official Election Night at Cinéaqua Paris, a venue at the Trocadéro, and this was the mainline choice.
My friend Ralph and I went on the restaurant and bar circuit, stopping first at Harry's New York Bar, which is an institution in Paris, especially on Election Night. It was packed to the gills and the human spillover took up about half the block of the rue Daunou, television cameras rolling and photos being snapped. From there, we metroed over to Breakfast in America, a diner owned by American Craig Carlson, and the line snaking out his door just kept getting longer. Craig serves righteous hamburgers, hot dogs, pancakes, which are a banquet for an American starving for food from home.
We couldn't miss Joe Allen on our circuit. Again, stuffed like a can of sardines with Americans, French, British--basically a mini-United Nations of characters around town, some who had come for Election Night there for decades. We ended at the Americans Abroad for Obama party that couldn't hold all the Americans who wanted in much less the French who mistakenly thought it was open to the public.
But everywhere we went there were probably more French than Americans. The French were interested and excited but a little worried. They were hopeful but afraid that our election could be stolen as had happened before. It took me all night to find out anyone who knew anyone in France--anyone in Europe--who had voted for McCain. Weirdly enough, it was a college student and a woman whose daughter had a friend supporting McCain, though she wasn't American and couldn't vote.
And then we went to Paul's and met up with my own home boys, and we squealed with delight and booed and drank wine and ate pizza and popcorn. When the election was called at 5 A.M. our time, we danced and hugged and kissed each other. We hooted with happiness and cried when our new President-Elect Barack Obama moved us with his speech. A new day was born and us along with it.
Later, Jim and I walked home through the wet streets of Paris. It was sprinkling, and the soles of his new shoes skid on the cobblestones. When we got to Chez Georges, it was 7 A.M. and the lights were already on. The chef was sitting at a table reading the paper. Jim knocked on the window, and he opened the door.
"Obama!" he said. And we repeated it. "Obama!" we all said together with a big thumbs up.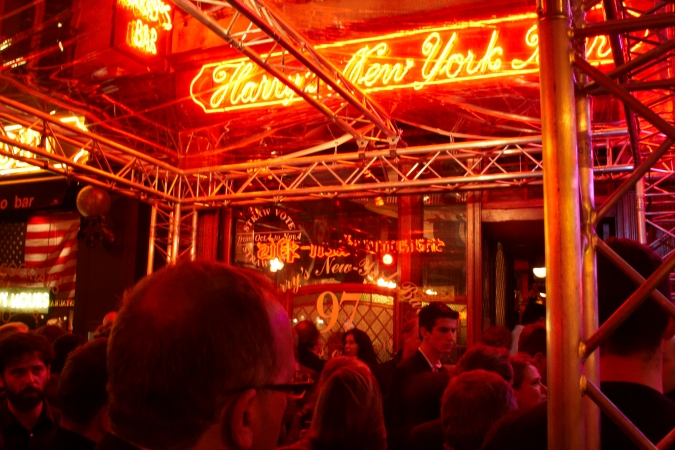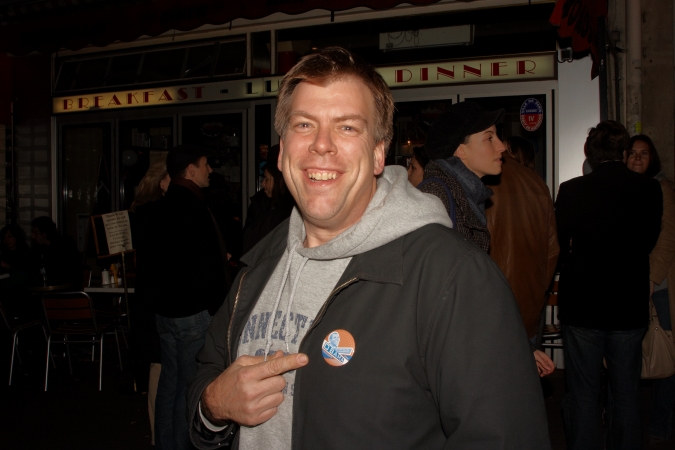 Breakfast in America owner Craig Carlson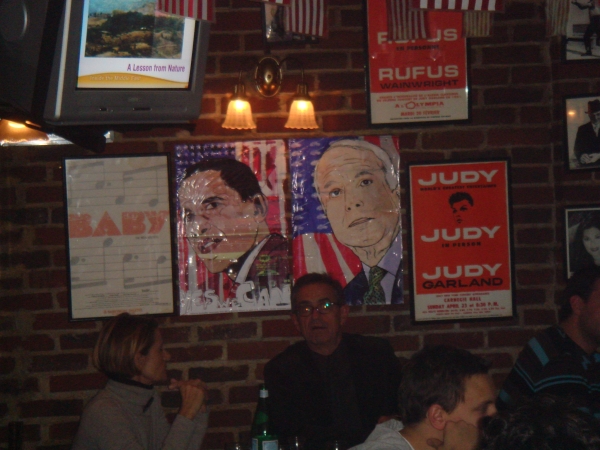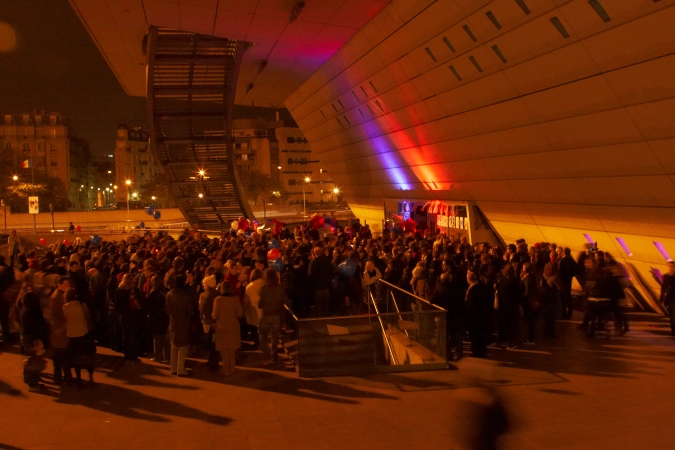 Americans Abroad for Obama party at Palais de Congres
Beth Arnold lives and writes in Paris. To see more of her work, go to www.betharnold.com. Now she's tired and happy and going to bed.
Popular in the Community