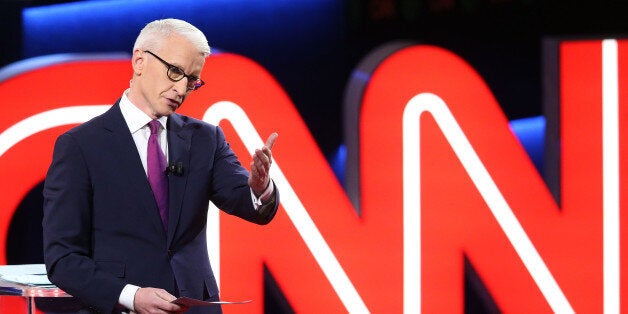 These final debates are the last chance voters get to try and understand the candidates' views on the big issues, and for you, the moderators, to probe more deeply into subjects they've glossed over or avoided. But if history is a guide, you'll completely ignore - and allow the candidates to ignore - the most important group of issues in the entire election, the ones that will actually determine the future of America and the planet.
I'm talking about science and its offshoot, technology.
To see how bizarre it is that someone could become the most powerful person on earth without ever publicly debating these, you need look no further than the venue for the first debate on Monday at Hofstra University.
In just the last decade, Hofstra created the Northwell School of Medicine, the School of Engineering and Applied Sciences, and now offers courses in Anthropology, Astronomy, Biochemistry, Cardiology, Chemistry, Computer Engineering, Emergency Medicine, Forensic Science, Geology, Environment and Sustainability, Mathematics, Molecular Medicine, Neurology, Pediatric Medicine, Physics, Psychology, Science Education, and many more.
But students taking these science courses at Hofstra will likely be ignored by your debate and end up feeling disappointed.
A national poll found that 91% of Democrats and 88% of Republicans want presidential candidates to debate science. No one expects candidates to be scientists, any more than we expect them to be economists, but voters deserve to hear their basic science policy ideas. And it is vital that you, the moderators, question them on these so voters can go to the polls with the best possible information about which candidate can lead them into the future.
Most of your work has been done for you. An organization called ScienceDebate.org convened the best scientific minds in the country (see below) to develop a list of 20 Science Questions for the presidential candidates.
All of them - Clinton, Trump, Johnson, and Stein - answered in writing. As moderators, all you have to do is study the questions and answers and decide which of them you want to explore further. If you'd like ScienceDebate.org to curate a segment of your debate, or if you just want advice, we'd be happy to help.
The questions cover such broad and diverse topics as Ocean Health, Vaccinations, the Internet, Climate Change, Research, Opioids, Energy, Innovation, Science Education, Nuclear Power, Global Challenges, Water, Space, Mental Health, Biodiversity, Scientific Integrity, and several others.
For good or ill, these are the issues that will determine our economic and environmental future, and the future health, wellbeing, or survival of our children. Please give them - and the American voter - the respect they deserve.
Matthew Chapman, President ScienceDebate.org
When it comes to advocating for more scientific content in elections, ScienceDebate.org is the most respected organization in America. Since 2008, it has succeeded in getting all of the final candidates for president - Obama (twice), McCain, Romney, and now Clinton, Trump, Johnson, and Stein - to answer our "Most Important Science Questions." When the 2008 and 2012 answers were published online, they reached an unprecedented 800 million people each time, making this one of the largest, if not the largest, science policy initiatives ever.
ScienceDebate.org's supporters include over 20 Nobel Laureates; giants of innovation like Elon Musk and Vinton Cerf, one of the "fathers of the internet"; actor/activists like Mark Ruffalo, Kathleen Turner, Johnny Depp and longtime environmentalist Peter Coyote; over 100 US universities and more than 100 university presidents; thousands of professors, including some at Hofstra; science advocates like Bill Nye; and, with the ability to reach over a 100 million people, all the major science organizations in America, among them the Union of Concerned Scientists, Research!America, all branches of the National Academies of Science, and the American Association for the Advancement of Science, the largest general science organization on earth.
The list of organizations supporting this year's questions is a who's who of the American science enterprise.
**ScienceDebate.org *American Association for the Advancement of Science American Association of Geographers *American Chemical Society American Fisheries Society American Geophysical Union *American Geosciences Institute *American Institute of Biological Sciences American Institute of Professional Geologists American Rock Mechanics Association American Society for Engineering Education American Society of Agronomy American Society of Ichthyologists and Herpetologists American Society of Mammalogists American Institute for Medical and Biological Engineering Association for Women Geoscientists Association of Ecosystem Research Centers Automation Federation *Biophysical Society Botanical Society of America Carnegie Institution for Science Conservation Lands Foundation Crop Science Society of America Duke University Ecological Society of America Geological Society of America *IEEE-USA International Committee Monitoring Assisted Reproductive Technologies Materials Research Society NACE International, The Worldwide Corrosion Authority *National Academy of Engineering *National Academy of Medicine *National Academy of Sciences National Cave and Karst Research Institute *National Center for Science Education National Ground Water Association Natural Science Collections Alliance Northeastern University Organization of Biological Field Stations Paleontological Society *Research!America Scientific American magazine Seismological Society of America *Sigma Xi, The Scientific Research Society Society for Science & the Public Society for the Preservation of Natural History Collections Society of Fire Protection Engineers Society of Wetland Scientists Society of Women Engineers Soil Science Society of America SUNY College of Environmental Science and Forestry Tufts University *Union of Concerned Scientists University City Science Center *U.S. Council on Competitiveness The Wildlife Society World Endometriosis Research Foundation America **Lead organizer *Supplied experts to the questions development process
Calling all HuffPost superfans!
Sign up for membership to become a founding member and help shape HuffPost's next chapter