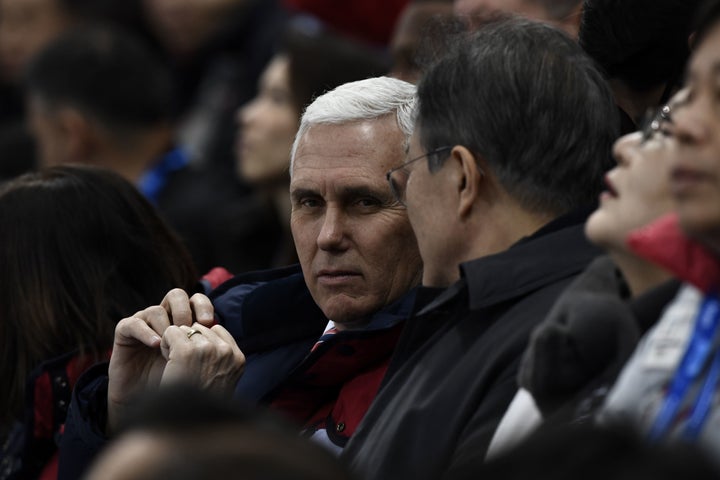 The latest discussion erupted last month, when gay U.S. Olympic skater Adam Rippon criticized the fact that Pence would lead the U.S. delegation in the Pyeongchang Winter Games. Rippon brought up the issue of conversion therapy ― a scurrilous practice that attempts to turn LGBTQ people heterosexual, and that every reputable medical, psychiatric and psychological organization has discredited as both ineffective and harmful.
And USA Today reported last week that Rippon, who's become an icon in the LGBTQ community for his stance, had refused a meeting with the vice president, according to Rippon's agent.
In a statement, Pence denied that he had reached out for meeting. On Twitter, he claimed it was "fake news" and a "nonstory" to purport that he had supported conversion therapy, which has been banned for minors in several states across the country. As they have in the past, Pence's spokespeople also denied that he had ever supported conversion therapy.
But it's ludicrous to debate whether Pence showed support for conversion therapy ― as he did in a statement on his campaign site in 2000, when he was a U.S. House member ― without looking at Pence's larger, blood-curdling record on LGBTQ rights and the extreme pronouncements he's made in promoting bigoted policies in the name of his religious faith.
In a speech on the House floor in 2006, Pence, in urging support for the anti-gay Marriage Protection Act, warned that same-sex marriage would lead to the "deterioration of the family" and, ultimately, complete and utter "societal collapse." Marriage is not just the "glue of the American family" that would come undone if gays were afforded the right, Pence claimed; it in fact wasn't man's right to give to others, as he said in a statement that clearly revealed his theocratic impulses:
I believe first, though, marriage should be protected because it wasn't our idea. Several millennia ago it the words were written that a man should leave his father and mother and cleave to his wife and the two shall become one flesh. it was not our idea; it was God's idea. And I say that unashamedly on the floor where the words "In God We Trust" appear above your chair, Mr. Speaker.
Pence has spoken out against giving LGBTQ people federal protections in hate crimes legislation, and literally called enhanced penalties and increased investigations of hate-based crimes against queer people "a radical social agenda."
Pence opposes banning discrimination against LGBTQ people in the workplace because, he claimed, it discriminates against Christians. He ridiculously stated that if a federal anti-discrimination law were passed, an "employer has to ban employees from having a Bible at the workplace."
In a full-throttled and appalling attack, Pence stated on his 2000 campaign website:
Congress should oppose any effort to recognize homosexuals as a "discreet and insular minority" entitled to the protection of anti-discrimination laws similar to those extended to women and ethnic minorities.
As Indiana governor, Pence signed a "religious liberty" bill into law that would create exemptions for hiring or serving LGBT people in businesses, based on the employers' or business owners' religious beliefs. The law was so broad that a national firestorm ensued, creating a business boycott that forced the legislature and Pence to water down the law. A year later, after the controversy died down, the zealous Pence, along with Indiana conservative anti-LGBTQ Republicans, was at it again, this time with a failed attempt to pass a series of anti-LGBTQ laws.
That was January 2016, just months before Donald Trump would tap Pence as his vice presidential running mate.
Could there really be any doubt, with such a record that has spanned years and right up until recently, that Pence supports conversion therapy?
As The Daily Beast's Samatha Allen noted, Pence could just come out against conversion therapy if it's not true that he supports it, and say that it is something harmful. Instead of continuing to claim he didn't ever support it in the past, he could say he opposes it ― but curiously, he won't.
The passage in question regarding Pence's support for conversion therapy comes from the very same 2000 campaign website where he attacked "homosexuals" as a group that should not have anti-discrimination protections:
Congress should support the reauthorization of the Ryan White Care Act only after completion of an audit to ensure that federal dollars were no longer being given to organizations that celebrate and encourage the types of behaviors that facilitate the spreading of the HIV virus. Resources should be directed toward those institutions which provide assistance to those seeking to change their sexual behavior.
Last year, and recently, Pence's spokesperson tried to argue that "changing sexual behavior" meant "safer sex practices," not conversion therapy.
But for that to be even remotely true, there would have to have been AIDS organizations at the time that were promoting unprotected sex ― the "institutions" Pence referred to that were getting federal dollars from the government via the Ryan White Care Act.
That's a reckless lie, and I defy Pence or anyone to find major organizations receiving government money while not promoting safer sex practices. AIDS groups, in fact, spent much of their money on HIV prevention, including promoting condom use, as well as on treatment, outreach and education.
It's beyond a stretch to interpret what Pence said as anything other than promoting "institutions" that engage in conversion therapy ― changing people's "behavior" to the point of not engaging in same-sex sexual activity. Within the context of his larger agenda and beliefs, it becomes completely impossible to believe that's not what he meant.
Pence is an unrequited bigot, plain and simple. He has taken back none of these statements and policy prescriptions over the years, and instead, is taking a page from his boss Trump, trying to cast coverage of these realities as "fake news."
But until Pence actually addresses the issues one by one and recants his past statements and positions, they remain the clear truth.
Related
Popular in the Community