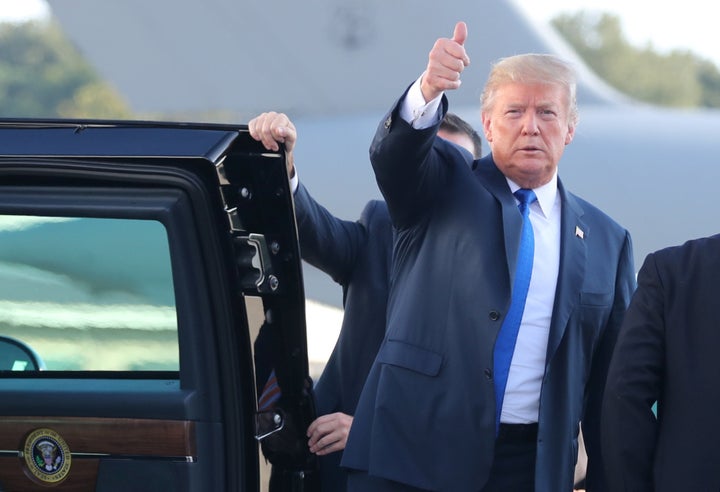 At least 70 countries worldwide criminalize homosexuality. This means some of these couples would face serious ramifications back home if they tried to solve the visa problem by getting married in the U.S. Yet under the Trump administration's new rule, this is essentially their choice: wed here or the partner goes home. Couples have until the end of the year to comply.
But the directive is more than just another anti-LGBTQ move against foreigners. It's yet another attack on what many in President Donald Trump's base consider the "political correctness" previously foisted upon the world by President Barack Obama and Secretary of State Hillary Clinton. This was made clear in the way the Trump administration framed the change: as an effort to foster equality ― for heterosexuals.
According to Foreign Policy magazine, "The U.S. Mission to the U.N. portrayed the decision as an effort to bring its international visa practices in line with current U.S. policy." Quoting from the U.S. Mission's July 12 note to U.N.-based delegations, the article continued:
Same-sex spouses of U.S. diplomats now enjoy the same rights and benefits as opposite-sex spouses. Consistent with [State] Department policy [regarding opposite-sex couples], partners accompanying members of permanent missions or seeking to join the same must generally be married in order to be eligible [for a diplomatic visa].
In other words, gay couples were previously getting some sort of special treatment ― visas for partners whether they were married or not ― while heterosexual couples had to be married in order to get a visa.
This is, of course, ludicrous since opposite-sex couples aren't discriminated against anywhere in the world. Critics of the new directive ― including Samantha Power, the former U.S. ambassador to the United Nations ― called it "needlessly cruel."
But there is a point to this cruelty, and it revealed itself when the anti-LGBTQ Family Research Council responded to the directive almost immediately on its website:
The rainbow didn't just color the White House ― it colored Barack Obama's entire legacy. For eight years, Americans watched the 44th president's obsession with LGBT activism eclipse every other urgent issue. And the U.S. State Department was exhibit A.

No sooner had Hillary Clinton taken over as secretary [then] the White House ordered her to use the agency as a club to beat other nations into submission on sexual politics. ...

Fortunately, the Trump administration has real respect for other nations' beliefs ― and Secretary Mike Pompeo's agency is proving it. Yesterday, the administration announced a new policy at the State Department that would block diplomatic visas for the same-sex partners of any foreign officials and U.N. employees.
This new directive reverses one put in place by Clinton in 2009 that, among other steps, granted visas to partners of foreign diplomats in same-sex relationships. It was part of a broader effort by the Obama State Department to position the United States as a leader on LGBTQ rights. As Clinton stated in a groundbreaking 2011 speech before a U.N. leaders meeting in Geneva, Switzerland, "Gay rights are human rights, and human rights are gay rights."
The hypocrisy of the Family Research Council is bald-faced. It claims the Obama administration was trying to impose its "beliefs" and "values" on other countries while the council and other conservative religious groups seek to impose their Christian evangelical values not only on other countries but on all Americans by supporting "religious freedom" laws designed to allow for discrimination. The Obama administration was encouraging human rights and equal treatment worldwide. The evangelical groups are actually trying to legally ensconce the right of a baker or florist to turn away gay people and the right of any employer to fire someone simply for being gay, lesbian, bisexual or transgender.
The Family Research Council's references to "Obama's obsession" with LGBTQ rights and Clinton's actions within the State Department point to the wider appeal of the new directive among Trump's base, beyond the anti-LGBTQ evangelicals whom the president and the GOP are trying to excite as midterm elections approach.
Trump speaks to people who believe, as the Family Research Council noted, that too many groups ― African-Americans, immigrants, Muslims, women, queer people ― are given "special rights." And that argument resonates particularly well with white supremacists, a group that Trump has emboldened, most infamously after the deadly Charlottesville, Virginia, rally last year.
In recent days, while trying to ram Brett Kavanaugh through confirmation hearings and onto the Supreme Court, Trump even lamented the plight of "young men" in America, who he suggested are the true victims of today's Me Too movement. (And let's be clear: What he really means is straight white young men.) The president then went on to mock Kavanaugh accuser Christine Blasey Ford and urge his audience in Mississippi to "think about your son."
This new directive from the State Department speaks to that same voter base. And it sends another clear message (as if we needed one) that the Trump administration has no interest in protecting minorities and is looking out only for the straight white majority in this country.
Michelangelo Signorile is an editor-at-large for HuffPost. Follow him on Twitter at @msignorile. @msignorile.
Support HuffPost
The Stakes Have Never Been Higher
Popular in the Community